Avengers: Infinity War Part I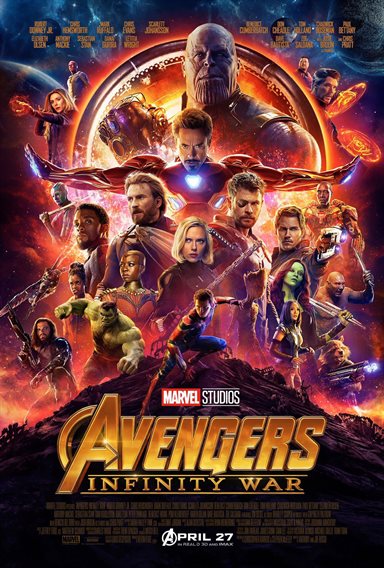 | | |
| --- | --- |
| Director: | |
| Writers: | Christopher Markus, Stephen McFeely |
| Cast: | |
| Released: | Coming Soon |
| Studio: | Walt Disney Pictures |
| Genre: | Sci-Fi/Fantasy, Action/Adventure |
| Rating: | This Film Is Not Yet Rated |
Synopsis
No synopsis available.
SPONSORED STORIES
Comments
Courtesy of
Movie Hype App
jessehaz
I can't f***ing wait!!!!
07/02/2018 09:54 EST
carlangas21
Va ser increíble
05/02/2018 15:46 EST
buckypeters
This movie will be just amazing
24/01/2018 11:05 EST
amanda14
I'm so excited
03/12/2017 09:35 EST
drstrange
Marvel is going to milk the avengers as long as possible and we customers are going to watch whatever marvel shoves in our face.
30/11/2017 00:22 EST
shanethegamer95
I am wondering is this the last avengers movie?
01/07/2017 10:03 EST
robbie
Can't wait
29/01/2017 18:06 EST
iamgroot03
HYPE ALL AROUND 10000000% HYPE
27/05/2016 10:38 EST
coreyanthony26
This Movie Better Jump into A Planet Hulk Movie Starting Edward Norton
10/03/2016 20:48 EST
yolo2014avengers
Yeey
24/12/2014 18:00 EST
reece1234
Oh yeah
29/11/2014 10:41 EST
marvelfan11
ohhhhh I can't wait for thanos to finaly die and for them to finally form the Illuminati and then send hulk to the negative zone and lead to world war hulk
14/11/2014 23:19 EST
rellmac16
Give me a date already
01/12/2013 21:09 EST
mannyboy612
TBA!!!
23/09/2013 19:15 EST
rellmac16
A trilogy of my/our mightest heroes EPIC!!!!
12/08/2013 04:31 EST
Avengers: Infinity War Part I images are © Walt Disney Pictures. All Rights Reserved.
Avengers: Age of Ultron Set for Big U.S. Opening Weekend Earnings
24/04/2015 16:49 EST
The highly anticipated film, Avengers: Age of Ultron, was released this week in the international markets and is already breaking records with its box office earnings.The film opened on Wednesday as #1 in 11 foreign markets, including France and Italy, earning $9.5 million on its first day.  On Thursday, it opened in United Kingdom, Germany and South Korea. So far, it has earned approximately $44....
More>>
Chris Evans and Jeremy Renner Apologize for Offensive Comments
23/04/2015 16:17 EST
Chris Evans and Jeremy Renner caused some controversy during a recent press interview for Avengers when they referred to the character Black Widow as a whore and a slut.The duo were doing an interview with a UK website when they were asked about Black Widow's multiple romances throughout the Marvel Universe, and Renner answered, sarcastically,  "She's a slut."  Evans chimed in, with laughter, sayi...
More>>
South Floridians Can Win Passes To A Complimentary 3D Advance Sc...
18/04/2015 08:44 EST
South Floridians can win passes to a complimentary 3D Advance Screening of Marvel's AVENGERS: AGE OF ULTRON, the epic follow-up to the biggest Super Hero movie of all time.Enter by downloading the Movie Hype App and "follow" AVENGERS: AGE OF ULTRON. Be sure to mention in the comments what you think would be the worst superpower and why. The most creative and unique entries will be chosen to win pa...
More>>
Russo Brothers to Direct Upcoming Avengers Film
24/03/2015 13:41 EST
Director Joss Whedon will be stepping down from his Avengers duty, according to reports. It has now been finalized that the Captain America: The Winter Soldier duo Joe and Anthony Russo will now be taking over. The new directors will be taking over Avengers: Infinity War parts 1 and 2. Part 1 is slated for a May 4, 2018 release and Part 2 is slated for a May 3, 2019 release. Along with Avengers, t...
More>>
Could the Face of the Avengers Team Be Changing?
29/08/2014 16:57 EST
There are now reports that the upcoming "Avengers" Film, "The Avengers: Age Of Ultron", will be the last time we see the current ensemble of characters. Apparently, after this film, Captain America will be assembling a brand new team.  But, there is much speculation on exactly who. Some say one possibility id Black Panther, who is the source of the Vibranium sought after by Ultron.  Other names be...
More>>
Joss Whedon Discusses Ultron in Upcoming Avengers Film
22/08/2013 14:57 EST
Joss Whedon recently discussed the character Ultron, who will be making an appearance in the upcoming "Avengers" sequel.  He said that in the film, the character will be more grounded , and have less power."As a character, I love him because he's so pissed off. I knew right away what I wanted to do with him. He's always trying to destroy the Avengers, goddamn it, he's got a bee in his bonnet. He's...
More>>
Tom Hiddleston Confirms Loki Will Not Be In Avengers: Age of Ultron
07/08/2013 08:43 EST
Tom Hiddleston has confirmed that his character Loki will not be appearing in the second Avengers movie, The Avengers: Age of Ultron, but fans of Loki need not worry.  They'll be able to catch him in Thor: The Dark World, followup to 2011's Thor.Commenting on his omission from the new Avengers film, the English-born actor explained, "I don't think there's anything else Loki could contribute to The...
More>>
Robert Downey Jr Will Continue in Avengers Films
20/06/2013 14:42 EST
Marvel has announced that Robert Downey, Jr. has signed on to do two more "Avengers" films.   "Avengers 2" will begin production in March of 2014, with a release date of May 2015.  The third "Avengers" film doesn't have a release date yet.   Downey was in tough negotiations with Marvel, but have apparently made it through; however, no word on what other actors have successfully negotiated their ro...
More>>
Joss Whedon Says He Wouldn't Do Avengers Without Robert Downey Jr.
07/06/2013 15:18 EST
Joss Whedon, who is out and about doing promos for  "Much Ado About Nothing", commented about the "Avengers" franchise, saying he couldn't do it without Robert Downey Jr."He is Iron Man. He is Iron Man in the way that Sean Connery was James Bond. I have no intention of making 'Avengers 2' without him, nor do I think I'll be called upon to do that", said Whedon. "I don't think it's in my interest, ...
More>>
Could Ms. Marvel Be In The Avengers Sequel?
10/10/2012 15:50 EST
A possible new recruit for the second Avengers movie may be "Ms. Marvel". She is a super hero that was a former employee of the United States Air Force with super powers that make her resistant to toxins and poisons as well as a body that is virtually invulnerable and indestructible.Reports in the UK's Daily Mail claim that director Joss Whedon may be looking at either Ruth Wilson (The Lone Ranger...
More>>
Incredible Hulk Standalone Movie Will Happen, But Not For A While
01/10/2012 10:48 EST
Everyone who saw "The Avengers" knows how The Hulk virtually stole the show and there was call from distant quarters to give the big green man another shot at a standalone movie. It seems that those shouts have been heard, but we won't see anything out until after "The Avengers 2" has been released in the spring of 2015, as Kevin Feige has been telling MTV.Countdown to the release of Marvel 2.0 fi...
More>>
Joss Whedon Endorses Guardians of the Galaxy Director James Gunn
11/09/2012 11:34 EST
Joss Whedon was recently interviewed by MTV news about his upcoming indie film, "Much Ado About Nothing", and they had a chance to ask him about James Gunn joining the "Guardians of the Galaxy" film.Whedon said that he feels Gunn will make the project come together, something he wasn't sure of before. "James is what makes me think it will work. I myself was sort of like, 'Well, I liked Rocket Racc...
More>>