Guardians of the Galaxy Vol. 2 (2017)
| | |
| --- | --- |
| Director: | |
| Writers: | James Gunn |
| Cast: | |
| Released: | 28 April 2017 |
| Studio: | Walt Disney Pictures |
| Genre: | Sci-Fi/Fantasy, Action/Adventure |
| Rating: | This Film Is Not Yet Rated |
Synopsis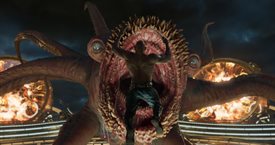 They're back. In theatres May 5, 2017.
Comments
Courtesy of
Movie Hype App
lscarletspeedsterl
I am Groot
22/04/2017 21:56 EDT
ethanpeyon
It is my favorite move
25/03/2017 18:54 EDT
ethanpeyon
I love the guardians of the galaxy they are my favorite marvel move
25/03/2017 12:30 EDT
dabbin_rosebud
yusssss loved the first one!!!!
15/02/2017 17:55 EDT
robbie
can't wait
13/02/2017 16:21 EDT
callofgoku25
Can't wait to see even more of the marvel cinematic universe
02/12/2016 15:47 EDT
iamgroot03
Hype! As you can see by my name
27/05/2016 10:35 EDT
kaboomcat25
Thanos as possible villan?
07/03/2016 16:20 EDT
hammbone187
Just hope it's as good as the first.
29/01/2016 21:06 EDT
movieman24
Hope they join the Avengers cause they have to be on the team of the Avengers plus Star Lord has that Tony Stark Humor
26/03/2015 23:47 EDT
jakovcbg
i like the movie and the songs
12/02/2015 03:41 EDT
affirmedgrub22
Yeah they team up with the avengers in the comics so they can stop thanos
31/12/2014 19:57 EDT
reece1234
There have been rumors of guardians teaming up with avengers
29/11/2014 10:38 EDT
taytay63
Cool beans!
22/11/2014 19:05 EDT
marvelfan11
can't wait for them to finally join the avengers and defeat thanks and his armys
14/11/2014 23:14 EDT
Guardians of the Galaxy Vol. 2 images are © Walt Disney Pictures. All Rights Reserved.
James Gunn to Return for Guardians of the Galaxy Vol. 3
17/04/2017 15:56 EDT
James Gunn took to Facebook today to announce that he will be returning to write and direct Guardians of the Galaxy Vol. 3.Gunn said, "So, after many months of ruminations and discussions, I know the answer. I could save this answer for the first, random interviewer to ask me during the press junket but instead I thought I'd share it with the most important people in the Guardiansverse - you, the ...
More>>
Guardians of the Galaxy Vol. 2 images © Walt Disney Pictures. All Rights Reserved.