A View to a Kill (1985)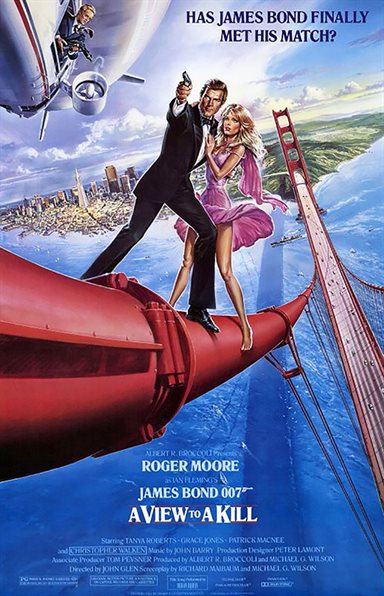 | | |
| --- | --- |
| Director: | |
| Writers: | Michael G. Wilson, Richard Maibaum |
| Cast: | |
| Released: | Thursday, June 13, 1985 |
| Length: | 131 minutes |
| Studio: | MGM Studios |
| Genre: | Action/Adventure |
| Certificate: | PG |
Synopsis
Secret agent 007 must stop a megalomaniacal technology mogul from destroying Silicon Valley in this last appearance by Roger Moore as James Bond. Computer baron Max Zorin (Christopher Walken) is planning to trigger a major California earthquake in order to wipe out his competitors. Bond is assigned to stop him, but first he must do battle with Zorin's statuesque partner in crime, May Day (Grace Jones). High-wire confrontations ensue, as Bond battles the villains at international landmarks like the Eiffel Tower and romances an attractive geologist.
Purchase your copy of A View to a Kill today at
Download A View to a Kill from iTunes.
SPONSORED STORIES
A View to a Kill images are © MGM Studios. All Rights Reserved.
Danny Boyle to Direct Bond 25
16/03/2018 13:44 EDT
Danny Boyle has been set to take over the directing duties for the upcoming James Bond film. This will be the 25th film in the iconic franchise. Boyle will fill the seat that Sam Mendes left.Boyle stated in an interview, "We are working on a script right now. And it all depends on that really".  He went on to say, "I am working on a Richard Curtis script at the moment. We hope to start shooting th...
More>>
Daniel Craig Confirms His Return for Bond 25
16/08/2017 11:42 EDT
Daniel Craig, who once said that he would "rather break this glass and slash my wrists" than reprise his role of James Bond, has officially confirmed that he will indeed be doing just that.  The actor made the announcement on  "The Late Show With Stephen Colbert." He also commented on his infamous statement, saying, "Instead of saying something with style and grace, I said something really stupid,...
More>>
Daniel Craig Reportedly Offered $150 Million to Return to Bond
06/09/2016 11:13 EDT
Rumors are swirling about the future of the James Bond franchise and who will be next to play the legendary character. Idris Elba, Tom Hiddleston, and Aidan Turner have all been thrown into the mix, but there are reports that Sony is desperate to get Daniel Craig back. Reports are that he has been offered $150 million to reprise his role.Craig had previously told reporters that he was done with th...
More>>
Multi-Million Dollar Phone Deals Rejected by Bond Franchise
03/11/2015 14:03 EDT
James Bond is known for having the finest of everything, from his expensive suits to his Aston Martins.  One thing he won't have in the upcoming Spectre film? A smartphone.  Offers from both Sony and Samsung were rejected earlier this year, after the franchise has made a decision to cut back on product placements. Sony offered $5 million for Bond to carry the phone, with an $18 million bid to be t...
More>>
Could Spectre Be Daniel Craig's Final Bond Film?
01/10/2015 23:25 EDT
Daniel Craig, the most current actor to play James Bond, recently gave an interview, discussing his role and the duration of his stay as the famous character. There are rumors that not only will the upcoming Spectre be Sam Mendes' final James Bond film, but Craig's as well. When asked about making the films, Craig said, "It's getting harder. But such is life. I'll keep going as long as I'm physica...
More>>
Upcoming James Bond Film Titled Spectre
04/12/2014 15:40 EDT
The title for the upcoming James Bond film has been announced today, and it will be called "Spectre".  Director Sam Mendes made the announcement this morning at the 007 soundstage.  The franchise will see some new faces with Christoph Waltz, Andrew Scott, Dave Bautista, Monica Bellucci and Léa Seydoux joining the cast. Also starring in the film will be Rory Kinnear as Tanner, Ben Whishaw as Q, Nao...
More>>
New Bond Film Set to Begin Filming in December
16/09/2014 15:05 EDT
The 24th film in the James Bond franchise is schedule to begin filing on December 6, according to reports.  Daniel Craig will reprise his role as James Bond for the fourth time and will star alongside Ralph Fiennes as M, Naomie Harris as Eve Moneypenny, Rory Kinnear as Bill Tanner and Ben Whishaw as Q.Sam Mendes will be directing and Neal Purvis and Robert Wade wrote the script.  The film is set f...
More>>
Daniel Craig Discusses Bond 24
27/08/2013 13:02 EDT
Daniel Craig, who will return as James Bond in the upcoming film, says that he hopes that they go back to the roots of the franchise as far as the tone of the film goes."Hopefully we'll reclaim some of the old irony, and make sure it doesn't become pastiche. I can't do shtick, I'm not very good at it. Unless it kind of suddenly makes sense. Does that make sense? I sometimes wish I hammed it up mor...
More>>
Sam Mendes Returns to Direct Bond 24
11/07/2013 13:55 EDT
CULVER CITY, Calif., July 11, 2013 - Producers Michael G. Wilson and Barbara Broccoli, EON Productions; Gary Barber, Chairman & CEO, Metro-Goldwyn-Mayer; Michael Lynton, CEO, Sony Entertainment, Inc, and Amy Pascal, Co-Chairman of Sony Pictures Entertainment today announced that Daniel Craig will once again return as the legendary British secret agent in the 24th James Bond film and Sam Mendes wil...
More>>
Sam Mendes to Return to Bond Franchise
29/05/2013 08:43 EDT
The next installment of the James Bond franchise is already in pre-production, and, according to reports, Sony Pictures and MGM are in talks with Sam Mendes to return to direct the film.Mendes was the favorite to direct to direct the next installment, but had originally bowed out because of a commitment to his  stage musical "Charlie And The Chocolate Factory" and "King Lear". However, he has rece...
More>>
Sam Mendes Not Returning to Bond Franchise
06/03/2013 17:20 EDT
"Skyfall" the highest grossing James Bond movie in its glamorous fifty year history, owes a lot to its success to one man, Sam Mendes.If Daniel Craig has done much to change the face of Bond with Casino Royale, it was Mendes who breathed new life into what had become a tired series with "Skyfall". So, with all the recognition and awards, there was much hope that Mendes would take the helm of the n...
More>>
Skyfall Breaks Blu-ray Release Records
05/03/2013 16:05 EDT
The third outing of Daniel Craig as James Bond in "Skyfall" just continues to keep writing itself into the record books. On top of a whole host of accolades it received last year, now it has become the biggest selling Blu-Ray of all time in the UK in the first week of sale.Selling a staggering 544,000 copies in its opening seven days, which totally eclipses the previous best of "Avatar" (428,000 c...
More>>