Solo: A Star Wars Story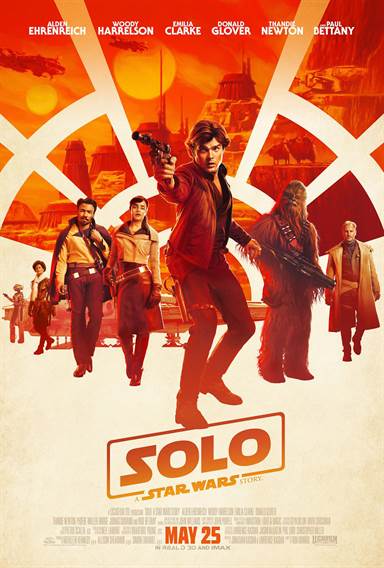 | | |
| --- | --- |
| Director: | |
| Writers: | Lawrence Kasdan, Jon Kasdan |
| Cast: | |
| Released: | Coming Soon |
| Studio: | Walt Disney Pictures |
| Genre: | Sci-Fi/Fantasy |
| Rating: | This Film Is Not Yet Rated |
Synopsis
No synopsis available.
SPONSORED STORIES
Comments
Courtesy of
Movie Hype App
roman-1295
So excited
07/01/2018 17:21 EST
zmouse253
I think it will be good. I even think the casting will work out pretty well.
17/10/2017 00:27 EST
clampfan101
I don't care how good the actor is. Han Solo is not Han Solo unless played by Harrison Ford.
26/11/2016 20:18 EST
lacrossej08
Awesome!!!!!!!!!!!!
09/04/2016 19:48 EST
joeydlegend
Ohhhhh baby!!!
17/02/2016 00:32 EST
theodinson
Man I hope they nail the casting of this one.
15/01/2016 07:12 EST
Solo: A Star Wars Story images are © Walt Disney Pictures. All Rights Reserved.
David Benioff and D.B. Weiss to Pen New Star Wars Series of Films
06/02/2018 19:38 EST
David Benioff and D.B. Weiss, the creators of Game of Thrones, will be writing and producing a new series of Star Wars films. The announcement was made today by Disney.Kathleen Kennedy, president of Lucasfilm, said, "David and Dan are some of the best storytellers working today. Their command of complex characters, depth of story and richness of mythology will break new ground and boldly push Star...
More>>
New Star Wars Trilogy Announced with Rian Johnson to Direct
09/11/2017 22:20 EST
Disney CEO Bob Iger has announced that Rian Johnson will be developing a new trio of Star Wars films. An official statement claimed that the new trilogy will  "introduce new characters from a corner of the galaxy that Star Wars lore has never before explored."Lucasfilm president Kathleen Kennedy, said, "We all loved working with Rian on The Last Jedi. He's a creative force, and watching him craft ...
More>>
Colin Trevorrow Leaves Star Wars: Episode IX
05/09/2017 23:52 EST
Lucasfilm has announced that they will be changing directors for left Star Wars: Episode IX. The announcement went as follows:Lucasfilm and Colin Trevorrow have mutually chosen to part ways on Star Wars: Episode IX. Colin has been a wonderful collaborator throughout the development process but we have all come to the conclusion that our visions for the project differ. We wish Colin the best and wi...
More>>
Star Wars Fans Invited to "Find the Force" As Unprecedented Augm...
31/08/2017 12:18 EST
Disney and Lucasfilm announced today that they are releasing "Find the Force", a global augmented reality (AR) event rolling out on Force Friday II (September 1) to commemorate the worldwide launch of new products inspired by "Star Wars: The Last Jedi".Kathleen Kennedy, President of Lucasfilm, commented about the event saying, "Force Friday II is a major milestone in the countdown to Star Wars: Th...
More>>
Disney Developing Obi-Wan Kenobi Film
17/08/2017 15:45 EST
It has been reported that Disney is currently developing an Obi-Wan Kenobi stand alone film with the hope that "Billy Elliot's" Stephen Daldry will direct. There isn't any word on who the writer will be or plot details.Disney is also currently working on a Han Solo film due out May 2018....
More>>
Ron Howard Takes Over Directing Duties on Star Wars Han Solo Film
22/06/2017 10:39 EST
The rumors turned out to be true, Ron Howard has signed on to take over as the director of the Star Wars Hans Solo project. Lucas Films made the official announcement this morning.Howard takes over after Phil Lord and Chris Miller left the production earlier this week after clashing with producer Kathleen Kennedy. No word yet on if the film will remain slated for a May 2018 release. Countdown to t...
More>>
Han Solo Stand Alone Film In Trouble
21/06/2017 09:13 EST
After several conflicts with producer Kathleen Kennedy, Directors Phil Lord and Chris Miller have announced they are stepping away from the Untitled Star Wars Han Solo spinoff project. Claiming they were not being given the freedom necessary to run the production, an insider stated they clashed with Kennedy, Lucas Films team members and cowriter and executive producer Lawrence Kasdan.Miller and Lo...
More>>
Scum & Villainy Cantina Celebrates May The Fourth By Extending T...
02/05/2017 16:16 EST
The popular pop-up experience,  Scum & Villainy Cantina, will be extending its run through 2017.  The event, which celebrates the Star Wars holiday, May the Fourth, has been nearly sold out for its two-month run."We had a simple concept from the start - to provide devoted fans, like myself, the opportunity to gather in an environment that would inspire and delight. And the wonderfully positive rec...
More>>
Force for Change Fundraiser Celebrates Star Wars 40th Anniversary
11/04/2017 14:18 EST
It has been announced that Star Wars: Force For Change in collaboration with Omaze will launch the Star Wars "Past, Present and Future" fundraising campaign to benefit UNICEF and Starlight Children's Foundation. This year will be extra special since it is the 40th Anniversary of the Star Wars franchise. "In a year that we celebrate 40 years of the Star Wars saga, I continue to be inspired by the i...
More>>
New Star Wars: The Last Jedi Footage Shown at Annual Shareholder...
08/03/2017 16:33 EST
The Disney annual shareholder's meeting, which just took place in Denver, debuted some additional footage from the upcoming film, Star Wars: The Last Jedi.Footage shown included a scene between Luke and Rey, with him asking her who she was, a damaged X-Wing flying through a ship, and various landscape scenes.The film is directed by Rian Johnson and stars MArk Hamill, Daisy Ridley, Adam Driver, Osc...
More>>
Star Wars Force Friday II to Take Place on Sept. 1
16/02/2017 10:35 EST
Disney and Lucasfilm have announced today that the global fan event, Star Wars Force Friday II, will be taking place beginning at 12:01 a.m. on September 1, 2017, with stores around the world opening for a weekend-long celebration of all things Star Wars. The event will celebrate the launch of new products inspired by the highly anticipated "Star Wars: The Last Jedi."Jimmy Pitaro, Chairman, Disney...
More>>
Subscribe To FlickDirect's YouTube Channel For a Chance To Win a...
01/02/2017 11:39 EST
Who doesn't like getting something for free?  How about Vinyl Pop figures? How about Star Wars Vinyl Pop Figures to be exact?  FlickDirect has teamed up with FUN.com to offer one winner an exciting prize package.  We will give someone the opportunity to win FIVE Star Wars Vinyl Pop figures of their choosing. To enter simply subscribe to the FlickDirect's YouTube channel (http://flck.it/youtube) an...
More>>