Jigsaw (2017)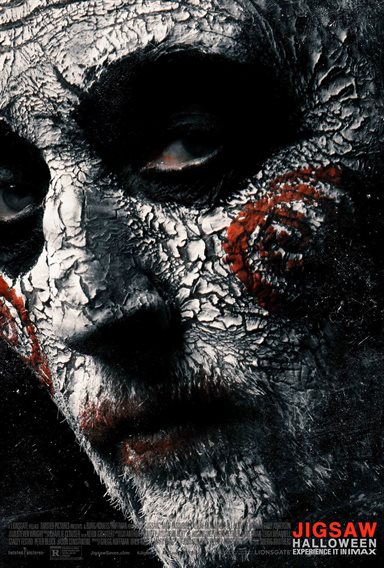 | | |
| --- | --- |
| Director: | |
| Writers: | Josh Stolberg, Pete Goldfinger |
| Cast: | |
| Released: | 27 October 2017 |
| Length: | 91 minutes |
| Studio: | Lionsgate |
| Genre: | Horror |
| Certificate: | 18 |
Synopsis
Thirteen years ago on Halloween weekend--SAW and the character of JIGSAW introduced the world to a new face of horror. For seven straight years "If it's Halloween it must be SAW" was a holiday tradition. This October 27, Lionsgate and Twisted Pictures proudly present JIGSAW! After a series of murders bearing all the markings of the Jigsaw killer, law enforcement find themselves chasing the ghost of a man dead for over a decade and embroiled in a new game that's only just begun. Is John Kramer back from the dead to remind the world to be grateful for the gift of life? Or is this a trap set by a killer with designs of their own?
Purchase your copy of Jigsaw today at
Download Jigsaw from iTunes.
SPONSORED STORIES
Comments
Courtesy of
Movie Hype App
awesomeone
I wanna go! :)
17/10/2017 12:09 EST
Jigsaw images are © Lionsgate. All Rights Reserved.
All-New SAW Maze Heading to Universal's Halloween Horror Nights
14/08/2017 13:51 EST
The announcements keep coming from the Universal Halloween Horror Nights camp. This year, HHN welcomes the Saw franchise to the parks with an all-new maze.The maze will bring guests face-to-face with the work of master craftsman "Jigsaw" and a collection of his most infamous traps from the SAW film series and upcoming eighth installment JIGSAW.Lionsgate Senior Vice President of Global Live and Loc...
More>>
New Saw 3D Poster
15/08/2010 21:25 EST
As a deadly battle rages over Jigsaw's brutal legacy, a group of Jigsaw survivors gathers to seek the support of self-help guru and fellow survivor Bobby Dagen, a man whose own dark secrets unleash a new wave of terror. Saw 3D debuts in theaters October 29th, 2010....
More>>
The "Saw" Franchise Comes to an End
22/07/2010 12:37 EST
According to USA Today, There will be an announcement made Friday that "Saw 3D" will be the last film of the franchise.  The announcement will be made by Lionsgate, producers and star Tobin Bell. Producer Oren Koules said, "It's time to stop.  We have told the story we wanted to tell, and this is going to be a great farewell." The upcoming film will feature a battle over Jigsaw's legacy and whil...
More>>
Shawnee Smith Will Return To Saw Franchise
25/03/2009 16:03 EST
Producer Marc Burg announced, on the "Saw" franchise's official website, that Shawnee Smith will be returning to the cast for "Saw VI".The film is said to be more violent than the others, and there will also be a few new characters, according to Burg. The film is scheduled for an October 23rd, 2009 release, with shooting beginning on March 30....
More>>
Julie Benz To Star In Saw V
26/03/2008 12:45 EST
Julie Benz, star of Showtime's "Dexter" and Joss Whedon's Angel, will be starring in the latest Saw film, "Saw V". The film will be released on October 24.David Hackl will be directing the film, and Patrick Melton and Marcus Dunstan will be penning the script. Producing the film are Peter Block, Jason Constantine, Daniel Heffner, Stacey Testro, Leigh Whannell and James Wan.Production began on Marc...
More>>
Lionsgate Film's Saw and Red Cross To Hold Blood Drive
14/08/2007 11:21 EST
Lionsgate Film and the American Red Cross announced last week that they will be holding a blood drive. The Fourth Annual Saw "Give Til It Hurts" will coincide with the opening of the latest Saw movie on October 26, 2007. The announcement came from Lionsgate Co-Presidents of Theatrical Marketing Tim Palen and Sarah Greenberg and Gregory S. Ballish, Senior Vice President, Biomedical Services, Ameri...
More>>
Lionsgate's Saw IV To Be Directed by Darren Lynn Bousman
22/02/2007 11:21 EST
Darren Lynn Bousman will be returning to direct the next installment of th Saw series. The saw Series is the most successful horror series ever made. The announcement was made Tuesday, February 20, by Lionsgate President of Acquisitions and Co-Productions Peter Block and Senior Vice President of Aquisitions Jason Constantine and Twisted Pictures' Mark Burg and Oren Koules.Burg and Koules will be p...
More>>