Us (2019)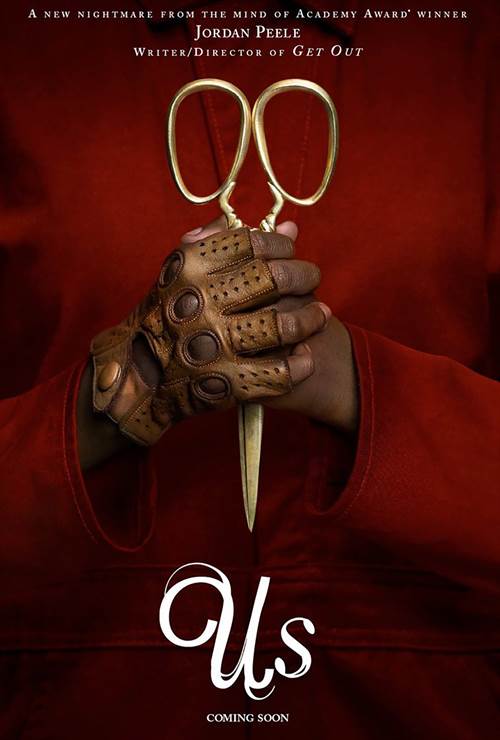 Share this:
| | |
| --- | --- |
| Director: | |
| Writers: | |
| Cast: | |
| Released: | 22 March 2019 |
| Length: | 116 minutes |
| Studio: | Universal Pictures |
| Genre: | Horror |
| Certificate: | 15 |
Synopsis
After sending shockwaves across contemporary culture and setting a new standard for provocative, socially-conscious horror films with his directorial debut, Get Out, Academy Award®-winning visionary Jordan Peele returns with another original nightmare that he has written, directed and produced.

Set in present day along the iconic Northern California coastline, Us, from Monkeypaw Productions, stars Oscar® winner Lupita Nyong'o as Adelaide Wilson, a woman returning to her beachside childhood home with her husband, Gabe (Black Panther's Winston Duke), and their two children (Shahadi Wright Joseph, Evan Alex) for an idyllic summer getaway.

Haunted by an unexplainable and unresolved trauma from her past and compounded by a string of eerie coincidences, Adelaide feels her paranoia elevate to high-alert as she grows increasingly certain that something bad is going to befall her family. After spending a tense beach day with their friends, the Tylers (Emmy winner Elisabeth Moss, Tim Heidecker, Cali Sheldon, Noelle Sheldon), Adelaide and her family return to their vacation home. When darkness falls, the Wilsons discover the silhouette of four figures holding hands as they stand in the driveway. Us pits an endearing American family against a terrifying and uncanny opponent: doppelgängers of themselves.
Purchase DVD/Blu-ray/4K UHD physical copy of Us today at Amazon.com
Download Us in Digital HD/4K from the iTunes store.
Listen to the Us soundtrack on Apple Music.
Us images are © Universal Pictures. All Rights Reserved.
All-New Us Maze Coming to Universal Studios Halloween Horror Nights
07/08/2019 14:06 EST
This year, Universal Studios Hollywood and Universal Studios Orlando Resort will be bringing an all-new attraction to its annual Halloween Horror Nights Event - the "Us" Maze. "Us" hails from Academy Award®-winning filmmaker Jordan Peele, and will prove to be a delightfully frightful maze."It's very exciting to know that fans of Us will get to experience firsthand the terror of being stalked and t...
More>>
Win a Copy of Jordan Peele's Us
18/06/2019 09:52 EST
Are you a fan of Actor/Director/Producer Jordan Peele?  Did you love his sophomore film, US? How would you like to win a Blu-ray combo pack of the film courtesy of FlickDirect?To enter simply subscribe to all three FlickDirect YouTube Channels - FlickDIrect, Flick2, and Movie Hype App and send an email to contest@flickdirect.com (Subject: US Blu-ray Combo Pack Contest) with your username for verif...
More>>
Us Theatrical Review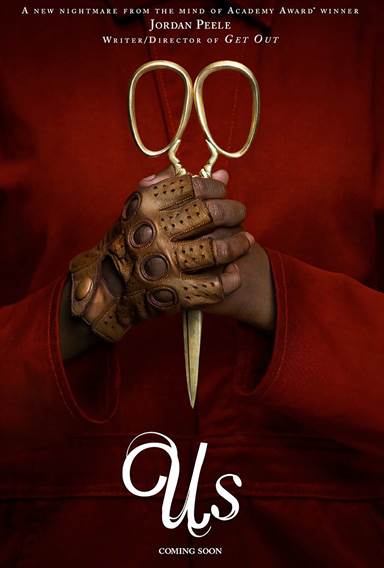 Jordan Peele was always known as part of the comedy duo Key and Peele and was considered to be very funny. Then in 2017, he made his directorial debut with the critically acclaimed thriller,
Get Out
for which he won the Oscar for best original screenplay. It showed us the dark side of his personality and had audiences looking at him in a whole new light. Now we have the opportunity to view his sophomore endeavor,
Us
. A darker, more disturbing thriller than its predecessor, the film again offers some social commentary on our society but it can't quite live up to Peele's first non-comedic major motion picture from two years ago.
A year after her mom passed away, Adelaide (Lupito Nyong'o; 12 Years a Slave) returns to her childhood home for a family vacation. When her husband, Gabe (Winston Duke; Black Panther) suggests they go to the beach, Adelaide reveals that she had a traumatic experience in the house of mirrors there and reveals there was another little girl who looked exactly like her in the funhouse. Adelaide believes this girl is "out to get her". While Gabe may secretly believe his wife is going a little crazy he placates her until the power goes out and suddenly there is a family eerily standing in their driveway.
When Gabe tries to get rid of them he finds the family under attack. As these strangers hold the family hostage, they can see these beings look exactly like themselves. But why they have these seemingly murderous doppelgangers is a mystery. As Adelaide and her family seek shelter and safety, they learn that there are millions of these "beings" all over the world hunting and killing their human counterparts. When Adelaide returns to the house of mirrors in an attempt to save them all, we learn the horrible, ugly truth as to who and what these things really are.
Nyong'o leads a terrific cast who must play dual roles in this dark, mystery, thriller. Watching each of them play both their "normal" human as well as their demented counterpart is a study in acting 101 – creating different characters to fit the tone. Duke offers a different type of persona than he displayed in Black Panther. Gabe, in true Peele fashion, is the comic relief in this scenario offering some funny one-liners that unfortunately fall flat with his wife. Their kids, played by Shahadi Wright Joseph (Hairspray Live!) and Evan Alex (Kidding) are terrific as they interchange between their two roles.
Peele is a wonderful storyteller offering layered characters and plots that dig beyond the superficial to the gritty underbelly and exposing our societal flaws. He is also a masterful filmmaker in the vein of Hitchcock offering visuals that become embedded in our subconscious. He knows how to create a heightened sense of suspense, which leaves your heart pounding through much of the film.
However, unlike Get Out, I found much of the basis for Us to be, simply put, stupid. I was not as invested in the story as I was with Get Out and I had my suspicions about the eventual plot twist early on so it wasn't that big of a surprised when it was revealed. I also found my angered by the ending as - without giving too much away - I felt the bad guy sort of won.
Us is certainly one of the smarter horror/thriller movies that have come about in the past several years (besides Get Out) and Peele knows how to terrify us without gore or crazy jump scares. He also delivers a message in his films so you leave the theater reflecting on what you saw and what it all means, which is generally different from most horror films today.
Peele shows great promise as a filmmaker and his movies definitely will not disappoint. I just did not quite buy into this scenario as much as I did with Get Out.
Grade: B

For more reviews please visit our film/television review section.
After sending shockwaves across contemporary culture and setting a new standard for provocative, soc...

After sending shockwaves across contemporary culture and setting a new standard for provocative, soc...

For today's home video review, FlickDirect's Austin Putnam reviews Jordan Peele's US in...
After sending shockwaves across contemporary culture and setting a new standard for provocative, soc...

After sending shockwaves across contemporary culture and setting a new standard for provocative, soc...
SPONSORED LINKS