Greta (2019)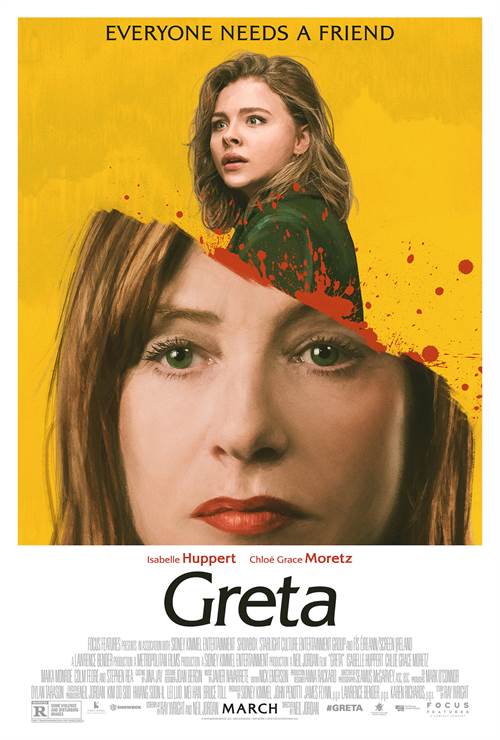 Share this:
| | |
| --- | --- |
| Director: | |
| Writers: | |
| Cast: | |
| Released: | 19 April 2019 |
| Length: | 98 minutes |
| Studio: | Focus Features |
| Genre: | Drama |
| Certificate: | 15 |
Synopsis
A sweet, naïve young woman trying to make it on her own in New York City, Frances (Chloë Grace Moretz) doesn't think twice about returning the handbag she finds on the subway to its rightful owner. That owner is Greta (Isabelle Huppert), an eccentric French piano teacher with a love for classical music and an aching loneliness. Having recently lost her mother, Frances quickly grows closer to widowed Greta. The two become fast friends — but Greta's maternal charms begin to dissolve and grow increasingly disturbing as Frances discovers that nothing in Greta's life is what it seems in this suspense thriller from Academy Award®-winning director Neil Jordan.
Download Greta in Digital HD/4K from the iTunes store.
Greta images are © Focus Features. All Rights Reserved.
Greta Theatrical Review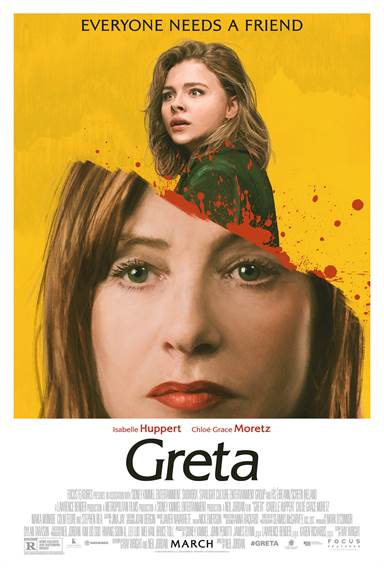 These days we've all been trained not to pick up any suspicious packages we see in public places, especially in New York City, especially on a Subway. What train rider doesn't know that? The stupidity of picking up such an object forms the basis of this film; it also forms the basis of the total stupidity of watching this disappointing and mundane misfire from Academy Award Winning Director Neil Jordon (
The Crying Game
,
The End of the Affair
)
There is nothing wrong with this type of film, it can be highly entertaining and there have been plenty of really good movies based on the theme of a "Psycho Crazy Woman" preying on innocents in the big city. You only need to reach back a few years to find them. "Single White Female", "Swimfan", "Poison Ivy", and "Fatal Attraction" all come to mind.
Unfortunately, even though the theme here is updated, visually seductive, given an interesting "Mommy Dearest" twist, and is filled with kinky fairytale elements, the fact that the suspense elements fall completely flat in the end, kills the whole purpose of the film … to shock and scare you. It's a pity because the beginning is such a good ride.
Here's The Storyline…
Sweet, naïve Frances (Chloë Grace Moretz; Let Me In), new to the big city, finds a woman's abandoned handbag on the New York City Subway and against advice from her roommate she decides to return it. The owner turns out to be Greta (Isabelle Huppert; Elle), an eccentric French piano teacher whose quaint little apartment is filled with the sounds of Chopin and Liszt and strange noises coming from behind the piano.
Frances, who recently lost her mother, finds herself strangely drawn to the lonely widow and strikes up what seems to be a harmless intergenerational friendship with her. As they grow closer Greta's demeanor becomes increasingly erratic and obsessive. Stumbling on a hidden secret, it soon becomes obvious to Frances that nothing in Greta's life is what it seems to be and she had better end the relationship before it spirals out of control. But, will Greta just go quietly away?
There are a few intense moments in the film, and it might just hold your attention all the way to the conclusion, but in the end, the film's many flaws and lack of tension will probably leave you unsatisfied. There is, however, something positive to be said about how this film plays on what are universally women's insecurities about vulnerability and aging, and the lead actresses do an amazing job of showing those two themes to us.
My take… To me this is half of a good film, the first half, where it beams with tangible tension and fearful dread. Then it slowly descends into the realm of the mundane and becomes just downright irritating. Wait until it reaches 'Late Night Television' to watch it.
Grade: C+

"Greta" is Rated R for some violence and disturbing images.
-- Alyn Darnay
For more reviews please visit our film/television review section.
A sweet, naïve young woman trying to make it on her own in New York City, Frances (Chloë G...
SPONSORED LINKS