Little Monsters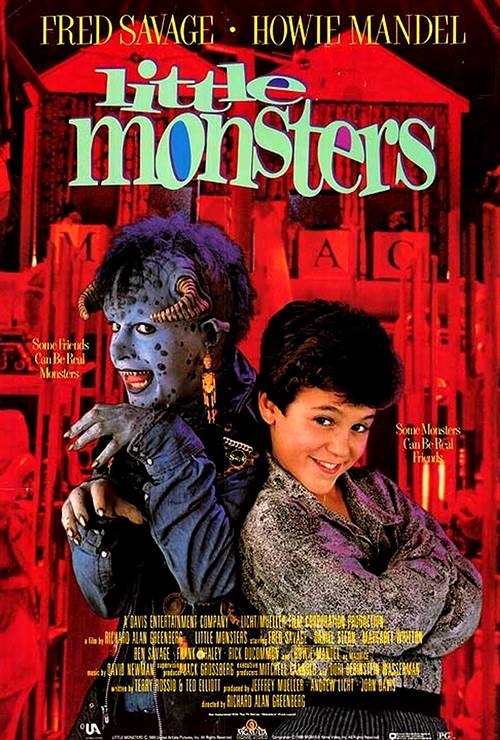 | | |
| --- | --- |
| Director: | |
| Writers: | |
| Cast: | |
| Released: | Coming Soon |
| Length: | 100 minutes |
| Studio: | Lionsgate |
| Genre: | Family, Comedy |
| Rating: | Some material may not be suitable for children. |
Little Monsters Synopsis
Brian (Fred Savage) is a sixth-grader who recently moved to a new town. He finds and befriends Maurice (Howie Mandel), the monster under his bed. While Brian and Maurice have a lot of fun making mischief, things turn serious when Brian's brother gets kidnapped!

Purchase DVD/Blu-ray/4K UHD physical copy of Little Monsters today at Amazon.com
Stream Little Monsters in Digital HD/4K from the AppleTV store.
Little Monsters images are © Lionsgate. All Rights Reserved.
Little Monsters Blu-ray Review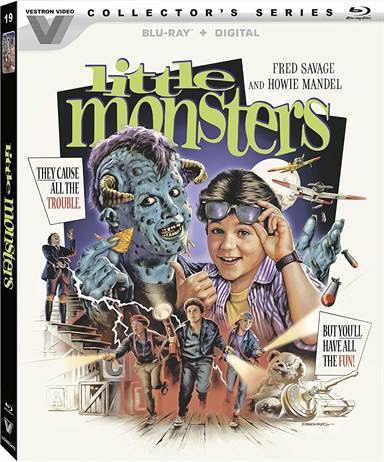 The 1980s were a time of no-holds-barred movies. Some of these films, like Terminator or Amadeus, represent the dichotomy of experimental and groundbreaking movies, to be had across genres. However, there were also too many that were derivative and downright forgettable. This next film falls somewhere in between.
Little Monsters is the story of Brian (Fred Savage), a sixth-grader who's recently moved to a new town and made friends with Maurice (Howie Mandel) — the monster who lives under Brian's bed! Maurice introduces Brian to the world of monsters, where junk food rules, adults aren't allowed, and the fun and games never end. But when Brian's brother is kidnapped, it's time for Brian to get serious and fight the monsters on their turf in this zany cult favorite.
This film is often overlooked and, admittedly, I didn't give it a second glance when it was first released since it seemed like a kid's film. I remember watching the movie with my little brother at the time and thinking that Howie was ripping off Keaton's Beetlejuice (Howie has since corrected this assumption, in an interview on this very disc.) That being said, I now see this movie in a different light. It really has little to do with the Michael Keaton movie, and more closely resembles another film classic, Pinocchio.
Maurice (Mandel) brings Brian (Savage) to the monster world, an MC Escher-like world of doors to every child's bedroom where terrifying kids is a full-time job and gorging themselves on burgers and junk food is their past time. The best part of it all? No parents means zero accountability.
Yep… Pinocchio.
It's not the most original premise for a film; however, there are some very creative moments of zany fun to be had. For example, I like it when light hits the monsters and instead of scampering off or disappearing, they turn into a pile of clothes, which is a really clever concept. I also enjoy the banter between Savage and Mandel's character at times, even though this film really is written with the sensibilities of a child. This means you can enjoy the movie with your kids (as long as they are under 12) and not feel as if it is inappropriate.
I will say, again and again, Lionsgate gets it right with these Vestron rereleases, and Little Monsters is no exception.

This movie looks better than its previous releases (especially from what I remember on VHS) it gets a decent upgrade with the 1080p 16x9, video presentation, and a 2.0 DTS-HD Master Audio track.
As is expected from a "monster" movie, it is filmed mostly in the dark, but it surprisingly has great details. Howie looks great as Maurice, and his make-up effects are vibrant. The darkened bedrooms and the "Monster World" have great black levels and contrast.
The audio is presented well. All the dialog, including the kids' incessant arguing, is front and center. I had also completely forgotten that the Talking Heads' song Road to Nowhere is featured prominently, as part of the end credits. It's an unusual selection, but apropos, since I, unfortunately, felt like I had been down that road for the past 100 minutes.
Again, I really enjoy the Vestron Collector's Series, because they always seem to include a robust Special Features section. This includes Audio Commentary, as well as an Isolated Score selection with Composer David Newman; a bunch of interviews, such as "Call Him Maurice" with Howie Mandel; vintage interviews with the Savage Brothers, as well as Special Effects creator Robert Short, and the Director, Alan Greenberg; trailers, and much more.
While I fear this movie holds no great nostalgia for me, I appreciated it more now, 31 years later, than I did when I first watched. This is due in part to the top-notch job from Lionsgate.
Make no mistakes, I won't be diving under any beds to chase after this movie, but it did make me dig to find that copy of Pinocchio.

Grade: C+
SPECIAL FEATURES:
*NEW* Audio Commentary with Jarret Gahan, Editor-in-Chief of CultofMonster.com
*NEW* Isolated Score Selections and Audio Interview with Composer David Newman
*NEW* "Call Him Maurice" – An Interview with Actor Howie Mandel
*NEW* "Beneath the Bed" – An Interview with Producer Andrew Licht
*NEW* "Monsters Big & Small" – An Interview with Special Makeup Effects Creator Robert Short
*NEW* Vintage Interviews with Actors Fred Savage, Ben Savage, Special Makeup Effects Creator Robert Short, and Director Richard Alan Greenberg
Behind-the-Scenes Footage
"Making Maurice" – Vintage Footage of Howie Mandel's Makeup Transformation
Vintage EPK & VHS Promo
Theatrical Trailer
Still Gallery
For more reviews please visit our film/television review section.
SPONSORED LINKS