Voyagers (2021)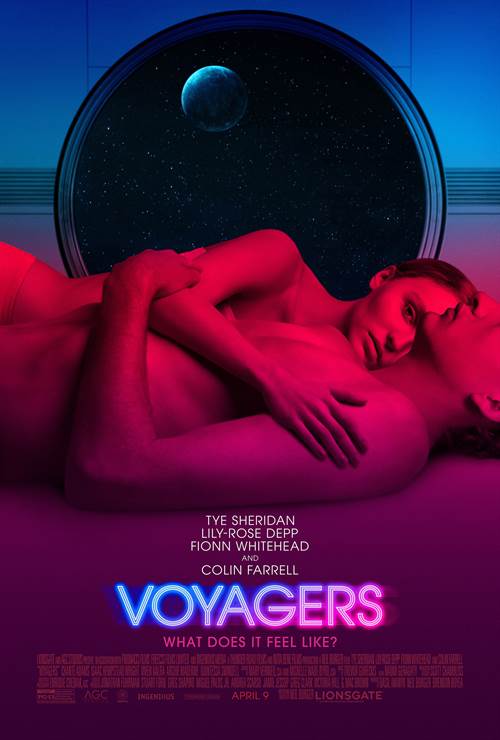 Share this:
| | |
| --- | --- |
| Director: | |
| Writers: | |
| Cast: | |
| Released: | 02 July 2021 |
| Length: | 108 minutes |
| Studio: | Lionsgate |
| Genre: | Sci-Fi/Fantasy |
| Rating: | Some material may be inappropriate for children under 13. |
Synopsis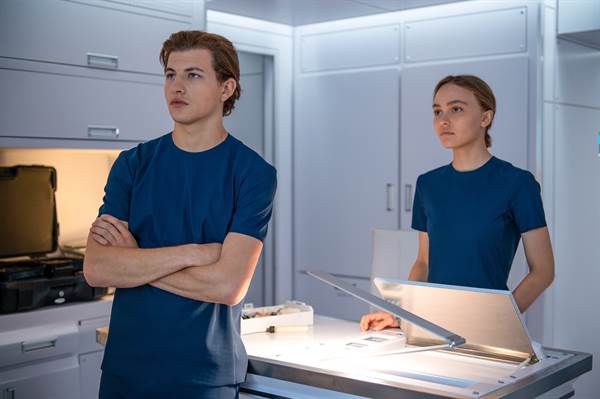 With the future of the human race at stake, a group of young men and women, bred for intelligence and obedience, embark on an expedition to colonize a distant planet. But when they uncover disturbing secrets about the mission, they defy their training and begin to explore their most primitive natures. As life on the ship descends into chaos, they're consumed by fear, lust, and the insatiable hunger for power. Written and directed by Neil Burger (Limitless, The Illusionist), the film stars Tye Sheridan (The X-Men franchise), Lily-Rose Depp (Savage), Fionn Whitehead (Dunkirk), Chanté Adams (Roxanne, Roxanne), Isaac Hempstead Wright ("Game of Thrones"), Viveik Kalra (Blinded by the Light), Archie Madekwe (Midsommar), Quintessa Swindell (Trinkets), Madison Hu ("Bizaardvark"), and Colin Farrell (The Gentlemen).
Purchase DVD/Blu-ray/4K UHD physical copy of Voyagers today at Amazon.com
Download Voyagers in Digital HD/4K from the iTunes store.
Voyagers images are © Lionsgate. All Rights Reserved.
Voyagers Theatrical Review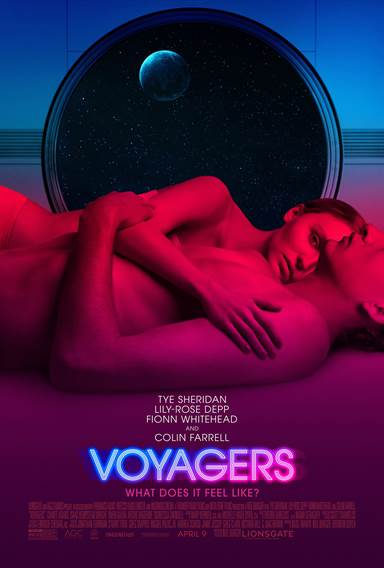 If one wanted to try and modernize a classic novel that has been read and dissected by high school English classes all over the country, what book should it be and how would one go about updating it for movie theater audiences? Enter Voyagers…essentially, Lord of the Flies in space, with teens of both sexes sailing along through the darkness headed for uncharted territory. The 1954 novel by British author William Golding (Rites of Passage) is about a group of young boys stranded on an island and their attempt to govern themselves. Voyagers is the sci-fi version with the same themes and similar results.
Forty years in the future, the Earth is dying, and scientists have found a planet eighty-six years away that seems as though it could sustain human life. However, how could they convince anyone to go on a space mission that they would never survive and never see their loved ones again? The solution was to create embryos from "superior" donors and raise those humans in darkness, in the ship environment so they would never miss what they never knew, and they would be groomed to procreated and pass on the journey to their children and grandchildren who would eventually reach the new planet and populate it.
In theory, it sounded like a great idea but as we all know, great ideas don't often end up the way we plan. As the children grew into teenagers, they questioned the one adult on board the ship, Richard (Colin Farrell; In Bruges). They stopped drinking the "blue" a liquid meant to suppress their urges which caused them to disobey rules and eventually to act upon their more basic instincts. After Richard is accidentally killed, the thirty teenagers run amok and lawlessness ensues, threatening the mission which was the very reason they were born.
While some of the young cast is good, others seem wooden. The script leaves much to be desired, following a narrow path instead of exploring other avenues the story could have branched off into. Farrell is personable and warm (one of the few times I have seen him this way) but he is out of the film halfway through. Tye Sheridan (Ready Player One) is Christopher, who becomes the unofficial "leader" of the group after Richard's death. Zac (Fionn Whitehead; Dunkirk) is Christopher's nemesis and both actors are expressive as they make their way through various emotions. Lily-Rose Depp (Yoga Hosers) however, has one expression that doesn't change the entire film.
The visuals are well done, especially the vast sea of darkness that awaits them every time they look out the window. However, some pretty stars can't make up for the poorly disguised attempt to blatantly rip off a classic novel. Nor can it do anything about writer/director Neil Burger's (Limitless) slow as a snail pacing. Unlike some of his more successful projects, Voyagers does nothing to draw the audience in and keep them interested, making the film seem simply boring. While there are moments where the viewer can identify the same editing style Burger used for Limitless, Voyagers isn't as interesting or unique as the former.
As a fan of Limitless, The Upside, Divergent, and The Illusionist, I was excited to see this new project from Burger, and maybe that was part of the problem, my expectations were high. Sadly, it only took about fifteen or twenty minutes for them to come crashing down and then left me begging for the next hour and twenty minutes for it to be over.
It isn't often that I am not interested in watching a movie to the end credits, but if I wasn't writing this review, I would have turned this movie off before the halfway mark.
Grade: D+
For more reviews please visit our film/television review section.
SPONSORED LINKS