Last Night in Soho (2021)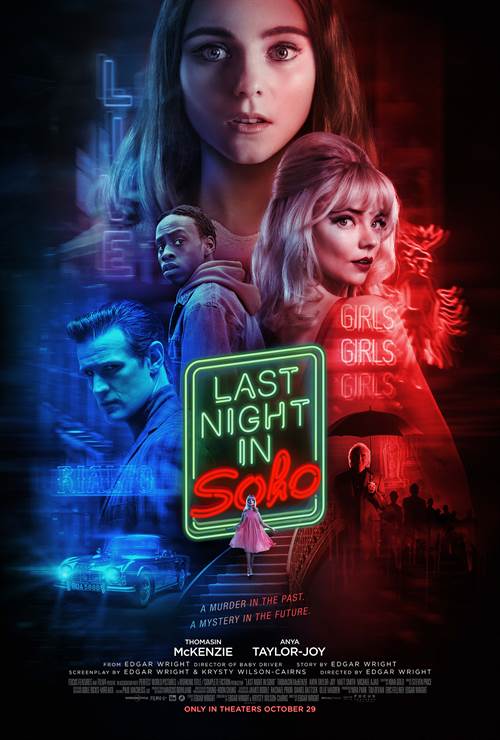 Share this:
| | |
| --- | --- |
| Director: | |
| Writers: | |
| Cast: | |
| Released: | 29 October 2021 |
| Length: | 114 minutes |
| Studio: | Focus Features |
| Genre: | Drama, Horror |
| Certificate: | 15 |
Synopsis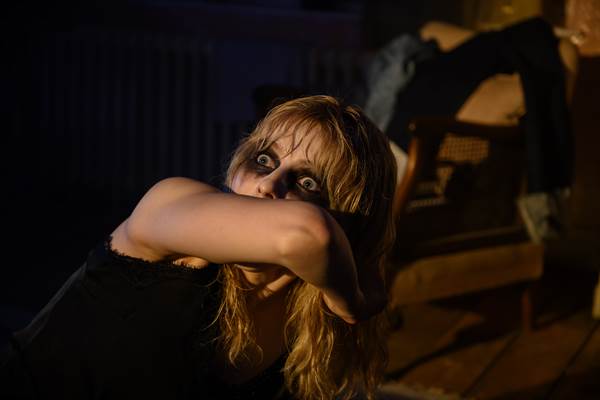 In acclaimed director, Edgar Wright's psychological thriller, Eloise, an aspiring fashion designer, is mysteriously able to enter the 1960s where she encounters a dazzling wannabe singer, Sandie. But the glamour is not all it appears to be and the dreams of the past start to crack and splinter into something far darker.

Purchase DVD/Blu-ray/4K UHD physical copy of Last Night in Soho today at Amazon.com
Download Last Night in Soho in Digital HD/4K from the iTunes store.
Listen to the Last Night in Soho soundtrack on Apple Music.
Last Night in Soho images are © Focus Features. All Rights Reserved.
The Music of Last Night In Soho...Sets The Tone of The Movie
30/10/2021 20:21 EST
As a teenager, I had a poster on my wall that said, "Music is heard with the ears, understood by the heart".  I can't imagine that truer words have ever been spoken.   Music sets a tone and can be adjusted for whatever mood one is or wants to be in.  It can also add to or detract from television shows and commercials. In fact, one of the most useful tools of the film industry is music.  If the sco...
More>>
New Last Night in Soho Playlist Drops Ahead of Film Premiere
19/10/2021 16:20 EST
"Last Night in Soho", Edgar Wright's psychological thriller, will be released Friday, October 29, and in the meantime, we can all bring ourselves back to the 60s with the music that inspired Edgar Wright during the making of the film.Artists on the playlist include the Yardbirds, The Moody Blues, The Zombies, The Hollies, and more! To download the playlist, go to backlotmusic.ffm.to/sohonights.In ...
More>>
See An Advanced Screening of The Last Night In Soho In Miami, FL
19/10/2021 15:29 EST
Edgar Wright, the British director known for Scott Pilgrim vs. the World and Baby Driver, has a new movie releasing just in time for the Halloween weekend. The thriller, called LAST NIGHT IN SOHO, follows Eloise (Thomasin McKenzie;) as she travels back to the 1960s as a glamorous, aspiring singer, Sandie (Anya Taylor-Joy; The Queen's Gambit).  However, she soon discovers Sandie's life isn't all th...
More>>
Last Night in Soho Theatrical Review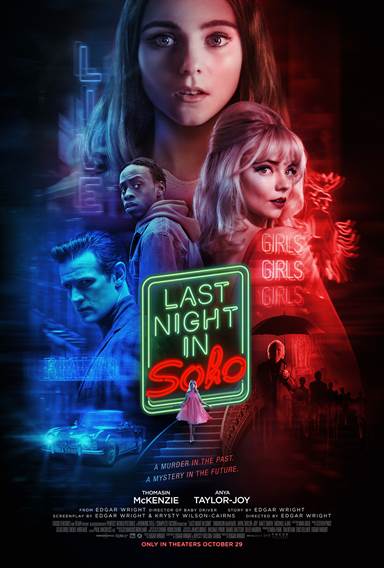 Difficult as it is to believe, Edgar Wright has only directed nine feature films and in this case, quality certainly prevails over quantity. He may not have a long list of directing titles, but he is well known and some of his films are already becoming cult classics. From Scott Pilgrim vs. The World to Baby Driver, Wright brings a unique perspective and style, and he has an eye for distinctive shots and camera angles. His latest release, Last Night In Soho, while being a departure from his comedies, is just as engaging as his previous releases and is sure to be a hit with audiences.
Eloise "Ellie" Turner (Thomasin McKenzie; Jojo Rabbit) is an aspiring fashion designer who lives in the English countryside with her grandmother, who raised Eloise after her mother died by suicide. Ellie has always had a "sixth sense" and often sees her mother with her throughout the house. When Ellie gets accepted to art school in London to study fashion she is beyond excited and can't wait to get there. However, as is so often with reality, things are different than her expectations and, among other changes, she finds herself moving out of the dorms and renting a room from a nice, older lady, Miss Collins (Diana Rigg; Game of Thrones).
Immediately, Ellie feels a sense of relief and newfound freedom, but she starts having mysterious dreams about a young woman in the 1960's named Sandie (Anya Taylor-Joy; The Queen's Gambit). Suddenly, Ellie's nightly mental jaunts transform her into Sandie as she watches what is going on through Sandie's eyes. However, when Sandie's glamorous life turns dark and sinister and ends in murder, Ellie finds herself stuck in a revolving nightmare and a crime to solve. Wondering if she is going crazy, Ellie's school and social lives begin to suffer.
Wright has an eye for talent and how to get the most from his actors. McKenzie and Taylor-Joy are the fantastic women who drive this film and their performances are wondrous to behold. It is difficult to decide which lady does a better job and their intertwining stories and lives mean they share a great deal of screen time. Rigg is a breath of fresh air as she befriends Eloise and imparts her "wisdom" to her younger counterpart. Their interactions are mostly pleasant and memorable. Matt Smith (Dr. Who), who plays Sandie's beau, is very good and showcases Taylor-Joy's character.
Besides the interesting camera angles and fabulous sixties costumes, the music – both the soundtrack and the score – help set the tone for the film as it moves through the fabulous heyday of the sixties into the sinister world hidden just beneath the surface. The upbeat tempos of the oldies contrast with the deep and sinister tones of the score. Taylor- Joy's version of Downtown is memorable and her singing is wonderful. Wright knows how to set "the mood" and the atmosphere fully envelopes the viewer and drags them into the depths of Sandie's and Ellie's connection.
After establishing their connection and moving the plot forward, Wright takes a page out of M. Night Shyamalan's book and throws in a plot twist many won't see coming but makes sense once it is revealed. The movie also begins as a sort of love letter to the London of the sixties but ends with the seedier underbelly of the city.
Wright once again uses his rare storytelling style to give the stars the support, they need to create this world where the lines of reality blend with fantasy.
Though the movie falls a little short in the third act, the buildup alone is worth seeing.
Grade: B+
-- Allison Rose
For more reviews please visit our film/television review section.
Hear Anya Taylor-Joy's versions of "Downtown" now: https://backlotmusic.ffm.to/downtown.​​​​​Pre-Ord...

In acclaimed director, Edgar Wright's psychological thriller, Eloise, an aspiring fashion designer,...
SPONSORED LINKS