King Richard (2021)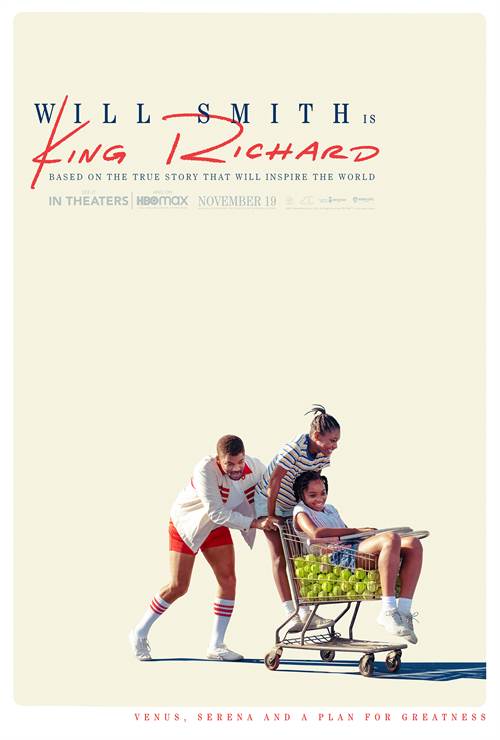 Share this:
| | |
| --- | --- |
| Director: | |
| Writers: | |
| Cast: | |
| Released: | 19 November 2021 |
| Length: | 138 minutes |
| Studio: | Warner Bros. |
| Genre: | Drama |
| Certificate: | 12A |
Synopsis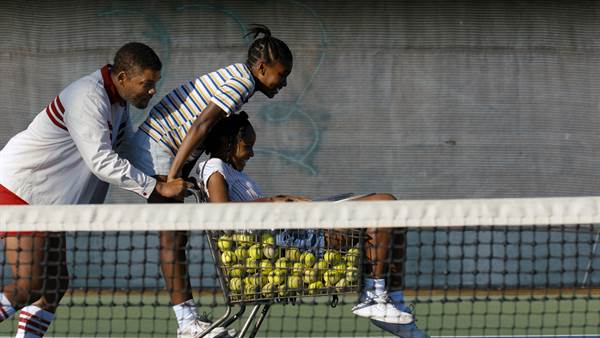 Based on the true story that will inspire the world, "King Richard" follows the journey of Richard Williams, an undeterred father instrumental in raising two of the most extraordinarily gifted athletes of all time, who will end up changing the sport of tennis forever. Driven by a clear vision of their future and using unconventional methods, Richard has a plan that will take Venus and Serena Williams from the streets of Compton, California to the global stage as legendary icons. "King Richard" is a profoundly moving film that shows the power of family, perseverance and unwavering belief as a means to achieve the impossible and impact the world.
King Richard images are © Warner Bros.. All Rights Reserved.
See an Advanced Screening of King Richard in Florida
04/11/2021 21:17 EST
Venus Williams burst onto the National Professional tennis scene at the tender age of 15.  She was followed by her younger sister Serena, and for years they dominated the Women's Tennis arena in both the individual and doubles tournaments.  Nobody saw them coming.  Well…almost nobody.  Their father, Richard Williams (Will Smith; Men in Black) did though, and he planned the meteoric rise from befor...
More>>
King Richard Theatrical Review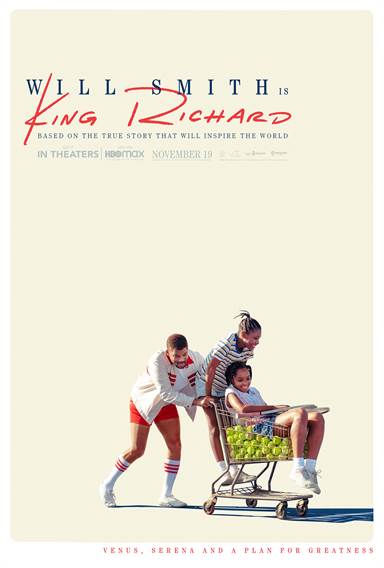 What does it take to become one of the greatest athletes in the world? Besides talent, hard work, perseverance, blood, sweat, tears, etc., it takes a strong coach and a supportive network of family and friends. In the case of Richard Williams (Will Smith, Independence Day), it also takes a "plan". Well… in his case, the plan wasn't to make one of the greatest tennis players ever…it was to make TWO of the greatest tennis players ever. Supposedly, he was obstinate, obnoxious, demanding, etc. but his tenacity worked and, not only did the family move from California to Florida but his daughters, Venus and Serena Williams, became two of the greatest players tennis has ever seen.
The Williams family moved from Michigan to Compton, CA where Richard and Oracene "Brandy" Price (Aujanue Ellis; The Help) raised their children to be respectful, educated, and confident. They barely scraped by financially while Richard coached both Venus and Serena. He spoke to every well-known coach in Los Angeles County to try and get them to work with Venus (Saniyya Sidney; Fences) and Serena (Demi Singleton; Godfather of Harlem). Unfortunately, no one would consider it until Richard forced Paul Cohen (Tony Goldwyn; Scandal) to watch Venus play.
Smith's performances can be hit or miss depending on the source material. For example, After Earth and Aladdin were two of his worst movie performances while Ali, Men in Black, and Concussion showcase his immense talent. Luckily, King Richard fits into the latter category and should garner him another Oscar nomination as his performance reminded me of when he played Dr. Bennet Omalu in Concussion.
Besides Smith, the movie is stacked with talent beginning with the young actresses portraying Venus and Serena. Both Sidney and Singleton create everlasting images of the Williams sisters and it will be interesting to watch them grow as they continue to hone their craft. Ellis is also a standout as the feisty mother of the two future tennis superstars. Price was probably the only person who could (sort of) reign Richard in and put him in his place when necessary and Ellis hit all the right notes as the no-nonsense, intelligent, hardworking woman behind the Williams' juggernaut.
The story seems somewhat "sanitized" though as Richard comes across as mildly pushy in the film whereas in real life, he was known to be VERY pushy and, as stated earlier, obstinate. The film also shows nothing but the love the sisters had for the game, their parents, and their family but, under the surface, it is impossible for everything to be sunshine and roses all the time. Understandably, there isn't going to be time to add everything into the film, but one moment of defiance from Venus or Serena would have added some realism to the story.
Director Reinaldo Marcus Green (Monsters and Men) keeps the pace moving along smoothly and builds tension in all the right spots. He, along with first-time feature film writer Zach Baylin, keep the story flowing throughout the two-plus hours running time. Baylin also infuses the script with various scenes to show how "fish out of water" the Williams family was. There was a scene when a neighbor called CPS on the parents because they made the girls play tennis in the rain and ran them all over town looking for tennis courts they could use. Conversely, at the junior tennis tournaments, the family was stared at and made to feel unwelcome because they were the only lower-income African American family in a predominately white, middle to upper-class sport.
While the acting is excellent, King Richard has a few flaws which can't be overlooked. From the "rainbows and sunshine" demeanor of the Williams' kids to the lack of almost any sort of anger in Smith's portrayal of the demanding father, it isn't the most realistic look at this famous family.
You don't have to be a tennis fan to appreciate the film and there is no surprise ending or shocking revelation so if you go into it with limited expectations, you will more than likely enjoy King Richard.
Grade: B+
-- Allison Rose
For more reviews please visit our film/television review section.
Based on the true story that will inspire the world, "King Richard" follows the journey of Richard W...
SPONSORED LINKS