Elvis (2022)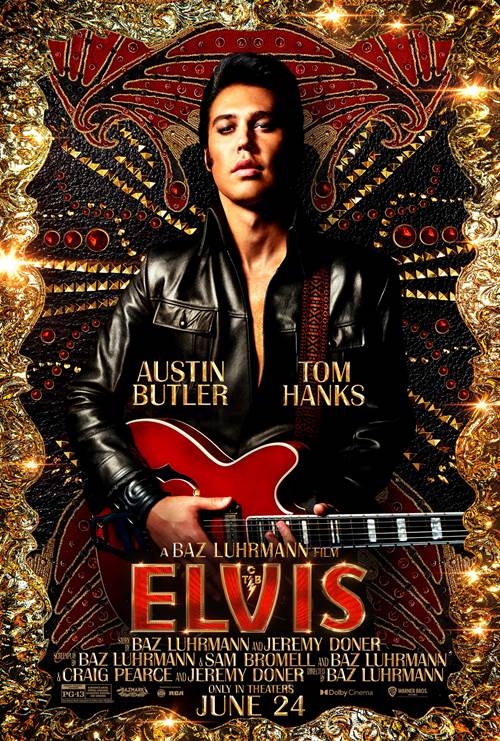 | | |
| --- | --- |
| Director: | |
| Writers: | |
| Cast: | |
| Released: | 24 June 2022 |
| Length: | 159 minutes |
| Studio: | Warner Bros. |
| Genre: | Drama |
| Rating: | Some material may be inappropriate for children under 13. |
Elvis Synopsis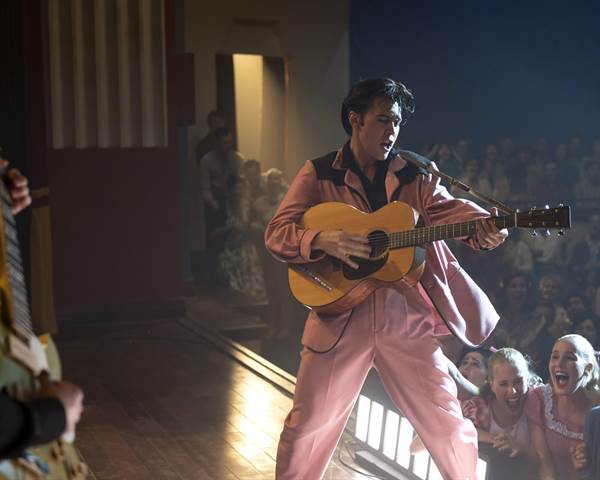 From Oscar-nominated visionary filmmaker Baz Luhrmann comes Warner Bros. Pictures' drama "Elvis," starring Austin Butler and Oscar winner Tom Hanks.
The film explores the life and music of Elvis Presley (Butler), seen through the prism of his complicated relationship with his enigmatic manager, Colonel Tom Parker (Hanks). The story delves into the complex dynamic between Presley and Parker spanning over 20 years, from Presley's rise to fame to his unprecedented stardom, against the backdrop of the evolving cultural landscape and loss of innocence in America. Central to that journey is one of the most significant and influential people in Elvis's life, Priscilla Presley (Olivia DeJonge).

Purchase DVD/Blu-ray/4K UHD physical copy of Elvis today at Amazon.com
Listen to the Elvis soundtrack on Apple Music.
Elvis images are © Warner Bros.. All Rights Reserved.
See an Advance Screening of ELVIS in Florida
10/06/2022 19:01 EST
Elvis Aaron Presley was an icon during the 20th Century.  Labeled the "King of Rock and Roll", he influenced a generation of teenagers and musicians and has since become a legend. Famous director Baz Luhrmann (Moulin Rouge!) has taken on his story in the feature film, ELVIS.Warner Bros., in conjunction with FlickDirect, would like to offer some lucky winners one electronic admit-two pass to see a ...
More>>
Elvis Trailer Debut, Baz Luhrmann Talks Love of Trailers
17/02/2022 12:01 EST
"I love movie trailers.  They are an invitation to see the movie".  And with that thought, Baz Luhrmann introduced the trailer for his next release, Elvis, due out in theaters this summer.  The biopic, starring Disney Channel Alum Austin Butler (Once Upon a Time…in Hollywood) as The King of Rock and Roll, is set for a June release and based on the sneak peek seen last week by members of the press,...
More>>
Elvis Theatrical Review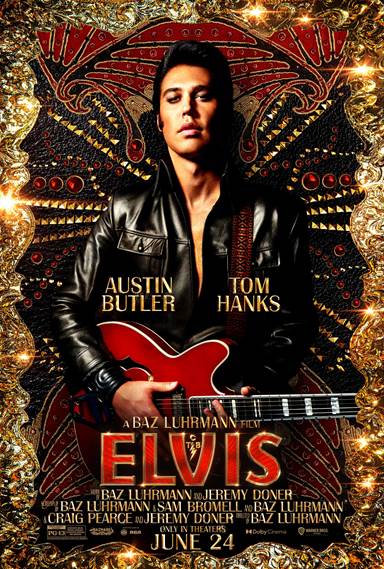 When Elvis Aaron Presley was born in Tupelo, Mississippi in January of 1935, the world changed forever. Only it didn't know it yet. Nineteen years later, Presley would begin down a career path that would see him have 114 singles on the Top 40 Billboard charts with 18 of them becoming number one hits. He would star in 31 movies and win three Grammy awards, all for gospel music. He was dubbed the "king of rock and roll" and became one of the most controversial and polarizing figures in the United States. While there have been numerous books, documentaries, and movies about the man and performer, this month's feature film, Elvis, explores his life from the perspective of his manager, Colonel Tom Parker.
Elvis Presley (Austin Butler; Once Upon A Time In Hollywood) grew up poor in Mississippi and Tennessee accounting for some of his earliest musical influences, especially the church. At eleven he was given a guitar for his birthday but being shy, he rarely performed in front of other people. By 1954 he was performing all over the country and in 1956 he got his first hit record.
Colonel Tom Parker (Tom Hanks; Saving Mr. Banks) was managing singer Hank Snow (David Wenham; 300) when he saw Elvis perform. Parker began helping Elvis on the road and eventually became Elvis' manager. A con man by nature, Parker would manipulate Elvis making their relationship tumultuous for the next twenty years.
As a member of the audience, one knows they are always going to be treated to a solid performance from Hanks. While he embodies the essence of his characters, it is difficult to completely lose Hanks in his roles ( even when he wearing prosthetics and a fat suit) which can be mildly distracting. However, by the end of the two-and-a-half-hour movie, you feel you need a shower to wash off the sleaziness of Hanks' Parker.
When the choice was made to shoot a movie about Elvis, casting the lead role was going to be tricky as the actor in the part could make or break the film. The wrong actor could make Elvis into a parody, while the right one could make the movie a masterpiece. Butler may not have been a household name before this week but it is absolutely certain he will be much more well-known after the movie is released. To say the casting was excellent would be an understatement. Butler nails Elvis' mannerisms, speaking/singing voice, and most of all, his gyrating and iconic dance moves. This could be a career-making part for Butler and, luckily, it looks like it absolutely will be.
Baz Luhrmann (The Great Gatsby) is known for being a talented writer and an over-the-top director and he doesn't disappoint with Elvis. From the opening minute, it becomes apparent that this is a Luhrmann picture with lavish and over-exaggerated scenes. Luckily, as Elvis came across as over-exaggerated in his performances, this vessel is perfect for Luhrmann to utilize his particular brand of filmmaking, especially with one that includes several musical numbers.
Between Luhrmann's interesting decision to focus on the singer's relationship with his manager and Butler's outstanding performance makes this is a one-ticket that is worth the price of admission, even if you weren't an Elvis fan. I would be surprised if Elvis isn't nominated for a few Academy Awards.
With positive word of mouth, which the film should generate during its opening weekend, it should recoup its $85 million budget. I would be surprised if it doesn't. I recommend almost everyone see Elvis If for no other reason, to watch Butler embody the essence of the King and offer up probably one of the greatest performances of his career.
-- Allison Rose
For more reviews please visit our film/television review section.
From Oscar-nominated visionary filmmaker Baz Luhrmann comes Warner Bros. Pictures' drama "Elvis," starring Austin Butler and Oscar winner Tom Hanks.Th...
SPONSORED LINKS