The Twilight Saga: Breaking Dawn - Part 1 (2011)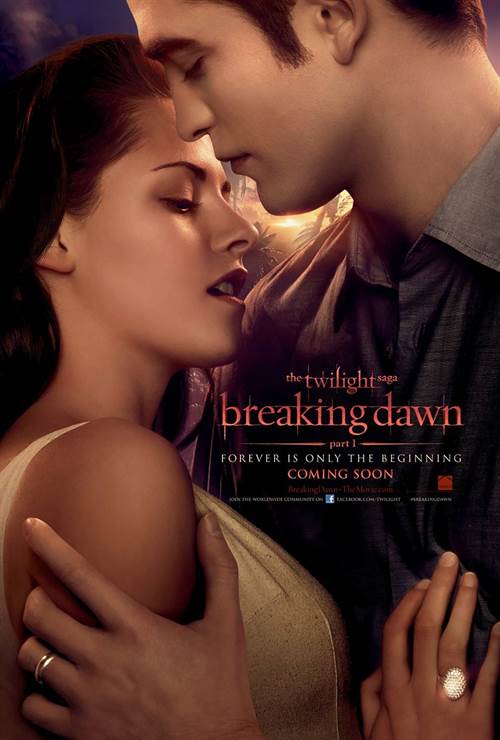 | | |
| --- | --- |
| Director: | |
| Writers: | |
| Cast: | |
| Released: | 18 November 2011 |
| Length: | 117 minutes |
| Studio: | Summit Entertainment |
| Genre: | Sci-Fi/Fantasy, Action/Adventure |
| Certificate: | 12A |
Synopsis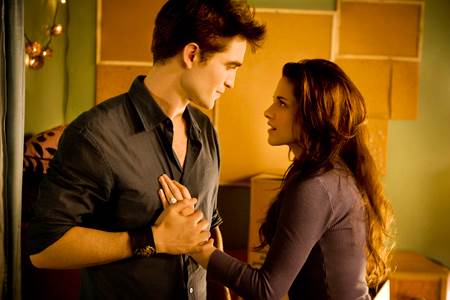 At last, Bella (Kristen Stewart) and Edward (Robert Pattinson) are getting married. When Jacob (Taylor Lautner) finds out that Bella wants to spend her honeymoon as a human, he is horrified -- for Edward's passion could accidentally kill her. Bella does indeed survive her honeymoon, but a new complication arises when she discovers that she's pregnant -- and the child is growing at an alarming rate. The pregnancy sets the wolves against Bella and Edward, but Jacob vows to protect his friend.

Purchase DVD/Blu-ray/4K UHD physical copy of The Twilight Saga: Breaking Dawn - Part 1 today at Amazon.com
Download The Twilight Saga: Breaking Dawn - Part 1 in Digital HD/4K from the iTunes store.
Listen to the The Twilight Saga: Breaking Dawn - Part 1 soundtrack on Apple Music.
The Twilight Saga: Breaking Dawn - Part 1 images are © Summit Entertainment. All Rights Reserved.
Terrorist Attempt On Twilight: Breaking Dawn Discovered
16/11/2012 18:08 EST
November 16, 2012- It was just learned by FlickDirect that Blaec Lammers has been arrested and charged with a crime involving the film The Twilight Saga: Breaking Dawn Part 2. Lammers has been taken into custody in Bolivar, Mo, after his mother contacted the police afraid that her 20-year-old son had bought weapons. He has been charged with first degree assault, making a terrorist threat and armed...
More>>
Twighlight Fans Set Up Camp for Monday's Premier
08/11/2012 14:32 EST
Die hard "Twilight" fans are already lining up for the release of the next film in the franchise, "Breaking Dawn Part 2".These fans, from around the world, are heading to the Summit Entertainment-hosted camp at Nokia Theater in Downtown LA. There are 2,200 spots open, making this the largest camp to date in the history of the franchise.  The fans who camp will have the opportunity to get a glimpse...
More>>
Lionsgate Announces The Twilight Saga: Breaking Dawn - Part 2 Te...
09/03/2012 11:32 EST
The full teaser trailer for "The Twilight Saga: Breaking Dawn - Part 2" will be released online Monday, March 26th at 3am US-PT/6am US-ET, according to Lionsgate.Fans will be able to get a sneak peek on March 20th at 3am US-PT/6am US-ET, will a small amount of footage being released.The trailer will also be released on March 23rd during showings of "The Hunger Games"....
More>>
Twilight Saga Screenwriter Melissa Rosenberg Talks About Breakin...
22/06/2010 14:52 EST
MTV News recently spoke with "Twilight" Saga screenwriter Melissa Rosenberg about the upcoming films for "Breaking Dawn". Since ti is now known that the latest installment will be broken up into two films, there are many questions about what will be included in each. The novel has a lot of sex as well as a gory birthing scene; probably not the best material for a PG-13 film. Rosenberg says that th...
More>>
Taylor Launter Brings An Exclusive Never Before Seen Clip From N...
15/11/2009 20:33 EST
BURBANK, Calif. - November, 2009  -  On Monday, November 16, fans of "Twilight" will get a double treat when Taylor Lautner brings a never before seen clip from "The Twilight Saga: New Moon" to premiere on "The Jay Leno Show" (Monday-Friday, 10-11 p.m. ET).  The exclusive clip will feature Lautner and co-star Kristen Stewart. Also, on Monday's show Heather Locklear checks in for a "Ten @ Ten" from...
More>>
The Twilight Saga: Breaking Dawn - Part 1 Theatrical Review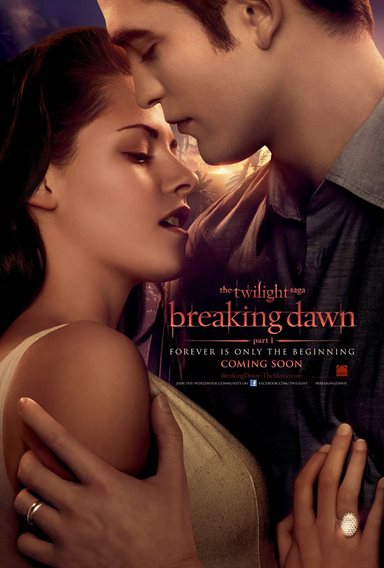 Well the Twilight Saga has finally reached its ebb with the first half of Breaking Dawn that opens this weekend in theaters around the world. Certainly expected to be earth shaking due to millions of young girls and twenty-something's rushing to the box-office to get a look at semi-nude Robert Pattenson making love to his comely co-star Kristin Stewart. It's all about the look and feel of the film that makes this one a winner.

Bella and Edward have a stunningly beautiful wedding, one that could easily overshadow even some of the top weddings ever on film. Following the wedding Edward whisks his bride off to a secluded island for their honeymoon. When they return home with Bella in pain it incites the Blacks to become vicious.

Taking a crack at the ongoing series director Bill Condon (Dreamgirls) gets a little edgy with an intense sexually charged wedding night on a private island with his two central stars. Biding his time with the camera close ups and leaning into the special moment, Condon brings his audience within a hair of the actual act. But, his reveal the following day provides enough evidence of a very bruising passionate union making the first half of the fourth installment a vampire's saga.

The acting here has developed to a higher level since first we met Bella Swan and Edward Cullen. Time to grow up and practice with roles in films like The Runnaways and Welcome to the Rileys have made Stewart into a viable star quality actress. Taking Bella through several almost mystical scenes, dramatic moments and a near death occurrence, Stewart shows she can act.

Pattenson has developed extremely well himself using his seasoned ability from such films as Water for Elephants and Little Ashes to make his Edward character very palatable. Together with Stewart they blaze Breaking Dawn in a hot screen appearance together. His dramatic appeal continues beyond Twilight with Cosmopolis and Bel Ami looking for release dates.

But, for the guys Breaking Dawn has dragging issues, especially the long-winded honeymoon that rolls out slowly with too much lovey-dovey before it becomes intimate enough to attract a macho audience. Even Bella's 'growing' entity within her seems to be drawn out with each of the Cullen women getting into the act, but here there's forgiveness because Condon needed the time to split the film into two parts.

Breaking Dawn is rated PG-13 for disturbing images, violence, sexuality/partial nudity and some thematic elements. Be extremely cautious when deciding to bring immature pre-teenagers. The 1 hour and 48 minute film is part one of the final book of the Twilight Saga with part two being released in November of 2012.

-- John Delia
For more reviews please visit our film/television review section.
At last, Bella (Kristen Stewart) and Edward (Robert Pattinson) are getting married. When Jacob (Tayl...
SPONSORED LINKS