Hansel & Gretel: Witch Hunters (2013)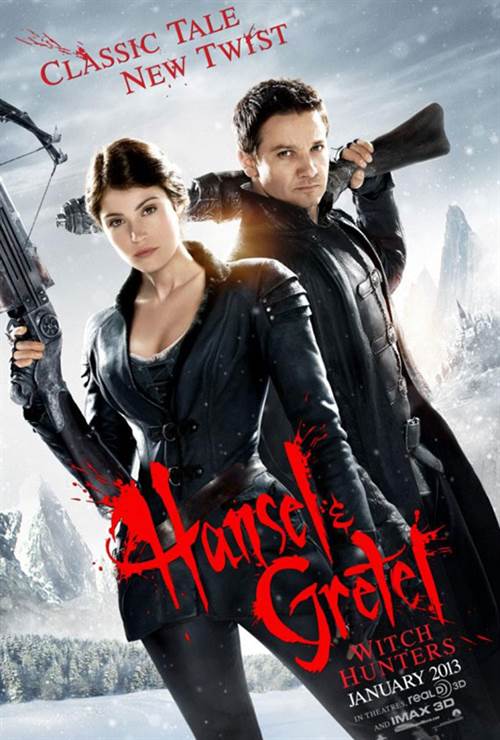 Share this:
| | |
| --- | --- |
| Director: | |
| Writers: | Tommy Wirkola, D.W. Harper |
| Cast: | |
| Released: | 15 March 2013 |
| Length: | 88 minutes |
| Studio: | Paramount Pictures |
| Genre: | Sci-Fi/Fantasy, Action/Adventure |
| Certificate: | 15 |
Synopsis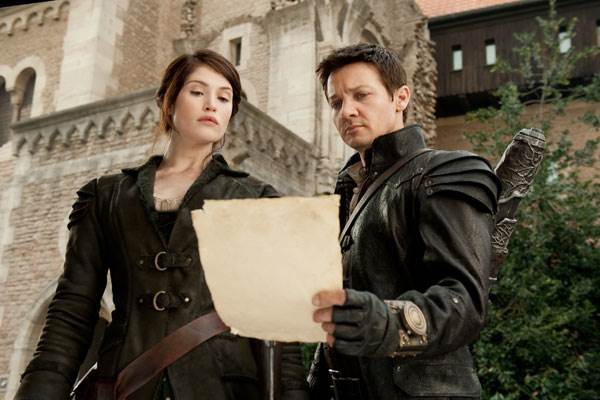 Catching up with Hansel (Renner) and Gretel (Arterton), fifteen years after the traumatic incident involving a gingerbread house, the siblings have grown into vengeful bounty hunters dedicated to exterminating witches. Over the years, the siblings became expert hunters, famous for their proficiency at tracking and taking down their prey. Although still recovering from their ordeal, their work is relatively easy as for an unknown reason harmful spells and curses do not work well against them.

The Mayor of Augsburg recruits them to rid the town and nearby forests of an evil sorceress (Janssen) who is planning to sacrifice many local children at the witches' gathering during the upcoming 'Blood Moon' night in two days time. To make things worse, the duo also has to deal with the brutal Sheriff Berringer (Stormare) who has taken power in Augsburg and conducts a very indiscriminate witch-hunt of his own.
Purchase DVD/Blu-ray/4K physical copy of Hansel & Gretel: Witch Hunters today at
Download Hansel & Gretel: Witch Hunters in Digital HD/4K from the iTunes store.
Hansel & Gretel: Witch Hunters images are © Paramount Pictures. All Rights Reserved.


Hansel & Gretel: Witch Hunters Heads to TV
15/10/2015 13:25 EDT
Hansel & Gretel: Witch Hunters was originally supposed to get a sequel made, but now, Paramount has decided that they may possibly be taking the project to the small screen.  It would be a cable series through Paramount TV.While Hansel & Gretel didn't perform well domestically (only earning $55 million), it did do better internationally, pulling in around $170 million. This isn't the first time Pa...
More>>
Hansel & Gretel: Witch Hunters Theatrical Review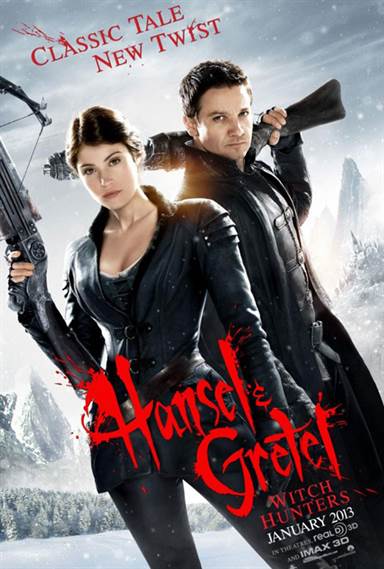 Hollywood, of late, seems to be running to the safety of classics to help churn out a collection of new flicks to entertain the masses. Hansel and Gretel: Witch Hunters epitomizes the trend. Based loosely on the classic children's Grimm fairytale; Hansel and Gretel: Witch Hunters follows the brother and sister from the Germanic tale to adulthood. Due to their childhood experiences at the hands of the evil witch in her infamous candy house, they have sworn their lives to hunting witches.
Starring in the title roles are Jeremy Renner (Avengers, Bourne Legacy) and Gemma Arterton (Quantum of Solace, Clash of the Titans) who have been hired by the small village of Augsburg to investigate the disappearance of their children taken by the evil witch Muriel (Famke Janssen, GoldenEye, Taken). Along the way they battle the local town sheriff (Peter Stormare, Bad Boys II, Armageddon) who does not trust them, a cult of witches and even a very large troll.
The film, directed by Tommy Wirkola, making his first Hollywood feature film debut, blends a mixture of genres to provide this picture with just the right tempo to keep audiences engaged. Harkening back to films such as Evil Dead II and Army of Darkness, Hansel and Gretel combines comedy, horror, and action to help deliver an over-the-top film, then keeps on delivering even after the credits are rolling. Filming in the native Grimm fairytale land of Germany certainly helped contribute to the film creditable tone and look.
With such a strong cast, the film has plenty to work with, and Renner proves yet again why he is Hollywood's latest go-to guy for action films, and Arterton holds her own in the action scenes. Even having not played a "bad guy" since GoldenEye, Janssen easily slips into the role, having no problems convincing the audience that she is an evil being not to be trifled with.
While Hans Zimmer is only the executive producer of the Hansel and Gretel score, his influence can certain be felt in the music by Atli Orvarsson (The Eagle), who provides a soundtrack that suits the film's mood perfectly.
Make no mistake about it: this film is not for the faint of heart or young audiences. It is a dark twist on an already dark fairy tale, perfect for adult audiences to enjoy on a cold January winter night.
See also FlickDirect's
interview with Hansel and Gretel stars Jeremy Renner (Avengers, Bourne Legacy) and Gemma Arterton
.
Read More Hansel & Gretel: Witch Hunters Reviews
For more reviews please visit our film/television review section.
"Hansel and Gretel: Witch Hunters" will be released on March 1, 2013, and our own Penny Mc...

Catching up with Hansel (Renner) and Gretel (Arterton), fifteen years after the traumatic incident i...
SPONSORED LINKS
Comments
Courtesy of
Movie Hype App
lucas
I love this movie
27/06/2013 21:39 EDT
luxoseida
Noche de cine!!
22/06/2013 23:39 EDT
kassychips28
Omg best witch movie evver
21/06/2013 16:55 EDT
obed_edum
Lame. A waste of a free Redbox Code. Disappointed...
21/06/2013 10:59 EDT
dm9166
Good Movie!!
14/06/2013 22:33 EDT
shay_diva12
How do u watch these movies
14/06/2013 13:20 EDT
movieguynathan
Seeing how much it has changed from theatrical version.
12/06/2013 21:57 EDT
thegame9180
At home watching hansel and gretel: witch hunters
12/06/2013 14:21 EDT
silverhawke
Hope this is better then d other one i saw which is smerican version
10/06/2013 21:17 EDT
andyjay15
Lets see how this goes!
19/05/2013 00:38 EDT
purplepiledriver
I missed this in theaters
11/04/2013 13:52 EDT
ainzz2001
Wife and loved it. Hilarious at times and both actors fit the roles.
03/04/2013 21:56 EDT
somersetjrh
Wanna see this sooooooo bad
22/03/2013 19:01 EDT
paul
Wiped from my memory this was dire!
02/03/2013 14:27 EDT
rosiemullins99
OOHHH I WANNA SEE THIS!!!!
16/02/2013 02:12 EDT