Harry Potter and the Chamber of Secrets (2002)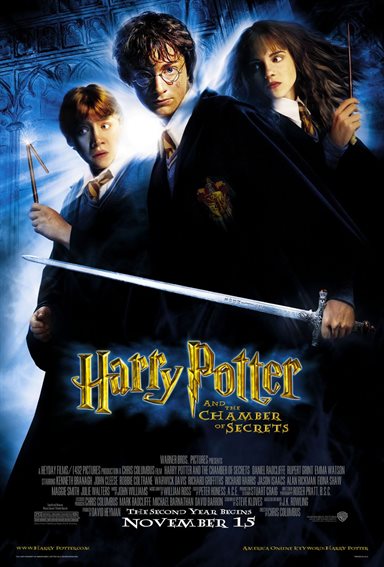 | | |
| --- | --- |
| Director: | |
| Cast: | |
| Released: | 03 November 2002 |
| Length: | 161 minutes |
| Studio: | Warner Bros. |
| Genre: | Sci-Fi/Fantasy |
| Certificate: | PG |
Synopsis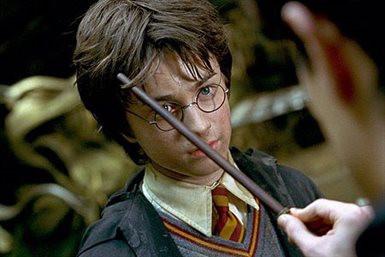 The follow-up to Harry Potter and the Sorcerer's Stone finds young wizard Harry Potter (Daniel Radcliffe) and his friends Ron (Rupert Grint) and Hermione (Emma Watson) facing new challenges during their second year at Hogwarts School of Witchcraft and Wizardry as they try to discover a dark force that is terrorizing the school.
Purchase your copy of Harry Potter and the Chamber of Secrets today at
Download Harry Potter and the Chamber of Secrets from iTunes.
SPONSORED STORIES
Comments
Courtesy of
Movie Hype App
sully5000
This is a awesome movie!!
07/11/2016 12:39 EDT
lfarah
Harry Potter marathon!
31/12/2014 17:31 EDT
movieguynathan
On HBO. Can't ever get enough Potter!
04/06/2013 20:32 EDT
Harry Potter and the Chamber of Secrets images are © Warner Bros.. All Rights Reserved.
Wizards, Witches and Muggles Alike Gathered Once Again at Univer...
29/01/2018 14:41 EDT
If you are a huge Harry Potter fan and have never been to Universal Orlando Resort A Celebration of Harry Potter, you must make it a point to go. If you have been before, you need to go again as every year offers something new and exciting. Regardless, the annual event is a unique experience that should be on the top of any Harry Potter fan's list.Now in its fifth year, A Celebration of Harry Pott...
More>>
Fantastic Beasts Films Will Travel the Globe
27/01/2018 10:39 EDT
Director David Yates has revealed that the five upcoming Fantastic Beast films will all take place in different cities.The first film took place in New York, and the second will be taking place in Paris. We don't yet know where the next three film will take place but Yates said, "This is a global story, ultimately. And given that there's a global audience for this, it's all the more delightful to ...
More>>
Own the Fantastic Beasts and Where to Find Them Virtual Reality ...
24/01/2018 12:25 EDT
Warner Bros. Home Entertainment is bringing the world of Fantastic Beasts and Where to Find Them into your home! Prepare for a journey into Newt Scamander's case through the new virtual reality experience available for purchase as of January 23 on major VR platforms.The VR experience is based off the 2016 film and will allow users to meet and interact with six magical beasts, complete spells, expl...
More>>
Natalia Tena to Join Celebration of Harry Potter
14/12/2017 16:51 EDT
Universal Orlando Resort will be holding "A Celebration of Harry Potter" in January and they have announced that Natalia Tena will be joining the party.Other stars to make appearances will be Stanislav Yanevski (Viktor Krum), Bonnie Wright (Ginny Weasley) and James and Oliver Phelps (Fred and George Weasley). This will be Tena's first ever appearance at the event.Tena joined the cast of the Potter...
More>>
Celebrate The Holidays This Year at The Universal Orlando Resort
21/11/2017 08:35 EDT
When The Wizarding World of Harry Potter opened at The Universal Orlando Resort in June of 2010 it instantly became the vacation destination for die-hard Harry Potter fans worldwide.  It soon spawned the annual Celebration of Harry Potter three day weekend event that is now going into its fourth year.  Adding to the excitement, Universal announced the inception of Christmas in the Wizarding World ...
More>>
Bonnie Wright to Return for Universal Orlando's Celebration of H...
20/11/2017 16:23 EDT
Universal Resort Orlando and Warner Bros. will be holding A Celebration of Harry Potter, an event that will take place on January 26-28, 2018, and some new details have been announced.Bonnie Wright, who played Ginny Weasley, will once again be attending the event as well as Stanislav Yanevski (Viktor Krum) and James and Oliver Phelps (Fred and George Weasley). Also on the schedule will be panels f...
More>>
The Wizarding World of Harry Potter to Get New Christmas Experience
13/04/2017 10:55 EDT
This year, Universal Orlando will be serving up something new at Christmastime.  The resort announced today that a new Christmas experience is coming to The Wizarding World of Harry Potter as part of its destination-wide Holiday celebration, which will run from  November 18, 2017, to January 6, 2018.  This November, the new Christmas experience in The Wizarding World of Harry Potter will give gues...
More>>
Jude Law Cast as Young Dumbledore in Fantastic Beasts Sequel
12/04/2017 12:49 EDT
Jude Law has been cast to play a young Dumbledore in the upcoming sequel to "Fantastic Beasts and Where to Find Them".  Law will join not only Eddie Redmayne in the cast, but Johnny Deep as well. David Yates will be returning to direct the sequel.  "Fantastic Beasts and Where to Find Them" grossed over $812 million worldwide. It follows the story of  Newt Scamander, a British wizard and "magizoolo...
More>>
Universal Orlando's 'A Celebration of Harry Potter' 2017 Keeps T...
30/01/2017 08:51 EDT
It's been 20 years since the first Harry Potter book was published and since that time there have been six other books, eight movies, a spin-off book and movie series called "Fantastic Beasts and Where To Find Them", an online community, theme park rides and legions of fans now spanning multiple generations.  The frenzy surrounding the boy who lived and the one who shall not be named shows no sign...
More>>
Experience Behind the Scenes Magic at Universal Orlando's 'A Cel...
08/12/2016 10:32 EDT
Universal Studios and Warner Bros. announced today it would once again host A Celebration of Harry Potter at Universal Studios in Orlando Florida from January 27 to 29, 2017.  The fourth annual event will   allow guests the opportunity to celebrate J.K. Rowling's Wizarding World with a variety of exclusive experiences and attend the largest Harry Potter Expo in event history, featuring more partne...
More>>
Fantastic Beasts to Encompass a Five-Film Franchise
14/10/2016 10:58 EDT
While attending a global event for Warner Bros. Fantastic Beasts And Where To Find Them, J.K. Rowling announced that there will be a total of five films in the Harry Potter spin-off franchise.  Originally, Rowling stated the franchise would be a trilogy. The event also featured  he first 10 minutes of the movie and a featurette.The first film stars Eddie Redmayne and will be released on November 1...
More>>
A Celebration of Harry Potter Event at Universal Orlando 2016 Ta...
10/11/2015 13:07 EDT
Orlando, Fla. (November 10, 2015) - Harry Potter film stars Rupert Grint, Bonnie Wright, Matthew Lewis, Evanna Lynch and Katie Leung will appear at "A Celebration of Harry Potter" - a special event hosted by Universal Orlando Resort and Warner Bros. Consumer Products. Creative talent also set to appear includes Pierre Bohanna, head prop maker for the Harry Potter film franchise, Paul Harris, the w...
More>>
Harry Potter and the Chamber of Secrets (Ultimate Edition) Blu-ray Review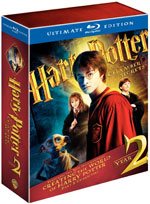 As we have almost now come to the end of the Potter films and have passed the end of the books where we learned all of the secrets, e.g. Rowling's assertion that Dumbledore was gay, we are now getting to watch the films actually come out on Blu-ray for our home collections. The 2002 movie was the second, and thankfully last, of Chris Columbus' hyper-literal interpretations. Someone noted that the Bible was usually filmed with less fidelity than the first two Potter flicks, and workman-like filming.
To be sure, he did a credible job -- just not an inspired one, and as we can see as we now live in the series' future, he nailed the cast. The school has become more impressive as time wore on, but the essential nature of Hogwarts, which Columbus gets the credit for, has remained unchanged. If you want to own the Harry Potter series of films, you will want to own this one. If you are not a fan, I believe the common understanding of which I share to a degree, is that the books get more interesting later in the series; although the sense of whimsy wears a little thinner as they top 300 pages each.
Secrets reunite Radcliffe (Harry), Grint (Ron), and Watson (Hermione) who are together at Hogwarts again for their second year. This time the threat comes from a deadly giant snake and a haunted notebook left behind by Harry's ever-present nemesis, Lord Voldemort. Harry gets help from a house elf (Dobby), who, it is conjectured, was designed to look like Vladimir Putin, and the resemblance troubled the Russian leader. The movie runs 161 minutes (174 in extended edition) and has only one major distinction from the book that I could find.
The movie's video and audio are both excellent -- assuming your TV can do adequate blacks as the film tends towards the darker pallet and the new soundtrack mix is simply amazing.
Over all it is a sufficient rendition, but nothing I am overly excited about. This Ultimate edition is vastly superior to the original Blu-ray release including: an extended version of the film with 13 minutes of footage not shown in theatres, and bonus features such as Creating the World of Harry Potter, Part 2: Characters, and a 48-Page Photo Book with never-before-seen images from Years 1-7 and 2 Ultimate Edition Character Cards (Card No. 3: Rubeus Hagrid, Card No. 4: Severus Snape).
This truly is the Harry Potter Ultimate Edition and I can't wait to see the entire series get this treatment.
-- Marco Chacon
Read More Harry Potter and the Chamber of Secrets Reviews
For more reviews please visit our film/television review section.
Harry Potter and the Chamber of Secrets images © Warner Bros.. All Rights Reserved.