Muppets Most Wanted (2014)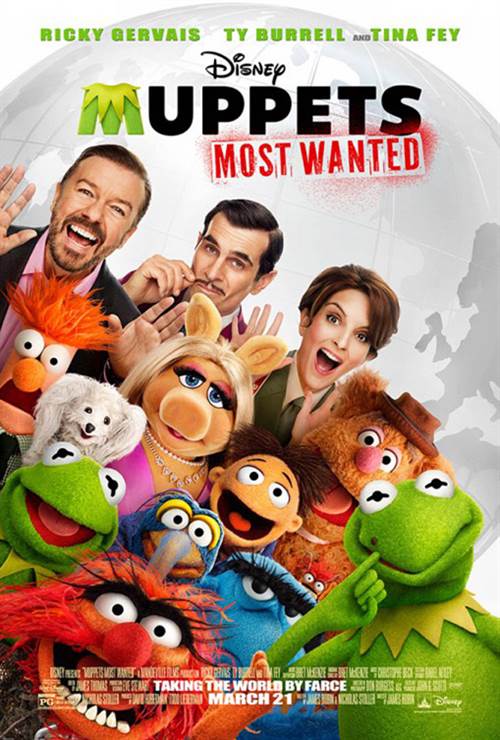 Share this:
| | |
| --- | --- |
| Director: | |
| Writers: | |
| Cast: | |
| Released: | 28 March 2014 |
| Length: | 108 minutes |
| Studio: | Walt Disney Pictures |
| Genre: | Family |
| Certificate: | U |
Synopsis
Disney's "Muppets Most Wanted" takes the entire Muppets gang on a global tour, selling out grand theaters in some of Europe's most exciting destinations, including Berlin, Madrid and London. But mayhem follows the Muppets overseas, as they find themselves unwittingly entangled in an international crime caper headed by Constantine—the World's Number One Criminal and a dead ringer for Kermit—and his dastardly sidekick Dominic, aka Number Two, portrayed by Ricky Gervais. The film stars Tina Fey as Nadya, a feisty prison guard, and Ty Burrell as Interpol agent Jean Pierre Napoleon.

Purchase DVD/Blu-ray/4K UHD physical copy of Muppets Most Wanted today at Amazon.com
Download Muppets Most Wanted in Digital HD/4K from the iTunes store.
Muppets Most Wanted images are © Walt Disney Pictures. All Rights Reserved.
Disney's The Muppets...Again! Kicks Off Production in London
30/01/2013 11:10 EST
BURBANK, Calif. (January 30, 2013) - The filmmaking team behind 2011's celebrated film "The Muppets" reunites as Disney's "The Muppets … Again!" kicked off production last week in London. The all-new global Muppets adventure welcomes Ricky Gervais, Ty Burrell and Tina Fey to the mayhem, along with Kermit the Frog, Miss Piggy, Walter and rest of the Muppets. The film is directed by James Bobin ("Fl...
More>>
Tina Fey Joining Cast of Muppets Sequel
09/01/2013 11:19 EST
"30 Rock" star, Tina Fey, is in final negotiations to star in the upcoming "Muppets" sequel for Disney pictures.The cast already includes Ricky Gervais and Ty Burrell.  The film is said to be a caper set in Europe.Tina Fey will play the part of a Russian  gulag prison guard.  Filming begins in London this month....
More>>
Muppets Most Wanted Blu-ray Review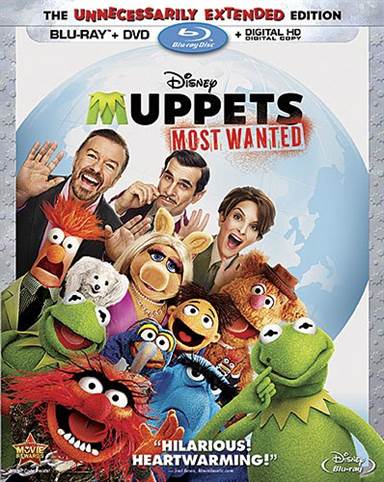 Muppets Most Wanted is anything but. Like so many movie sequels it doesn't come close to the original, or in this case, the first movie in the most recent reboot of the Muppets. Watching the Muppet show growing up was always fun and I am inclined to love almost anything Muppets but this sequel just wasn't good. I kept looking for something, anything, to redeem the movie in my eyes but I simply couldn't.

Muppets Most wanted picks exactly where the first movie ends and leaves the cast to wonder "what's next". While The Muppets try to come up with new ideas. Dominic Badguy, played by Ricky Gervais (The Office, Night at the Museum), pitches the idea of world tour which Kermit loves. What Kermit doesn't know is that Dominic works for the Most wanted criminal in Europe, Constantine. As you would expect, Kermit and Constantine switch places so Kermit ends up in Jail while Constantine travels around the World stealing artifacts in a grand plan to ultimately steal the Crown Jewels.

While Muppets most wanted has some great casting including Tina Fey (30 Rock, Mean Girls) and Ty Burrell (Modern Family, The Incredible Hulk) and numerous cameos including everyone from Ray Liotta (Goodfellas, No Escape), to Jemaine Clement (Men in Black 3, Rio), to Tom Hiddleston (Thor, Avengers) and Tony Bennett, Lady Gaga and Josh Groban, the script isn't funny enough to make them all look good. With so much source material and talent Muppets Most wanted was truly a let down. I can say one of the only times I laughed out loud was when during a wedding scene a character asked for an usher and Usher [Raymond] popped in.

Included in the disappointment of this film were the musical numbers. The first Muppets movie had some great songs including "are you a muppet or a man" but this second endeavor failed to produce any worthwhile tunes. Even a dreamy, ballad duet between Miss Piggy and Celine Dion was less than stellar and the Tina fey number was down right boring. The opening number was forgetful and none of the songs had a catchy enough melody to make you want to sing along.

The Blu-ray extras followed along the same lines as the film, sadly. The longer longest Blooper reel in Muppets history was basically 15 minutes of Ricky Gervais laughing, which is only funny for about two minutes. Rizzo's biggest fan is quite simply stupid and the "I'll get you what you want" music video is boring after about one minute.

The plot was predictable, the laughs missing, the songs boring and the movie disappointing overall. Not even the 1080p High definition video and English 7.1 DTS-HDHR audio could make this film any better. Even watching the unnecessarily extended edition didn't change anything as it was more of just the same bad plot and script. While I wanted to love this film, I just couldn't, even for my beloved Kermit. Muppets Most wanted…do yourself a favor, don't bother. C-
For more reviews please visit our film/television review section.
Join FlickDirect correspondent Penny McLean as she talks to the one and only Kermit the Frog about h...

Disney's "Muppets Most Wanted" takes the entire Muppets gang on a global tour, sel...

Disney's "Muppets Most Wanted" takes the entire Muppets gang on a global tour, sel...
SPONSORED LINKS