Wall-E (2008)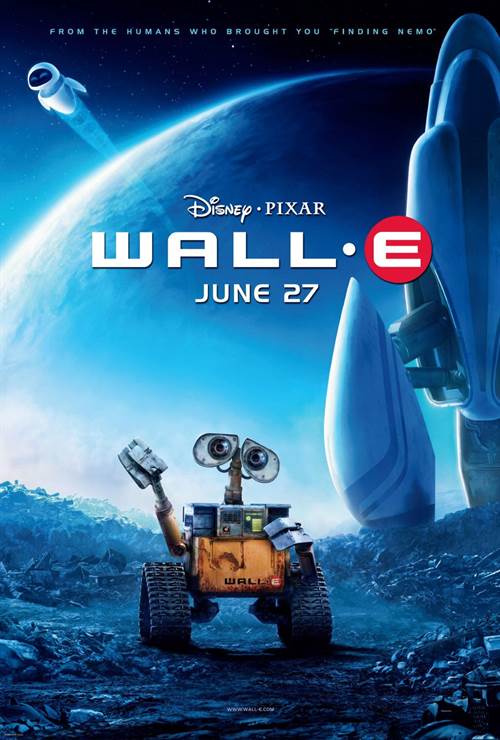 | | |
| --- | --- |
| Director: | |
| Writers: | |
| Cast: | |
| Released: | Friday, July 18, 2008 |
| Length: | 97 minutes |
| Studio: | Walt Disney Pictures |
| Genre: | Family, Animation |
| Certificate: | U |
Wall-E Synopsis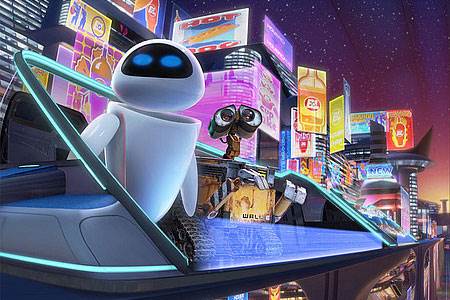 What if mankind had to leave Earth, and somebody forgot to turn the last robot off?

Academy Award®-winning writer-director Andrew Stanton ("Finding Nemo") and the inventive storytellers and technical geniuses at Pixar Animation Studios ("The Incredibles," "Cars," "Ratatouille") transport moviegoers to a galaxy not so very far away for a new computer-animated cosmic comedy about a determined robot named WALL•E.

After hundreds of lonely years of doing what he was built for, WALL•E (short for Waste Allocation Load Lifter Earth-Class) discovers a new purpose in life (besides collecting knick-knacks) when he meets a sleek search robot named EVE. EVE comes to realize that WALL•E has inadvertently stumbled upon the key to the planet's future, and races back to space to report her findings to the humans (who have been eagerly awaiting word that it is safe to return home). Meanwhile, WALL•E chases EVE across the galaxy and sets into motion one of the most exciting and imaginative comedy adventures ever brought to the big screen.

Joining WALL•E on his fantastic journey across a universe of never-before-imagined visions of the future, is a hilarious cast of characters including a pet cockroach, and a heroic team of malfunctioning misfit robots.

Filled with surprises, action, humor and heart, "WALL•E" was written and directed by Andrew Stanton, produced by Jim Morris, co-produced by Lindsey Collins and features original and innovative sound design by Academy Award®-winner Ben Burtt ("Star Wars," "Indiana Jones," "E.T. the Extra-Terrestrial").

Purchase DVD/Blu-ray/4K UHD physical copy of Wall-E today at Amazon.com
Stream Wall-E in Digital HD/4K from the AppleTV store.
Wall-E images are © Walt Disney Pictures. All Rights Reserved.
Disney/Pixar Excited About Wall-E on Blu-ray
07/11/2008 14:29 EST
The smash hit, "Wall-E", will be released on Blu-ray November 18 and is expected to make an even bigger splash once people view the film on with interactive features and enhanced audio and video quality.Andrew Stanton, director of the "Wall-E", is particularly excited about the release. "This is the first time where a format exactly represents how good a film looks in the building here. It used to...
More>>
Disney/Pixar Wall-E Box Office Numbers Are Out of This World
30/06/2008 16:28 EST
This weekend was big for the box office with premieres like "Wanted" and "Wall-E".  Both opened with earnings grossing over $50 million, making it the first time in history that two new movies opened with such numbers.  Wall-E was expected to open blowing away all competition, but "Wanted" proved to be a strong opponent for the Disney/Pixar release.  Wall-E opened with $62.5 million in 3,992 theat...
More>>
Disney's Wall-E Makes Big Splash at Comic Con 2007
30/07/2007 14:40 EST
At Comic Con, Disney gave a sneak peek at the upcoming film, WALL-E. The new Disney Pixar film was discussed as concept art was shown on the screen. The presentation began with an industrial commercial showing the WALL-E robots, and what they do. The WALL-E robots are manufactured by the company "Buy N Large", which has its own website, which is now live. That website is www.buynlarge.com. And...
More>>
Wall-E Theatrical Review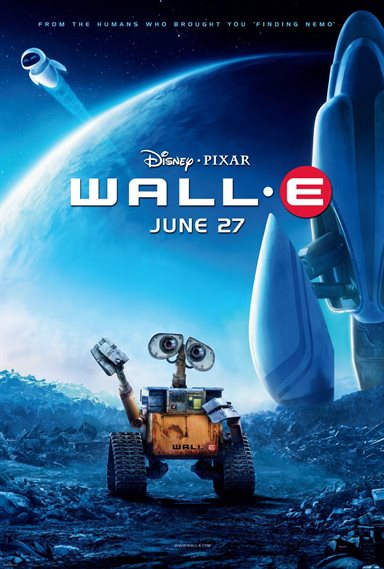 I have been worried about his film for the last year or so, ever since I watched the teaser trailer where Andrew Stanton recaps the development of the ideas that the creative heads at Pixar tossed around at the Hidden City restaurant (which included the late Joe Ranft). Then hearing about how the main character doesn't speak, and the supposed negative overtones of the movie, which I have read for some time at various websites. With that being said, I took my two kids to see the movie opening weekend with as little expectations as possible. Needless to say I was very impressed. Every now and then you will see a movie that can captivate an audience for the full length of time, and Wall-E is one of those movies.

Wall-E is set on Earth, 800 years into the future. Wall-E, which is actually an acronym, is apparently the last of a group of robots on Earth: his sole mission is to compress trash and neatly organize the compressed trash. Wall-E has been doing this for many many years, and apparently during his extended time on Earth going through the trash, became curious about many of the objects he discovers during his daily work. His only knowledge of the planet before his time comes from a video that he found on a Video iPod that he watches over and over. Wall-E doesn't speak, and as such, other reviewers have compared him to Charlie Chaplin or Buster Keaton. Maybe so, but this isn't a silent movie! Ben Burtt did an outstanding job of allowing Wall-E to communicate through robot chirps and whistles, in addition to the fine ability of the Pixar animators to show expression with head, arm and body movements. This movie is a tribute to the fine job that they did.

Because he is the last of his kind, it is no shock that he would be extremely curious about a visitor that arrives on Earth from outer space. EVE (also an acronym) was sent on a mission, which is classified. Wall-E the movie's main plot revolves around Wall-E and EVE's relationship. This is a love story disguised as an animated sci-fi flick. I don't want to go into too many details and spoil the movie; you won't be disappointed with what happens.

A subplot has to do with humanity and a vision of how humanity may look like 800 years from now if we were to spend 700 years away from earth. While this was considered to be "negative" overtone of the movie, I would have to disagree. Mostly because the issues they unveil are occurring right now, in our current society. And it's not too late to change it.

The movie also has a few little cute tidbits for the Mac users out there. Wall-E's recharge completed sound is the Mac startup jingle, and the movie also features Macintalk. Macintalk does a wonderful job as the voice of the ship's autopilot, AUTO. Who is Macintalk? Well, more like, what: Macintalk is Apple's text-to-speech synthesizer, and the character's voice is done completely using that system for this movie, and I believe that it is the first time Macintalk was ever used for that role in a major motion picture.

All and all this is so far the best movie of the summer and probably the year. As usual, Pixar aimed for a movie that appeals to both adults and kids, and they succeeded by a huge margin, as this movie will appeal to kids, young adults, and adults, with something for everyone.
For more reviews please visit our film/television review section.
SPONSORED LINKS