Harry Potter and the Goblet of Fire (2005)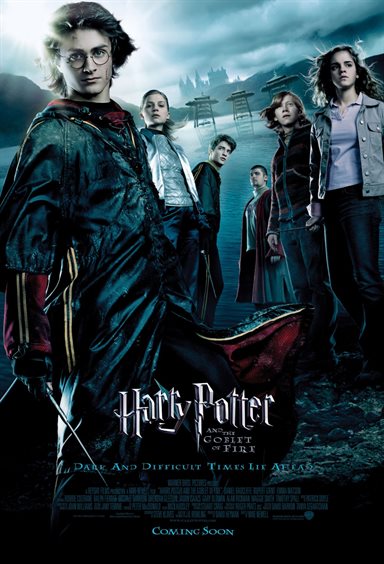 | | |
| --- | --- |
| Director: | |
| Cast: | |
| Released: | Sunday, November 6, 2005 |
| Length: | 157 minutes |
| Studio: | Warner Bros. |
| Genre: | Sci-Fi/Fantasy, Action/Adventure |
| Certificate: | 12 |
Synopsis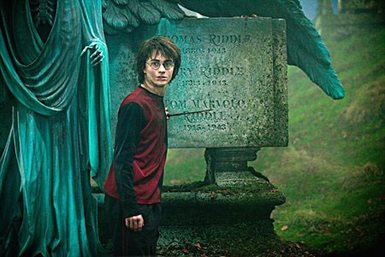 Harry's fourth year at Hogwarts is about to start and he is enjoying the summer vacation with his friends. They get the tickets to The Quidditch World Cup Final but after the match is over, people dressed like Lord Voldemort's 'Death Eaters' set a fire to all the visitors' tents, coupled with the appearance of Voldemort's symbol, the 'Dark Mark' in the sky, which causes a frenzy across the magical community. That same year, Hogwarts is hosting 'The Triwizard Tournament', a magical tournament between three well-known schools of magic : Hogwarts, Beauxbatons and Durmstrang. The contestants have to be above the age of 17, and are chosen by a magical object called Goblet of Fire. On the night of selection, however, the Goblet spews out four names instead of the usual three, with Harry unwittingly being selected as the Fourth Champion. Since the magic cannot be reversed, Harry is forced to go with it and brave three exceedingly difficult tasks.
Purchase your copy of Harry Potter and the Goblet of Fire today at
Download Harry Potter and the Goblet of Fire from iTunes.
SPONSORED STORIES
Harry Potter and the Goblet of Fire images are © Warner Bros.. All Rights Reserved.
Wizards, Witches and Muggles Alike Gathered Once Again at Univer...
29/01/2018 14:41 EDT
If you are a huge Harry Potter fan and have never been to Universal Orlando Resort A Celebration of Harry Potter, you must make it a point to go. If you have been before, you need to go again as every year offers something new and exciting. Regardless, the annual event is a unique experience that should be on the top of any Harry Potter fan's list.Now in its fifth year, A Celebration of Harry Pott...
More>>
Fantastic Beasts Films Will Travel the Globe
27/01/2018 10:39 EDT
Director David Yates has revealed that the five upcoming Fantastic Beast films will all take place in different cities.The first film took place in New York, and the second will be taking place in Paris. We don't yet know where the next three film will take place but Yates said, "This is a global story, ultimately. And given that there's a global audience for this, it's all the more delightful to ...
More>>
Own the Fantastic Beasts and Where to Find Them Virtual Reality ...
24/01/2018 12:25 EDT
Warner Bros. Home Entertainment is bringing the world of Fantastic Beasts and Where to Find Them into your home! Prepare for a journey into Newt Scamander's case through the new virtual reality experience available for purchase as of January 23 on major VR platforms.The VR experience is based off the 2016 film and will allow users to meet and interact with six magical beasts, complete spells, expl...
More>>
Natalia Tena to Join Celebration of Harry Potter
14/12/2017 16:51 EDT
Universal Orlando Resort will be holding "A Celebration of Harry Potter" in January and they have announced that Natalia Tena will be joining the party.Other stars to make appearances will be Stanislav Yanevski (Viktor Krum), Bonnie Wright (Ginny Weasley) and James and Oliver Phelps (Fred and George Weasley). This will be Tena's first ever appearance at the event.Tena joined the cast of the Potter...
More>>
Celebrate The Holidays This Year at The Universal Orlando Resort
21/11/2017 08:35 EDT
When The Wizarding World of Harry Potter opened at The Universal Orlando Resort in June of 2010 it instantly became the vacation destination for die-hard Harry Potter fans worldwide.  It soon spawned the annual Celebration of Harry Potter three day weekend event that is now going into its fourth year.  Adding to the excitement, Universal announced the inception of Christmas in the Wizarding World ...
More>>
Bonnie Wright to Return for Universal Orlando's Celebration of H...
20/11/2017 16:23 EDT
Universal Resort Orlando and Warner Bros. will be holding A Celebration of Harry Potter, an event that will take place on January 26-28, 2018, and some new details have been announced.Bonnie Wright, who played Ginny Weasley, will once again be attending the event as well as Stanislav Yanevski (Viktor Krum) and James and Oliver Phelps (Fred and George Weasley). Also on the schedule will be panels f...
More>>
The Wizarding World of Harry Potter to Get New Christmas Experience
13/04/2017 10:55 EDT
This year, Universal Orlando will be serving up something new at Christmastime.  The resort announced today that a new Christmas experience is coming to The Wizarding World of Harry Potter as part of its destination-wide Holiday celebration, which will run from  November 18, 2017, to January 6, 2018.  This November, the new Christmas experience in The Wizarding World of Harry Potter will give gues...
More>>
Jude Law Cast as Young Dumbledore in Fantastic Beasts Sequel
12/04/2017 12:49 EDT
Jude Law has been cast to play a young Dumbledore in the upcoming sequel to "Fantastic Beasts and Where to Find Them".  Law will join not only Eddie Redmayne in the cast, but Johnny Deep as well. David Yates will be returning to direct the sequel.  "Fantastic Beasts and Where to Find Them" grossed over $812 million worldwide. It follows the story of  Newt Scamander, a British wizard and "magizoolo...
More>>
Universal Orlando's 'A Celebration of Harry Potter' 2017 Keeps T...
30/01/2017 08:51 EDT
It's been 20 years since the first Harry Potter book was published and since that time there have been six other books, eight movies, a spin-off book and movie series called "Fantastic Beasts and Where To Find Them", an online community, theme park rides and legions of fans now spanning multiple generations.  The frenzy surrounding the boy who lived and the one who shall not be named shows no sign...
More>>
Experience Behind the Scenes Magic at Universal Orlando's 'A Cel...
08/12/2016 10:32 EDT
Universal Studios and Warner Bros. announced today it would once again host A Celebration of Harry Potter at Universal Studios in Orlando Florida from January 27 to 29, 2017.  The fourth annual event will   allow guests the opportunity to celebrate J.K. Rowling's Wizarding World with a variety of exclusive experiences and attend the largest Harry Potter Expo in event history, featuring more partne...
More>>
Fantastic Beasts to Encompass a Five-Film Franchise
14/10/2016 10:58 EDT
While attending a global event for Warner Bros. Fantastic Beasts And Where To Find Them, J.K. Rowling announced that there will be a total of five films in the Harry Potter spin-off franchise.  Originally, Rowling stated the franchise would be a trilogy. The event also featured  he first 10 minutes of the movie and a featurette.The first film stars Eddie Redmayne and will be released on November 1...
More>>
A Celebration of Harry Potter Event at Universal Orlando 2016 Ta...
10/11/2015 13:07 EDT
Orlando, Fla. (November 10, 2015) - Harry Potter film stars Rupert Grint, Bonnie Wright, Matthew Lewis, Evanna Lynch and Katie Leung will appear at "A Celebration of Harry Potter" - a special event hosted by Universal Orlando Resort and Warner Bros. Consumer Products. Creative talent also set to appear includes Pierre Bohanna, head prop maker for the Harry Potter film franchise, Paul Harris, the w...
More>>
Harry Potter and the Goblet of Fire 4K Ultra HD Review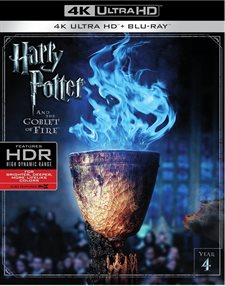 Harry Potter and The Goblet of Fire is really the first movie in the Harry Potter Franchise where we can really see that Harry Potter would be lost without his friends. He is a true Gryffindor- loyal to all his friends and brave to the point of sometimes stupidity (which is why we love Harry Potter)- but clearly not so much as cut out for Ravenclaw, as without his friends and shortcuts, Harry would not survive the Triwizard Tournament.

The Goblet of Fire is the movie where we see Harry change from a cute kid who gets into scrapes with the help of his friends and then out of those scrapes with the help of those same friends into a teenager with a huge responsibility on his shoulder. Not old enough to enter his name as a contestant in the Triwizard Tournament, somehow the Goblet chooses Harry to compete anyway. His strongest ally turns out to be a major enemy. Leaning on help from new people and places, Harry returns the favor and show his true loyal personality. His bravery shines through when he faces Voldemort despite the death of his friend. Harry finally becomes the true hero he is destined to become-alone, facing his worst foe, he plays the game like a winner.

Presented in 4K UHD in 2160p with an aspect ratio of 2.4:1, the picture quality far exceeds it predecessor HD version, which was presented in 1080p. You can still view the 1080p version, as this collection includes such a copy, but watching it in 4K really brings out the colors using the High Definition Resolution like never seen before. The blue fire of the goblet glistens clearly and you can see the different blues and whites hidden in the flames. When the names fly out of the Goblet, you can see the burnt edges in all sorts of browns and coppers on the parchment. Although the blacks still have a tinge of grey to it, they are deeper and inkier in the graveyard when Harry meets Voldemort, than on the HD Blu-ray edition.

The audio has been upgraded to DTS:X, which brings to life all the sound effects that were present in the prior version but clearly muted compared to this version. The rustling of the water when the contestants jump into the lake is simple but important, as well as when Dumbledore grabs Harry to demand if he entered his name into the Goblet. The apparent frustration and fear in Dumbledore's voice comes through, as well as the mermaid's voice in the bath when Harry receives the second clue. Dialogue is crisp and when Harry's voice drops when he is scared, as he has a tendency to do, the intonation and verbiage are clearly understood.

Bonus features are not found on the 4K UHD Blu-ray, so you will have to swap out the discs to watch them. Nonetheless, it's worth the additional few seconds it takes. Not all bonus features are in HD but most are in HD. The best feature presented is Creating the World of Harry Potter, Part 4: Sound and Music, which is almost an hour of a documentary that explores the instantly recognizable musical score, created by the amazingly artistic John Williams.

J.K. Rowling chose well in her partnership with Warner Bros. in bringing the Harry Potter book series to life. The Goblet of Fire really shows the differences in the characteristics of the different Hogwarts houses but also shows how no matter what house you are in, you will find friends in every corner.

Grade: A
For more reviews please visit our film/television review section.
Harry Potter and the Goblet of Fire images © Warner Bros.. All Rights Reserved.