Justice League (2017)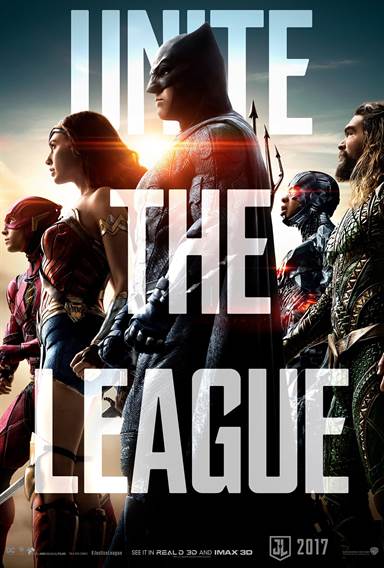 | | |
| --- | --- |
| Director: | |
| Writers: | Chris Terrio, Zack Snyder, Joss Whedon |
| Cast: | |
| Released: | 17 November 2017 |
| Length: | 121 minutes |
| Studio: | Warner Bros. |
| Genre: | Sci-Fi/Fantasy, Action/Adventure |
| Certificate: | 12A |
Synopsis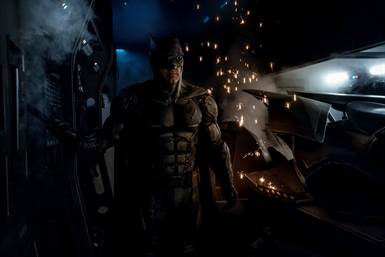 Fueled by his restored faith in humanity and inspired by Superman's selfless act, Bruce Wayne enlists the help of his newfound ally, Diana Prince, to face an even greater enemy. Together, Batman and Wonder Woman work quickly to find and recruit a team of metahumans to stand against this newly awakened threat. But despite the formation of this unprecedented league of heroes—Batman, Wonder Woman, Aquaman, Cyborg and The Flash—it may already be too late to save the planet from an assault of catastrophic proportions.
Purchase your copy of Justice League today at
Download Justice League from iTunes.
SPONSORED STORIES
Comments
Courtesy of
Movie Hype App
jennydavid
Hell yes
13/03/2018 19:03 EDT
movieguynathan
I can't get enough of this movie! 😍
16/02/2018 20:19 EDT
movieguynathan
Round Two!
22/11/2017 18:17 EDT
movieguynathan
Time to take a break from Universal Orlando's media event and see this puppy!
17/11/2017 21:58 EDT
ali121
movie screening time!
14/11/2017 18:12 EDT
cjmonsterrap
Batman is the best super hero but the new actor for batman needs work
07/11/2017 14:44 EDT
lavendeer182
Need to see biggest wonder Woman fan on planet earth
09/08/2017 22:25 EDT
jakester95
Hell Jordan needs to be in the cinematic universe and who would win in a fight how Jordan are Jon Stewart
10/07/2017 11:48 EDT
shanethegamer95
Hope they add john Stuart
01/07/2017 09:54 EDT
ethanpeyon
It is going to be grate
25/03/2017 18:52 EDT
robbie
Can't wait
29/01/2017 18:01 EDT
iamgroot03
Yeah........ Zachary Snyder directs.... OH NOOO! WHY?!!
27/05/2016 10:37 EDT
coreyanthony26
Great Thing I am Up To Date With The Flash TV Series and The Arrow TV Series Please Tell Me Who is doing The Arrow it better be Amell
10/03/2016 20:44 EDT
hammbone187
YEEESSSSSS
29/01/2016 21:09 EDT
reece1234
Awesome
29/11/2014 10:38 EDT
Justice League images are © Warner Bros.. All Rights Reserved.
Jason Momoa Confirms Man of Steel Aquaman Rumors
24/11/2017 19:57 EDT
Justice League was released on November 17, and we finally got to see some of our DC favorites get together on screen. And while it seems that maybe the paths of these superheroes are random, it was confirmed by Jason Momoa (Aquaman) that, in fact, they aren't.There were always rumors that Aquaman was behind the rescue of Clark Kent in Man of Steel after the oil rig explosion, and during a recent ...
More>>
Zack Snyder Steps Down from Directing Justice Leage
22/05/2017 19:43 EDT
Zack Snyder, who is currently working on the Justice League film, is stepping down from his duties as director.  Snyder will be leaving in order to recover from his daughter's death.Joss Whedon will be taking over as director for the remainder of the film, which is now in post-production.Snyder's daughter committed suicide in March, and the director is taking a much-needed break from his work to s...
More>>
Ben Affleck Steps Down from Directing The Batman
30/01/2017 22:20 EDT
Ben Affleck has decided that he will be stepping down from directing his upcoming film tentatively titled The Batman.Affleck said in a statement, "There are certain characters who hold a special place in the hearts of millions. Performing this role demands focus, passion and the very best performance I can give. It has become clear that I cannot do both jobs to the level they require. Together wit...
More>>
Ben Affleck Has Written a Batman Script
31/03/2016 10:58 EDT
Ben Affleck is no stranger to screenwriting, even having earned an Academy Award for "Good Will Hunting".  Well, now, Affleck has taken on a project close to his heart - a solo Batman film."He's contracted to do at least Justice League One and Two, so at least three times wearing the cape", said WME-IMG's co-CEO Patrick Whitesell in a recent interview.  He added, "there's a script that he's writte...
More>>
Zack Snyder Confirmed for Justice League
28/04/2014 15:07 EDT
It has been confirmed that a "Justice League" film will be released after the Batman/Superman film, and that Zach Snyder will direct it.Snyder directed the "Man of Steel" and will also be at the helm for the 2nd and 3rd installments of the franchise as well.There is no release date set as of yet, but the "Justice League" is slated for a May 6, 2016 release. Countdown to the release of Justice Leag...
More>>
Stephen Amell Wants to Bring Arrow to Justice League
10/07/2013 15:58 EDT
The C.W.'s "Arrow" star, Stephen Amell, has let it be known that he would be very interested in taking the Green Arrow to the big screen for the "Justice League" film.    "I think that Green Arrow has an opportunity to mature in much the same way Iron Man did in the Marvel universe. He wasn't necessarily a top level character, but because they made an Iron Man movie and it was successful, it vault...
More>>
Snyder Discusses Justice League
10/06/2013 14:49 EDT
Before the week is out, director Zack Snyder will hopefully be riding the crest of a wave when his Superman reboot, "Man of Steel", opens to audiences the world over. Depending on what sort of reception the movie gets, it could determine whether Warner Bros decides to push ahead with a second "Man of Steel" movie.Not only will WB be looking to further that franchise, it will also be hoping a stron...
More>>
Could Bale Return For Justice League?
04/03/2013 13:56 EDT
Warner Bros' proposed "Justice League" movie has been hanging in the balance if reports are to be believed over the last few weeks, especially when some of those reports have stated that the movie will only get the green light if the new take on Superman "Man of Steel" is a success.Now, Latino Review is claiming that things may have changed for the good if you're a DC superheroes fan. The man that...
More>>
Justice League Film Could Be On Hold
08/02/2013 09:46 EDT
After Marvel's hugely successful 2012 movie, "The Avengers", there was a lot of chatter abouthow the other camp would hit back. DC, with its backers Warner Bros., were thought to bedoing their own assembling with a Justice League movie but just recently things havequieted down on the subject a little.Now, "Badass Digest" are reporting that the studio is not looking to move the project forwardwith ...
More>>
Justice League Theatrical Review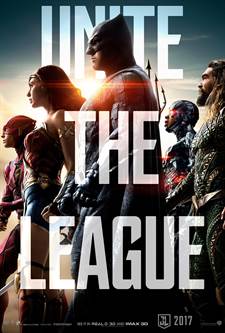 As the battle rages on between Marvel and DC Comics for domination of the box office, DC is releasing their latest entry, Justice League, just in time for the Thanksgiving season. Based on the popular comic book series, these superheroes form an alliance to battle evil forces. The Justice League first appeared in DC comics in March of 1960 as the brainchild of writer Gardner Fox. Originally there were seven members but the team roster has rotated over the years. In the Warner Bros. Pictures Movie, there are six members and the film chronicles the story of the assemblance and the threat that brings them all together – some reluctantly.

With Superman (Henry Cavill; Man of Steel) dead, Batman (Ben Affleck; Argo) and Wonder Woman (Gal Gadot; Furious 7) are off on their own saving the world one criminal at a time and it seems the world has gotten out of control now that Kal-El is gone and crime is on the rise. However, there arrives a different type of evil in the form of an ugly, flying, giant bug that leaves a trail behind in the form a cryptic diagram of three boxes. As it turns out these boxes are the "mother" of Steppenwolf (Ciaran Hinds; Road to Perdition), an evil creature that uses the energy of the boxes to destroy worlds and inhabit them. The boxes, that laid dormant for 5000 years, suddenly have come to life beckoning the beloved son.

Batman and Wonder Woman, feeling the imminent threat, try to bring together other superheroes to help battle this supernatural evil. Their recruits include Barry Allen/ The Flash (Ezra Miller; The Perks of Being a Wallflower ), Arthur Curry/Aquaman (Jason Momoa; Conan the Barbarian) and Victor Stone, Cyborg (Ray Fisher; Batman v Superman: Dawn of Justice). Their goal is to stop Steppenwolf from getting all three of the boxes. Batman, along the way, also hatches the brilliant plan to use the energy from the box in their possession to (spoiler alert) bring Superman back to life, which they eventually do. The six then set off on an epic battle to stop the supernatural creature determined to destroy the earth (a rather common theme in the superhero world).

Justice League is a case of the Good, the Bad and the Ugly. The good is most of the cast including Gadot, Miller, and Momoa. I was skeptical about Momoa as Aquaman but after seeing him in action (no pun intended) I felt his casting was a smart move. While I normally think of Aquaman as less muscular than Momoa, he gives the character a physical strength and presence that works. Gadot was brilliant casting as Wonder Woman and she proves once again why she won the role and Miller is very good as the awkward Allen/ The Flash who seems pretty uncomfortable in his own skin. Also on the good side is the action. It is the right blend of length and choreography to make it appealing but not over the top.

The bad is the beginning. The film starts off slow and, while it builds momentum along the way, I spent the first 15 minutes of the two-hour film being annoyed. Snippets of storyline flash (again no pun intended) across the screen and jump from character to character as we wait to learn what the mysterious threat is and for the inevitable team to be brought together to fight evil.

The ugly is the plot. There were moments that were groan-worthy and the "creature" was simply obnoxious. There was also not enough time to flesh out the new characters more and I was left with a sense of longing to know more of their backstory.

I went into the movie with somewhat low expectations and walked out with a slightly brighter outlook than I expected. With some funny moments to lighten the mood and some strong (literally and figuratively) characters, the movie wasn't a total disappointment.

Grade: B-
Read More Justice League Reviews
For more reviews please visit our film/television review section.
Justice League images © Warner Bros.. All Rights Reserved.