Justice League (2017)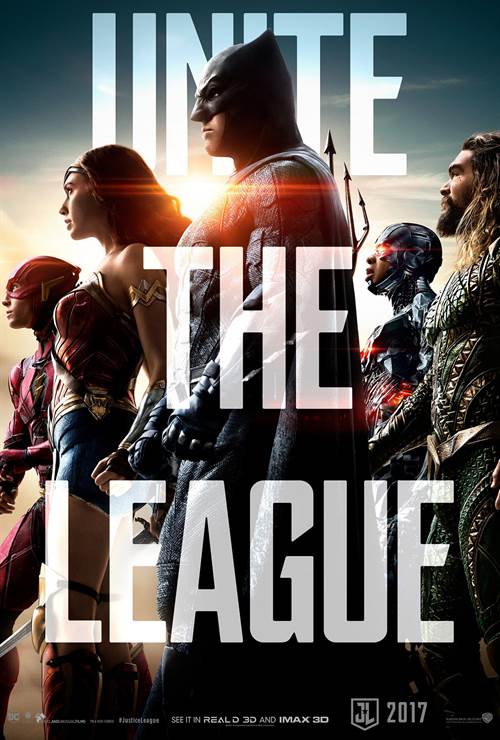 | | |
| --- | --- |
| Director: | |
| Writers: | |
| Cast: | |
| Released: | 17 November 2017 |
| Length: | 121 minutes |
| Studio: | Warner Bros. |
| Genre: | Sci-Fi/Fantasy, Action/Adventure |
| Certificate: | 12A |
This film contains a scene during or after the credits.
Synopsis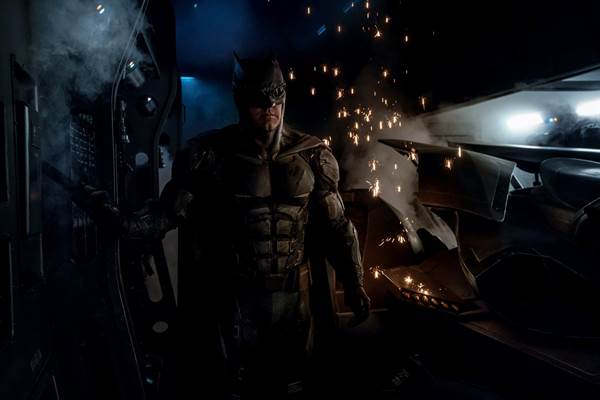 Fueled by his restored faith in humanity and inspired by Superman's selfless act, Bruce Wayne enlists the help of his newfound ally, Diana Prince, to face an even greater enemy. Together, Batman and Wonder Woman work quickly to find and recruit a team of metahumans to stand against this newly awakened threat. But despite the formation of this unprecedented league of heroes—Batman, Wonder Woman, Aquaman, Cyborg and The Flash—it may already be too late to save the planet from an assault of catastrophic proportions.

Purchase DVD/Blu-ray/4K UHD physical copy of Justice League today at Amazon.com
Download Justice League in Digital HD/4K from the iTunes store.
Listen to the Justice League soundtrack on Apple Music.
Justice League images are © Warner Bros.. All Rights Reserved.
Jason Momoa Supporting Ray Fisher in Dispute Against Warner Bros
08/09/2020 16:35 EST
Jason Momoa has taken to social media to stand by Ray Fisher, his "Justice League" co-star. Fisher plays the character Cyborg.Fisher currently has a dispute with Warner Bros., claiming that Joss Whedon, who directed "Justice League", behaved in a way that was "gross, abusive, unprofessional, and completely unacceptable". He also says that Whedon's behavior was enabled by Warner Bros. co-president ...
More>>
Zack Snyder Teases His Cut of Justice League
26/07/2020 15:03 EST
Director Zack Snyder took part in JusticeCon's "Spotlight on Zack Snyder" yesterday and released a never before seen clip of his upcoming cut of the "Justice League".The short clip shows Superman (Henry Cavill) meeting Alfred Pennyworth (Jeremy Irons). Superman is in his black suit and says, "I'm assuming you're Alfred". He then goes flys down to greet Alfred, who is working on his car. Snyder sai...
More>>
Justice League's Ray Fisher Speaks Out Against Joss Whedon's Unp...
01/07/2020 16:33 EST
Ray Fisher, who starred as Cyborg in 2017's "Justice League" is speaking out against Joss Whedon and the treatment he received while working for him. The actor has gone on the record to retract the praise he had given to Whedon while at Comic-Con 2017. After posting a clip of him praising Whedon, he posted, "I'd like to take a moment to forcefully retract every bit of this statement." He went on t...
More>>
Zack Snyder Confirms Justice League Snyder Cut
20/05/2020 15:19 EST
Zack Snyder has confirmed that he will be releasing the "Snyder Cut" of the "Justice League". The film will be released on HBO Max in 2021."I want to thank HBO Max and Warner Brothers for this brave gesture of supporting artists and allowing their true visions to be realized. Also a special thank you to all of those involved in the SnyderCut movement for making this a reality," said Snyder.Snyder ...
More>>
It Director Andy Muschietti In Talks to Direct The Flash
03/07/2019 10:43 EST
Andy Muschietti (It) is currently in talks to direct the Warner Bros. standalone "The Flash" film. The director would be replacing  "Spider-Man: Homecoming" writers John Francis Daley and Jonathan Goldstein who left the project in 2016. Muschietti will also be producing the film alongside Barbara Muschietti and Michael Disco.The star of "The Flash" will continue to be Ezra Miller, who has played h...
More>>
Fans Raise Over $20K and Demand Release of Snyder's Justice Leag...
14/06/2019 09:48 EST
Fans of the DC Universe, disappointed with the news that DCEU won't be making an appearance at this year's Comic-Con, have taken matters into their own hands and raised over $20,000.00 in order to get the "Zack Snyder Cut" od 2017's "Justice League. A GoFundMe page was set up for the cause, raising money to pay for advertising for their campaign. A statement on their page reads - "The time has now...
More>>
Jason Momoa Confirms Man of Steel Aquaman Rumors
24/11/2017 19:57 EST
Justice League was released on November 17, and we finally got to see some of our DC favorites get together on screen. And while it seems that maybe the paths of these superheroes are random, it was confirmed by Jason Momoa (Aquaman) that, in fact, they aren't.There were always rumors that Aquaman was behind the rescue of Clark Kent in Man of Steel after the oil rig explosion, and during a recent ...
More>>
Zack Snyder Steps Down from Directing Justice Leage
22/05/2017 19:43 EST
Zack Snyder, who is currently working on the Justice League film, is stepping down from his duties as director.  Snyder will be leaving in order to recover from his daughter's death.Joss Whedon will be taking over as director for the remainder of the film, which is now in post-production.Snyder's daughter committed suicide in March, and the director is taking a much-needed break from his work to s...
More>>
Ben Affleck Steps Down from Directing The Batman
30/01/2017 22:20 EST
Ben Affleck has decided that he will be stepping down from directing his upcoming film tentatively titled The Batman.Affleck said in a statement, "There are certain characters who hold a special place in the hearts of millions. Performing this role demands focus, passion and the very best performance I can give. It has become clear that I cannot do both jobs to the level they require. Together wit...
More>>
Ben Affleck Has Written a Batman Script
31/03/2016 10:58 EST
Ben Affleck is no stranger to screenwriting, even having earned an Academy Award for "Good Will Hunting".  Well, now, Affleck has taken on a project close to his heart - a solo Batman film."He's contracted to do at least Justice League One and Two, so at least three times wearing the cape", said WME-IMG's co-CEO Patrick Whitesell in a recent interview.  He added, "there's a script that he's writte...
More>>
Zack Snyder Confirmed for Justice League
28/04/2014 15:07 EST
It has been confirmed that a "Justice League" film will be released after the Batman/Superman film, and that Zach Snyder will direct it.Snyder directed the "Man of Steel" and will also be at the helm for the 2nd and 3rd installments of the franchise as well.There is no release date set as of yet, but the "Justice League" is slated for a May 6, 2016 release. Countdown to the release of Justice Leag...
More>>
Stephen Amell Wants to Bring Arrow to Justice League
10/07/2013 15:58 EST
The C.W.'s "Arrow" star, Stephen Amell, has let it be known that he would be very interested in taking the Green Arrow to the big screen for the "Justice League" film.    "I think that Green Arrow has an opportunity to mature in much the same way Iron Man did in the Marvel universe. He wasn't necessarily a top level character, but because they made an Iron Man movie and it was successful, it vault...
More>>
Justice League 4K Review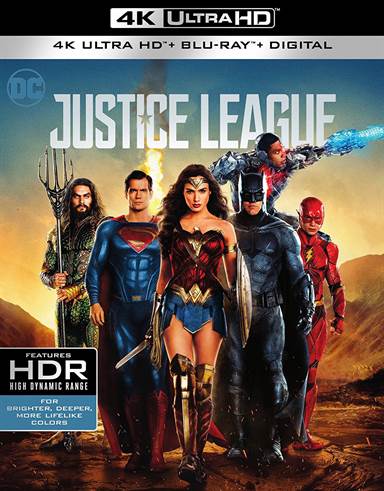 In 2013, Director/Writer/Producer Zack Snyder (
300, Watchmen
) re-envisioned the DC Universe with the release of
Man of Steel
. A new take on Superman featuring British actor Henry Cavill (
Man from U.N.C.L.E., Mission: Impossible - Fallout
), Synder continued his "world building" with follow-up films
Batman v. Superman,
David Ayer's
(Sabotage) Suicide Squad,
and the Patty Jenkins (
Monster)
directed
Wonder Woman
. All those films led to 2017 and the release of the film that would bring Snyder's new world into sharper focus,
Justice League
.
With the death of Superman at the end of Batman v. Superman, the Earth was now vulnerable to more advanced life forms trying to take over the human race. One such person was Darkseid and his henchman Steppenwolf (Ciarán Hinds; The Woman in Black, Tinker Tailor Soldier Spy) who was foreshadowed in the extended director's cut of Batman v. Superman. Seeing his chance to now win an age-old battle with Earth, Steppenwolf arrives on our planet with his Parademons looking for three "mother-boxes", which when put together will end human life on the planet as we know it. The only thing standing in his way is the newly formed Justice League featuring Batman (Ben Affleck; The Accountant, Chasing Amy), Wonder Woman (Gal Gadot; Fast Five, Criminal), Aquaman (Jason Momoa; Game of Thrones, Conan the Barbarian, The Flash (Ezra Miller; Fantastic Beasts and Where to Find Them, The Perks of Being a Wallflower), Cyborg (Ray Fisher; True Detective) and the reincarnated Superman (Cavill).
Unfortunately, Zack Snyder's original vision for Justice League never saw the light of day due to a personal tragedy that struck his family during the production of the film that caused him to take a leave of absence. To meet release dates and studio schedules, Warner Bros. brought in Writer/Director Joss Whedon (Buffy The Vampire Slayer; The Avengers) to complete the film. Warner Bros. wanting to use all of Whedon's skillset also let him loose on the script to try to lighten it up a bit as to appease some of the critics of the "Snyder universe" that said it was a bit too dark. This resulted in quite a bit of reshoots and resulted in a film that could be chopped up into two short films. At times, you feel like you are watching the next film in a series, while at other times, the darkness and hyper-stylized action have been replaced by Whedon's quick-witted dialog and lighter (shall we say less brooding) fare. And yes, this also did cause the much talked about CGI-removed Cavill mustache controversy.
What truly saves Justice League from becoming a disaster of a film is the amazing cast that Synder, DC, and Warner Bros. have cultivated throughout the universe. Cavill (while relegated to just a small role) is still my favorite Superman to date. Aside from the great action presence, he brings to the character we get to see a softer side of him during a touching mobile phone camera sequence that starts the film. Affleck brings his great stoic hardened, older Bruce Wayne character to screen. As for Godot, there is not much to say other than she has basically the perfect embodiment of the Amazonian princess. Momoa is mostly relegated to a comedic, tough guy role, but we will truly get to see his portal of this character later on this year in his own standalone film. Ezra is truly the vision of Whedon's mind and his dialog just screams like it was said directly from Joss's mouth. While his levity brought tons of laughs throughout the film, it was his more dramatic scenes in the jail with his father that truly show his true essence of Barry Allen. Finally, Fisher's portrayal of Cyborg, while relegated to a minor role in the film, leaves you wanting to find out more about his past and see who he was before his body was replaced by mostly metal.
Justice League is presented in 2160p with a 1.85:1 aspect ratio. Even though it is sourced from a 2k master, the HDR10 and Dolby Vision upgrade provides an amazing color depth and range which works well with the "hyper-stylized" look of the film. Colors are bright and vivid and pop even more than they did during its theatrical run. The audio presented in Dolby Atmos is a delight to listen to. The dialog is crisp and clear while the surround sound is "demo-quality" amazing. It truly feels like you are flying into battle with the Justice League as they fight Steppenwolf's Parademons. The battle quite literally surrounds you on all sides with such clarity that would be hard to be beaten by most other 4K films.
A nice mixture of special features is laid out on the Blu-ray portion of the disc including a much anticipated deleted scene entitled "The Return of Superman", A look into the history of the characters that are part of the Justice League, on-set featurettes, and interviews with the cast. Of course, there is also the now standard Movie Anywhere Digital HD copy of the film that will port over to your favorite platform.
It is unfortunate we will never be able to watch the original vision of Justice League that Zack Snyder had created, as it would have been the culmination of everything he had worked on building until now, and while this hybrid Snyder/Whedon version has a lot of stylish and continuity issues because of it's two different directors, it is still a fun film to watch. One can hope that the next film in the universe, Aquaman, will continue with Zack Snyder's original tone and set-up the next few films, Flashpoint, Justice League Part 2, and Green Lantern. Until then, one can be content with Justice League, as it is a solid film with a great 4k UHD Dolby Vision transfer that will look perfect on your bookshelf next to the other films in this ever-expanding DC Universe.

Grade: B+
Read More Justice League Reviews
For more reviews please visit our film/television review section.
Fueled by his restored faith in humanity and inspired by Superman's selfless act, Bruce Wayne enlist...

Fueled by his restored faith in humanity and inspired by Superman's selfless act, Bruce Wayne enlist...

On Friday and Saturday nights (March 9th and 10th, 2018), the SXSW X DC Experience came alive with t...
Podcast Kids: Never mind. Does your thing really stand for "hope"?

Superman: Yes, it does.

Podcast Kids: But it looks like an "S".

Superman: Yes, it's meant to. It's meant to wind... like a river. It comes and goes. My f -

[pause]

Superman: A man I knew used to say that hope was like your car keys: easy to lose, but if you dig around, it's usually close by.
SPONSORED LINKS