Indiana Jones and The Kingdom of The Crystal Skull (2008)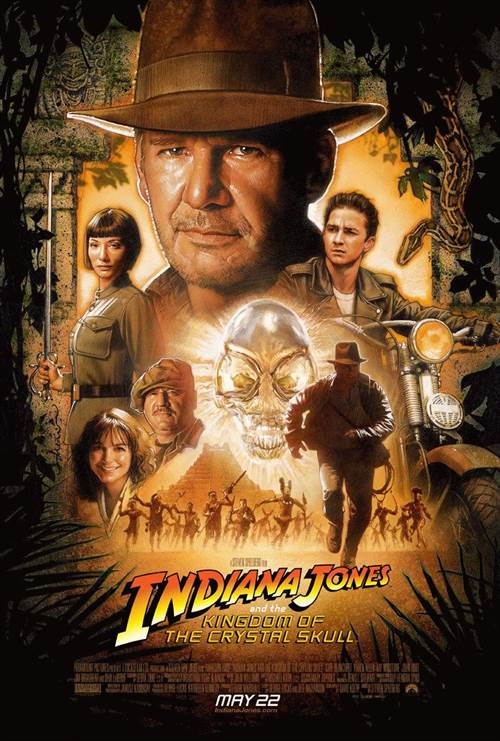 | | |
| --- | --- |
| Director: | |
| Writers: | |
| Cast: | |
| Released: | Thursday, May 22, 2008 |
| Length: | 124 minutes |
| Studio: | Paramount Pictures |
| Genre: | Action/Adventure |
| Certificate: | 12 |
Indiana Jones and The Kingdom of The Crystal Skull Synopsis
Indiana Jones (Harrison Ford) races the Soviets -- led by agent Irina Spalko (Cate Blanchett) -- to a lost city called Akakor in the Peruvian forest, in pursuit of a mystical crystal skull. Along for the adventure are old flame Marion Ravenwood (Karen Allen), long-time friend and competitor Mac (Ray Winstone) and new sidekick Mutt Williams (Shia LeBeouf).

Purchase DVD/Blu-ray/4K UHD physical copy of Indiana Jones and The Kingdom of The Crystal Skull today at Amazon.com
Stream Indiana Jones and The Kingdom of The Crystal Skull in Digital HD/4K from the AppleTV store.
Indiana Jones and The Kingdom of The Crystal Skull images are © Paramount Pictures. All Rights Reserved.
Indiana Jones 5 Release Date Announced
26/05/2022 17:14 EST
Harrison Ford appeared today at the Lucasfilm panel at Star Wars Celebration and announced the release date for "Indiana Jones 5", which will be June 30, 2023.James Mangold is directing the film, with Harrison Ford reprising his iconic role as Indiana Jones. Jez Butterworth, John-Henry Butterworth, and Mangold are co-writing the script.The film also stars Antonia Banderas, Phoebe Waller-Bridge, Ma...
More>>
Indiana Jones 5 Crew Member Dies on Location
04/11/2021 11:33 EST
Nic Cupac, a 54-year-old crew member for Indiana Jones 5, has reportedly died of natural causes while on location, filming the movie in Fes, Morocco, where major stunt scenes were to be filmed for the upcoming movie.Cupac, a veteran in the movie industry, was responsible for assembling sets and he had dozens of credits on IMDB. He worked on big blockbusters such as Jurassic Park, X-Men, The DaVinc...
More>>
Indiana Jones 5 to Begin Filming Next Week in the UK
02/06/2021 14:22 EST
Good news, Indie fans! "Indiana Jones 5" is set to begin filming next week in the UK. The much-anticipated film, which will be directed by James Mangold, stars Harrison Ford, Mads Mikkelsen, Phoebe Waller-Bridge, Boyd Holbrook, Shaunette Renée Wilson, and Thomas Kretschmann. Steven Spielberg was originally set to direct, but will still be on hand to produce the film. John Williams will come back t...
More>>
Phoebe Waller-Bridge Joins Cast of Fifth Indiana Jones Film
09/04/2021 15:35 EST
It's being reported that Phoebe Waller-Bridge has been cast in the next installment of the "Indiana Jones" franchise. Waller-Bridge is best known for her series, "Fleabag", and will co-star alongside Harrison Ford. There's no word yet on what part Waller-Bridge will play or plot details in general. James Mangold will be directing the film, with Steven Spielberg producing.  Kathleen Kennedy, Frank ...
More>>
Could We See a Female Indiana Jones in the Future?
05/04/2018 11:17 EST
During a recent interview with Steven Spielberg, the director announced that there could be a female Indiana Jones in our future. Spielberg said that he would be interested in seeing the iconic character in "a different form" and when asked if that form could be a female, he said "We'd have to change the name from Jones to Joan. And there would be nothing wrong with that." The next installment of ...
More>>
Spielberg and Ford Reunite as Indiana Jones Returns to Theaters ...
15/03/2016 13:40 EST
Indiana Jones will return to the big screen on July 19, 2019, for a fifth epic adventure in the blockbuster series. Steven Spielberg, who directed all four previous films, will helm the as-yet-untitled project with star Harrison Ford reprising his iconic role. Franchise veterans Kathleen Kennedy and Frank Marshall will produce."Indiana Jones is one of the greatest heroes in cinematic history, and ...
More>>
Indiana Jones Recast Ruled Out by Producer
27/10/2015 12:07 EST
For all the Indiana Jones fans out there who want to see a fifth film from the franchise, you may get your wish.Rumors have been swirling around about a fifth film ever since Disney bought Lucasfilm, and even Steven Spielberg recently commented that there would "probably" be one. People have been pegging Chris Pratt as the new leading man, but that's not necessarily in the cards.Producer Frank Mar...
More>>
Chris Pratt to Become Next Indiana Jones?
27/01/2015 23:31 EST
There are rumors that Disney is looking to revive the Indiana Jones franchise since their purchase of the property back in 2013, and now those rumors are including a possible new "Indy".While there is no confirmation of the reports, it is said they are eyeing Chris Pratt to take over the role of the famous archeologist. Pratt recently starred in Guardians of the Galaxy and is set to star in The Ma...
More>>
Relive Every Breathtaking Exploit of Indiana Jones at AMC Theate...
16/08/2012 11:19 EST
SAN FRANCISCO, Calif. and KANSAS CITY, Mo. (August 16, 2012) - Director Steven Spielberg and executive producer George Lucas' legendary film series is returning exclusively to AMC Theatres® for an unforgettable cinematic event: a one-day-only marathon presentation of all four Indiana Jones films on the big screen. RAIDERS OF THE LOST ARK, INDIANA JONES AND THE TEMPLE OF DOOM, INDIANA JONES AND THE...
More>>
BREAKING: Karen Allen To Return To Indiana Jones 4
27/07/2007 11:34 EST
It has been announced that Karen Allen will be reprising the role of Marion Ravenwood in the upcoming fourth installment of the Indiana Jones series. The announcement came out of Comic-Con today. It was sent in a special message from Steven Spielberg himself. The film's official website has been also been updated with some downloadable desktop wallpaper, with one of those revealing a big clue in...
More>>
Indiana Jones and The Kingdom of The Crystal Skull Theatrical Review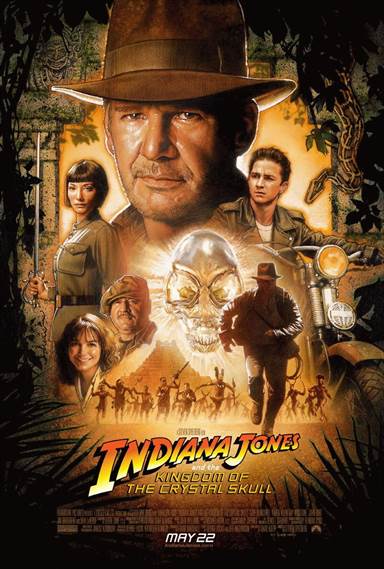 As the lights went down at the theater where Paramount Pictures was holding the press screening of "Indiana Jones and the Kingdom of the Crystal Skull," I have to admit that I was filled with an equal amount of anticipation & dread.

Why For? Well, to be blunt, I had seen the "Star Wars" prequels. And I had caught a number of Steve Spielberg's most recent movies. More importantly, I had suffered through Harrison Ford's performance in "Hollywood Homicide." So – to my way of thinking, anyway -- it had been quite a while since these three have been on their "A" game.

So when it was announced last year that Lucas, Spielberg and Ford would be reuniting to make a fourth Indiana Jones film, I was among that very small contingent that said: "Really? Do you have to?"

Because – for all intents and purpose – this franchise had been affectionately & effectively capped off with "Indiana Jones and the Last Crusade." When Indy, his father, Sallah and Marcus Brody rode off into the sunset at the end of that film … Well, that had erased a lot of the bad taste which had been left behind by the overly-dark and over-the-top "Indiana Jones and the Temple of Doom."
So to return to this franchise 19 years after the last installment … That just seemed extremely risky to me. I mean, Hollywood has changed significantly since Dr. Jones last doffed his fedora. People's tastes in film have shifted. So would a riff on those old adventure serials from the 1930s & 1940s still seem as appealing as it did back in 1981, when "Raiders of the Lost Ark" first hit the screen?

That explains my anticipation & dread yesterday morning. That this was the unnecessary Indiana Jones sequel. The one that would screw things up forever. That – like the "Star Wars" prequels – sully the memories of the fun films that had come before it.

But then the Paramount logo came up. Not that new CG version, where the stars swoop down from the sky and then flies around that mountaintop. But – rather – the late 1970s / early 1980s version of the Paramount logo.

And when I saw that … I just smiled and settled back in my seat. That's when I knew Lucas, Spielberg and Ford actually got it. That they knew that Indiana Jones was a character who was anchored in a certain time in Hollywood history. Which is why they were going to do their damnest to recreate a summer blockbuster from that era.

And for the most part, they succeeded. Oh, sure. David Koepp's screenplay for "Kingdom of the Crystal Skull" is something of a Frankenstein's monster. Given that it's been built out of the best bits of botched Indiana Jones scripts that have come before it.
Take – for example – the amphibious-vehicle-versus-Jungle-cutter sequence. That was more-or-less inspired by a similar action sequence that Chris Columbus wrote for "Indiana Jones and the Monkey God." Or – for that matter – "Crystal Skull" 's Doomtown sequence and this film's extraterrestrial leanings? Those are direct lifts from Jeb Stuart's abandoned screenplay for "Indiana Jones and the Saucer Men from Mars."

Though – to be fair here – it should be noted that two of "Temple of Doom" 's most memorable action scenes (i.e. Indy and Willie Scott fleeing Club Obi Wan behind that giant gong and that film's runaway-mine-car set piece) were actually sequences that were cut out of Lawrence Kasdan's original screenplay for "Raiders of the Lost Ark." So long before it was fashionable, Lucas & Spielberg were into recycling.

Anyway … As for "Indiana Jones and the Kingdom of the Crystal Skull" … It's now 1957. America's in the middle of the Cold War. And after Dr. Jones has a near-fatal run-in with some Soviet spies in the Arizona desert (Who need Indy's help to find a certain object in a very familiar-looking warehouse) … This world-weary archaeology professor returns to Marshall University to find that his career – and, indeed, his life – now appears to be in shambles.

Because of his dealings with those Russians, the FBI has come sniffing around the college. Which has resulted in Marshall College putting Indy on paid-leave-of-absence. Unable to teach stateside now, Dr. Jones returns to his apartment and packs for a trip to Europe.

As he sits drinking with his friend, dean Charles Stanforth (played in a neat little cameo by Jim Broadbent), Indy remarks that – what with the recent deaths of his father as well as his longtime mentor, Marcus -- it's been a brutal couple of years. Which leads Stanforth to comment that " … you reach a point in life where life stop giving you things and starts taking them away."

And indeed, as a depressed Dr. Jones sits on the train that's headed out of town, that's life seems to have become for him. A time of less, not more. Where more doors are closing than are opening.

But then – out of that steam cloud at the end of the train platform – comes Mutt Williams riding on a motorcycle. I don't know if it was actually all that smart of Spielberg & Lucas to dress Shia LaBoeuf like Marlon Brando from "The Wild Ones." But the audience immediately got what they were going for here: Rebellious teen from the 1950s.

Mutt's come looking for Dr. Jones because his mother's in trouble in South America. She's gotten mixed up with an old colleague of Indiana's – one Professor Oxley (played winningly by John Hurt) – who's been off searching for a crystal skull. And following a memorable run-in with some Soviet goons which ends with a motorcycle skidding to a stop inside of the Marshall University library … Indy agrees to help Mutt.

And from there … I don't really want to spoil the fun of the film that follows by getting into too many specifics here. Suffice it to say that "Indiana Jones and the Kingdom of the Crystal Skull" delivers the goods. This is a 1980s-era summer blockbuster that confidently mixes character-driven laughs ("Why didn't you make him finish school?") with the "Oooh ! Gross !" moments (Two words. Army ants). As you sit there in the dark chomping your popcorn and sipping your soda, you'll be swept away by John Williams' pounding score. Not to mention by all of those action set pieces and neat special effects.

Does this picture include some odd performances? Off-scenes? Plot holes that you could drive a troop transport through? Sure. But let's remember that "Raiders of the Lost Ark" wasn't exactly a perfect film either. I mean, Indy lashes himself to the periscope of a submarine … But then that sub crosses hundreds of miles of ocean without ever going below periscope depth. How realistic is that?

But back in 1981, that didn't matter. You wanna know why? Because at that point in "Raiders," you had actualy given yourself over to that movie. You were so enjoying the time that you were spending with these characters that the plot holes didn't matter anymore.

And – in the end – you're going to have the exact same sort of experience with "Indiana Jones and the Kingdom of the Crystal Skull." This film's virtues (including that delicious almost-but-not-quite-baton-pass at the very end of the picture) far outweigh its flaws.

As Professor Oxley says in "Crystal Skull" 's very satisfying final scene, "How much of life is lost in waiting." So do yourself a favorite. Don't wait to see this new Indiana Jones movie. Start your summer off right by catching a screening this coming weekend with a theater full of Indy fans.

And then remember again what it was like to see a blockbuster back in the summer of 1981.
-- Jim Hill
For more reviews please visit our film/television review section.
SPONSORED LINKS