The Hunger Games: Mockingjay, Part 2 (2015)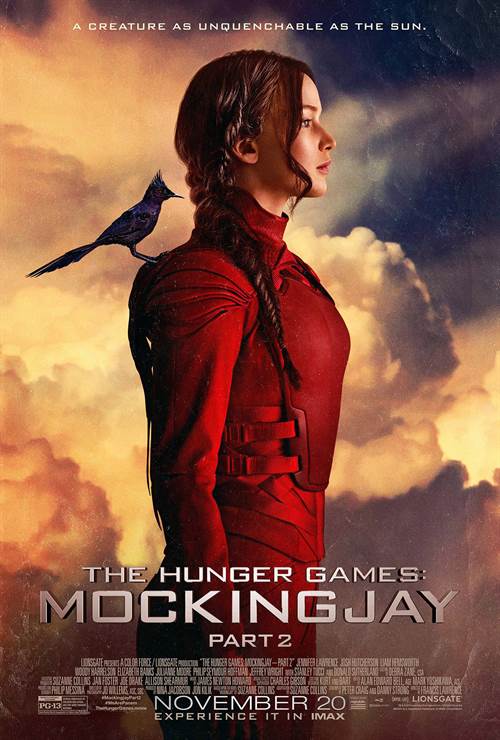 Share this:
| | |
| --- | --- |
| Director: | |
| Cast: | |
| Released: | 20 November 2015 |
| Length: | 137 minutes |
| Studio: | Lionsgate |
| Genre: | Sci-Fi/Fantasy, Action/Adventure |
| Certificate: | 12A |
Synopsis
With the nation of Panem in a full scale war, Katniss confronts President Snow [Donald Sutherland] in the final showdown. Teamed with a group of her closest friends – including Gale [Liam Hemsworth], Finnick [Sam Claflin] and Peeta [Josh Hutcherson] – Katniss goes off on a mission with the unit from District 13 as they risk their lives to liberate the citizens of Panem, and stage an assassination attempt on President Snow who has become increasingly obsessed with destroying her. The mortal traps, enemies, and moral choices that await Katniss will challenge her more than any arena she faced in The Hunger Games.
Purchase DVD/Blu-ray/4K physical copy of The Hunger Games: Mockingjay, Part 2 today at
Download The Hunger Games: Mockingjay, Part 2 in Digital HD/4K from the iTunes store.
The Hunger Games: Mockingjay, Part 2 images are © Lionsgate. All Rights Reserved.


Mockingjay Crew Discuss 'The Hunger Games Experience'
08/03/2016 10:02 EDT
The Hunger Games series was not just four films; it was an experience. That is never more clear than when watching the behind the scenes features on The Hunger Games: Mockingjay - Part 2 Blu-ray. At a sneak preview of a few of the extras on the Blu-ray (available on March 22) director Francis Lawrence and make-up artists Ve Neill, Glenn Hetrick, and Nikoletta Skarlatos were on hand to talk more ab...
More>>
Are Prequels in the Future for Hunger Games Franchise?
08/12/2015 13:54 EDT
Lionsgate is looking into extending the Hunger Games franchise, according to their Vice Chairman Michael Burns.During the UBS Global Media and Communications Conference in New York, Burns stated that the franchise "will live on and on."  While he didn't comment on exactly how this would happen, he did say that there seemed to be interest in the arena sequences and that "If we went backwards there ...
More>>
Lionsgate To Unveil Catching Fire With World Premiere In London
13/08/2013 16:42 EDT
Santa Monica, CA and London, UK August 13, 2013 - With 100 days and counting until the November 22 worldwide launch of The Hunger Games: Catching Fire, the second installment of Lionsgate's global blockbuster Hunger Games franchise, the Company announced today that it will host a Catching Fire world premiere in London on November 11.Countdown to the release of The Hunger Games: Catching Fire, with...
More>>
Catching Fire Teaser Trailer to Air on MTV Movie Awards
03/04/2013 15:15 EDT
"Catching Fire", the upcoming second installment of the "Hunger Games" trilogy, is set for a November 22 release, but you can catch a teaser trailer for the film on the 2013 MTV Movie Awards.On April 14, the show will feature Liam Hemsworth presenting the first trailer to eager fans. However, in case you want a sneak peek, one has become available through MTV.  Below is the 10 second preview of th...
More>>
Danny Strong tapped to write 'Hunger Games' Finale
02/10/2012 15:02 EDT
Danny Strong, who just won two Emmys for writing and co-exec producing HBO's "Game Change", has been chosen to pen the two part "Hunger Games" finale, title "Mockingjay".     "Hunger Games" has earned more than $685 million worldwide. "Catching Fire", the sequel, will be released on November 22, 2013.     "Mockinjay", the finale, will be released in two parts - the first being Nov. 21, 2014 and th...
More>>
Hunger Games: Catching Fire Begins Production
11/09/2012 08:04 EDT
Tuesday 11th September, 2012.  Principal photography started yesterday on the highly anticipated sequel to the worldwide blockbuster film THE HUNGER GAMES. THE HUNGER GAMES: CATCHING FIRE will shoot primarily in existing locations in and near Atlanta, Georgia.  The film will subsequently be shot on location in the beaches and jungles of Hawaii before wrapping in late December, 2012. Countdown to t...
More>>
Hunger Games Blu-ray Release Date Set For 12:01 AM 8/18/2012
23/05/2012 13:40 EDT
SANTA MONICA, CA, May 23, 2012 -Lionsgate's The Hunger Games juggernaut will arrive on home entertainment at 12:01 A.M. on Saturday, August 18, as the first film in Lionsgate's (NYSE: LGF) The Hunger Games franchise, which has already grossed nearly $400 million at the North American box office and is approaching $650 million at the worldwide box office, debuts on 2-disc DVD (plus digital copy), 2...
More>>
Robert Pattinson Being Courted For Hunger Games Sequel
23/05/2012 13:34 EDT
Robert Pattinson best known as heartthrob Edward from Twilight, is looking for new projects as the series comes to a close.   According to Total Film, it is rumoured Lionsgate wants him for the next installment of the Hunger Games franchise, " Catching Fire" for the role of Finnick Odair, a ladies man and former tribute, who gets himself involved in "The Third Quarter" -- a contest for Hunger Game...
More>>
'I am Legend' Director To Helm 'Hunger Games' Sequel
20/04/2012 13:44 EDT
Since Gary Ross confirmed he would not be directing the sequel to the hugely popular Hunger Games, Catching Fire, speculation has been rife who his successor would be. Well speculate no longer as it seems Lionsgate has gone with I Am Legend director Francis Lawrence.   There has been a handful of names linked with the project, but Lawrence has been the front runner mainly due to the fact he is not...
More>>
Confirmed: Gary Ross Will Not Direct Hunger Games Sequel, Catchi...
11/04/2012 08:34 EDT
Over the last week there has been a game of will he won't he being played out on many entertainment website. He being director Gary Ross and whether or not he will be back to direct the sequel to the worldwide box office hit The Hunger Games, Catching Fire. The first rumours that he was to walk away from the second film soon spread globally to the dismay of many fans. This was swiftly followed by ...
More>>
Correction: Garry Ross Not Out of Hunger Games Sequel Just Yet
08/04/2012 11:26 EDT
In recent days there have been reports on various media sites that The Hunger Games director Gary Ross had withdrawn his services for the much talked about sequel Catching Fire. Now it seems that those stories may have been a little wide of the mark, as it appears that Gary Ross is on a family vacation and he was in no position to be reached, and the stories that were appearing online were wholly ...
More>>
Gary Ross Not Returning to Hunger Games Franchise
06/04/2012 13:56 EDT
Gary Ross, director of "The Hunger Games", won't be returning to direct the next installment of the franchise, "Catching Fire".  Earlier in the week, it was reported that Ross was in negotiations for the job, but he gave formal notice to Lionsgate and Summit that he will not be pursuing the position.The film will now be on a tight schedule for finding a director, since filming will begin in the Fa...
More>>
The Hunger Games: Mockingjay, Part 2 Theatrical Review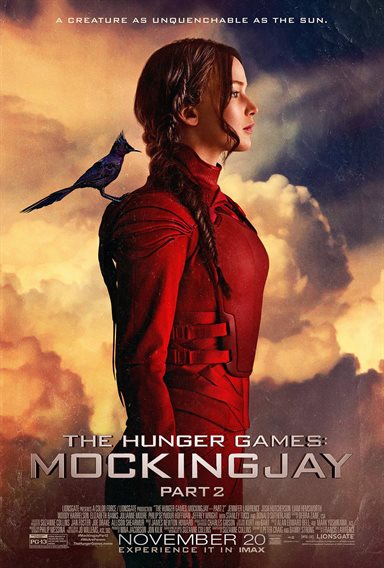 Suzanne Collins' journey, which began with the publication of The Hunger Games in 2010, is coming to its glorious conclusion this week with the release of the fourth movie
, The Hunger Games: Mockingjay Part II.
Our love affair with Katniss Everdeen (Jennifer Lawrence;
American Hustle
) is about to come to a close, and I'm sure many fans are disappointed to see it all end. Luckily, this ending will make all those fans proud and probably live up to the expectations generated from the beginning.
With the survival of District 13 and the successful retrieval of Peeta Mellark (Josh Hutcherson; The Kids Are All Right), the rebels are now setting their sights on destroying the capital and President Snow. Katniss, angry with all she and Peeta have endured at Snow's hands, is willing to be the face of the rebellion and fight alongside the others. She is, however, suspicious of President Coin (Julianne Moore, Still Alice) and her intention for the liberated districts. Likewise, Coin uses Katniss to spark the flames of rebellion but feels Katniss is too volatile to have around long term.
As the rebels use inhumane means to overpower district two and eventually move into the Capitol, Katniss struggles with her own beliefs and her emotions towards Gale (Liam Hemsworth; Love and Honor) and a brainwashed Peeta. Navigating the booby-trapped streets of the Capitol, Katniss loses members of her team and must examine her own thoughts regarding Coin, the rebellion, Gale and Peeta. Ultimately (for those who haven't read the books), the Rebels win and Katniss gets exactly what she wants but with great loss of innocent lives.
Lawrence, once again, does a very good job portraying the determined, strong-willed, Katniss. Casting her was a smart move on the part of the production team, as she embodies exactly how I envisioned the lead character when I read the books. Hutcherson is decent as Peeta but I never really felt the chemistry between him and Lawrence, and I'm not sure if a different actor might not have been a better choice. Hemsworth, Moore, Elizabeth Banks (Pitch Perfect) as Effie, Woody Harrelson (Zombieland) as Haymitch, and Donald Sutherland (The Italian Job) as President Snow all reprise their roles from the previous films and there is a reason these actors were chosen. There were several bittersweet moments when Phillip Seymour Hoffman (Capote) was on screen – a reminder of a young talent lost too soon.
Overall, the film was entertaining and moved faster than Mockingjay Part I, but there were times it seemed a little disjointed and frantic and got a little "preachy" more than once. Monologues by Katniss, Snow and Coin were cheesy. It did, however, stay mostly true to the book, which will leave purists happy.
Teens and young adults will surely flock to the film in droves, as it has massive box office appeal and they will get their money's worth. For the last in a series, it could have been better, but it could have been worse too. Of the four films, it wasn't my favorite, but it certainly was better than Mockingjay Part I. If you have been following the saga, you need to see the end. If you haven't watched the movies or read the books you would be lost so don't bother.
Grade: B-
Read More The Hunger Games: Mockingjay, Part 2 Reviews
Nathan M Rose (C) (The Hunger Games: Complete 4 Film Collection Blu-ray Review)
For more reviews please visit our film/television review section.
With the nation of Panem in a full scale war, Katniss confronts President Snow [Donald Sutherland] i...

With the nation of Panem in a full scale war, Katniss confronts President Snow [Donald Sutherland] i...
SPONSORED LINKS
Comments
Courtesy of
Movie Hype App
suretha
Would it good to watch
13/04/2016 03:29 EDT
alexisneibarger
This would be a great movie for someone to watch
10/04/2016 16:58 EDT
donking_29
Chilling with my feet up watching the hunger games
07/04/2016 15:31 EDT
alexa_22
Cool😘😍
05/04/2016 19:56 EDT
mokey_person
Purely amazing
03/04/2016 17:41 EDT
sunsearray
Awesome
25/03/2016 09:33 EDT
gut234
Amazing!!!
27/02/2016 17:03 EDT
stehanie
Awesome
21/12/2015 18:55 EDT
david_rivette
Not bad at all.. Followed the book pretty well .. Loved the Gould in the sour.. That was a cool change from the muts..
16/12/2015 03:31 EDT
morrison251
Cross road
11/12/2015 19:49 EDT
movieman24
Amazing Movie and Amazing Series Cannot Wait to Read this Series what a Great Films
08/12/2015 14:34 EDT
maxtmon
Late seeing this one but....Will be first in line for this http://www.starwars.com/video/star-wars-the-force-awakens-official-teaser-2
03/12/2015 20:09 EDT
skywalker4400
I just seen the movie and it was so good and I can't believe it that is end of the hunger games movies
26/11/2015 23:54 EDT
aviator986
Frankly I'm kinda sick off these movies now. The books were way better of course.
22/11/2015 19:50 EDT
number_18
Finally it's here :)
21/11/2015 05:47 EDT