Marvel's Agents of S.H.I.E.L.D (2013)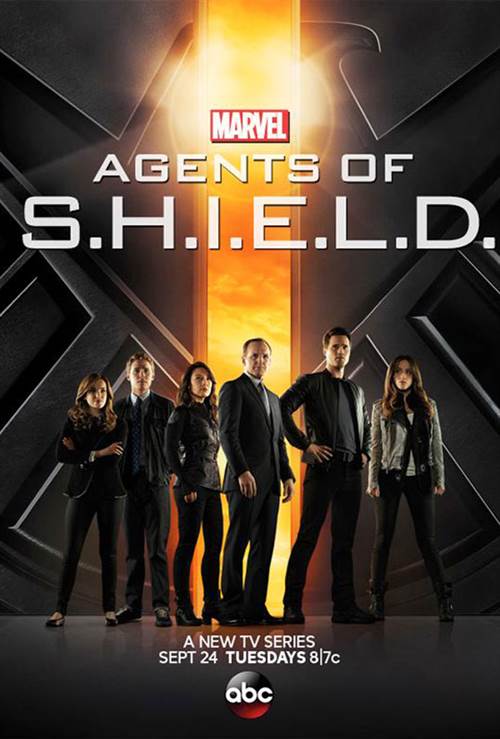 Share this:
| | |
| --- | --- |
| Created By: | |
| Cast: | |
| Air Date: | 24 September 2013 |
| Studio: | ABC Studios |
| Genre: | Television |
| Rating: | This Television Show Is Not Yet Rated |
Synopsis
The saga that began in The Avengers continues on TV in Marvel's Agents of Shield on television.

From Executive Producers Joss Whedon (Marvel's The Avengers, Buffy the Vampire Slayer) who also co-writes and directs the pilot, Jed Whedon & Maurissa Tancharoen (Dollhouse, Dr.Horrible's Sing-Along Blog), Jeffrey Bell (Angel, Alias) and Jeph Loeb (Smallville, LOST, Heroes) comes Marvel's newest TV series.
Download Marvel's Agents of S.H.I.E.L.D in Digital HD/4K from the iTunes store.
Marvel's Agents of S.H.I.E.L.D images are © ABC Studios. All Rights Reserved.


Avengers: Endgame Highest Grossing Film of All Time
21/07/2019 16:31 EDT
It's official. Marvel's Avengers: Endgame is now the highest-grossing film of all time. The film has now reached $2.79 billion, just beating out "Avatar"'s $2.789 billion. This amount, however, doesn't take inflation into account. Kevin Feige spoke about the imminent breaking of the record last night at Comic-Con, saying, "You have to shout-out to Mr. James Cameron, who held that title for a long ...
More>>
Marvel's Agents of SHIELD to End After Seventh Season
18/07/2019 13:46 EDT
It was announced today that Marvel's "Agents of SHIELD" will end after its seventh season. The announcement was made in an exclusive interview with Deadline. The series will also be holding a panel this afternoon at San Diego Comic-Con.Marvel's Jeph Loeb commented about the news, saying, "When you know what you're doing, you can take greater risks, of life and death. Those kinds of decisions sudde...
More>>
We Love You 3000 Tour Announced to Commemorate Avengers:Endgame ...
15/07/2019 16:45 EDT
Marvel Studios is celebrating the in-home release of "Avengers: Endgame" with the "We Love You 3000" Tour. This tour will serve as a thank-you to fans who have made this franchise so successful over the years. This event will take place in nine different cities - beginning in San Diego at Comic-Con International on July 20. Special guests from the Marvel Studios and Universe will be greeting guest...
More>>
Marvel Announces 2019 Comic-Con Lineup
01/07/2019 14:17 EDT
Marvel has announced their 2019 Comic-Con lineup! The powerhouse will host all-star panels, exclusive announcements, special video presentations, star-studded signings, and unforgettable fan experiences at the Marvel booth (Booth #2329).Below is the schedule of Marvel Entertainment's panels and featured Television signing below. A full schedule of Marvel Entertainment booth activities, including a...
More>>
Marvel Studios To Return to Comic-Con's Hall H
19/06/2019 12:36 EDT
After a notable absence last year at Comic-Con, Marvel will once again be appearing at Hall H. There's no word on exactly what Marvel will be promoting but there are some projects that they have in the works that are likely to be spoken about.Upcoming Marvel films include "Black Widow" (2020), "The Eternals" (2020), "Shang-Chi" (2021), "Black Panther 2" (2021), and "Doctor Strange 2" (2021). Any o...
More>>
Avengers: Endgame Now Second Highest Grossing Film of All Time
06/05/2019 11:50 EDT
"Avengers: Endgame" has continued to make history, as it is now the second highest grossing film of all time. "Avatar" remains in the top spot - for now."Endgame" has earned over $2.1 billion in just 11 days, a record in itself. No other film has ever reached that amount in such a short time. Even "Avatar" took 47 days to do so. While no one can say for sure whether or not "endgame" will surpass "...
More>>
Avengers: Endgame Moviegoer Hospitalized After Crying Too Much a...
30/04/2019 15:53 EDT
The "Avengers: Endgame" film has proved too much for one fan to handle.A 21-year-old moviegoer in China cried so much at the end of the film that she began to hyperventilate. After having breathing issues, the girl was rushed to a hospital and given oxygen.A doctor that treated her said, "I saw that the patient had been breathing heavily, and according to the description from her peers, we thought...
More>>
Avengers: Endgame Breaks Records with $1.2 Billion Debut
28/04/2019 12:23 EDT
Marvel Studios' "Avengers: Endgame" made history this weekend. the film has earned a record-shattering $1.2 billion dollars during its opening weekend. It took just 5 days for the film to reach the $1 billion mark.The film broke the record for its predecessor, "Avengers: Infinity War", which took a then record-breaking 11 days to reach the $1 billion mark. "Kevin Feige and the Marvel Studios team ...
More>>
Avengers: Endgame Fan Fever Takes Hold Ahead of Premiere
24/04/2019 14:18 EDT
Avengers: Endgame will be released Friday, and fans are beyond excited to finally see the final installment of what is over 20 films in the Marvel Cinematic Universe.Fan fever is quantifiable. According to a survey done of over 1,000 moviegoers that are planning on seeing the film, 63% feel that the release of the film marks an historic moment in cinema. Over 81% are trying to avoid spoilers for t...
More>>
Avengers: Endgame Red Carpet Live Stream Tonight!
22/04/2019 14:21 EDT
The time has come. The premiere for Avengers: Endgame will take place tonight in Los Angeles and fans can tune in to the red carpet festivities via marvel.com. The live-stream event will begin at 4:30 p.m. PT / 7:30 p.m. ET.Fans tuning in will see stars from the film including Robert Downey Jr., Chris Evans, Mark Ruffalo, Chris Hemsworth, Scarlett Johansson, Jeremy Renner, Brie Larson, Paul Rudd, ...
More>>
Avengers: Endgame Fans Prepare for Film with Massive Binging
18/04/2019 16:48 EDT
In anticipation of next week's release of Avengers: Endgame, fans are devouring Marvel content. Fandango has conducted a survey that says 89% of Endgame moviegoers will be preparing for the film event by bingeing previous films in the Marvel Cinematic Universe. In that same survey, it was also determined that 49% of the Millennials surveyed said they will be doing their binging this weekend. On to...
More>>
Gwyneth Paltrow Leaving Marvel Universe After Avengers: Endgame
19/02/2019 13:28 EDT
Gwyneth Paltrow, who plays the character of Pepper Potts in the Iron Man/Avengers films, will be leaving the Marvel Cinematic Universe after the release of  Avengers: Endgame. The actress says that while she would be open to a cameo appearance in the future, she won't be playing the character in a larger role.While there haven't been any other actors confirming the same news, it is expected that a...
More>>
S.H.I.E.L.D In Space? Ghost Rider? Get the inside track on all things, Marvel, when FlickDirect talk...
SPONSORED LINKS
Comments
Courtesy of
Movie Hype App
movieman24
You gotta watch both seasons of this tv series if you are following Marvels Avengers
22/12/2014 22:12 EDT
movieguynathan
Give this show another shot.
29/11/2014 23:50 EDT
daryam
Marvel
18/04/2014 03:52 EDT
backlight
This started out a bit slow but it's getting real good
08/02/2014 02:57 EDT
movieguynathan
Such a disappointment
07/11/2013 22:53 EDT
eric
Good show
04/10/2013 15:28 EDT
paul
Loved it!
28/09/2013 05:27 EDT
ampayne71
I can't wait to see it
20/08/2013 03:00 EDT