Avengers: Infinity War (2018)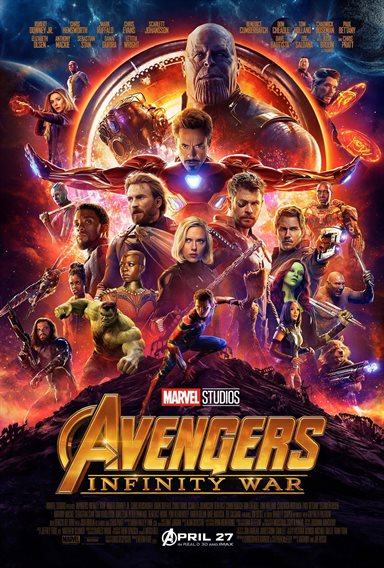 | | |
| --- | --- |
| Director: | |
| Writers: | Christopher Markus, Stephen McFeely |
| Cast: | |
| Released: | 27 April 2018 |
| Length: | 156 minutes |
| Studio: | Walt Disney Pictures |
| Genre: | Sci-Fi/Fantasy, Action/Adventure |
| Certificate: | 12A |
Synopsis
Iron Man, Thor, the Hulk and the rest of the Avengers unite to battle their most powerful enemy yet -- the evil Thanos. On a mission to collect all six Infinity Stones, Thanos plans to use the artifacts to inflict his twisted will on reality. The fate of the planet and existence itself has never been more uncertain as everything the Avengers have fought for has led up to this moment.
Purchase your copy of Avengers: Infinity War today at
Download Avengers: Infinity War from iTunes.
SPONSORED STORIES
Comments
Courtesy of
Movie Hype App
issa_socool
It's the best
17/06/2018 14:54 EDT
jordantgreen
Avengers infinity war was dop, I wanna see it again cause I still have a lot more to think about it
11/05/2018 11:13 EDT
aceyplayzz
Cannot wait for this to come out!!!👍👍👍
06/05/2018 15:58 EDT
ali121
finally getting to see this!!! Can't wait!!😁👍🏻
30/04/2018 19:26 EDT
movieguynathan
Finally getting to see this. Thank you everyone for not spoiling it for me!
30/04/2018 19:15 EDT
swaggcity3
So exited
29/04/2018 23:54 EDT
swaggcity3
It's looks really cool
29/04/2018 23:54 EDT
dewayneayisi
Best movie made to date
24/04/2018 15:01 EDT
blakem
So excited for this movie
19/04/2018 03:38 EDT
thorhead1
Can't wait.
18/04/2018 23:05 EDT
mgarellano
All Hell is about to break loose.
16/04/2018 12:35 EDT
dragonslayerninja39
Looking forward to this
11/04/2018 10:34 EDT
savientus
The best... avengers movie
17/03/2018 21:25 EDT
ilbarsgumus
Hyped!
12/03/2018 05:34 EDT
lolloorio
I can't wait to see it !!
09/03/2018 17:09 EDT
Avengers: Infinity War images are © Walt Disney Pictures. All Rights Reserved.
Chris Evans Says Goodbye to Captain America
04/10/2018 14:25 EDT
Goodbye, Cap.Chris Evans tweeted today about his parting from his longtime character, Captain America. In the tweet, Evans said, "Officially wrapped on Avengers 4. It was an emotional day to say the least. Playing this role over the last 8 years has been an honor. To everyone in front of the camera, behind the camera, and in the audience, thank you for the memories! Eternally grateful."Evans began...
More>>
Scarlet Witch and Loki to Get Their Own Series
19/09/2018 10:22 EDT
Looks like Marvel's Scarlet Witch and Loki will be getting their own series through Disney's upcoming streaming service. The service, which will be released in later 2019, will stream original content as well as existing TV series and films.There is no official comment or confirmation from Disney or Marvel just yet, but they are said to be in the early stages of planning some limited series on pop...
More>>
Cate Shortland Tapped to Direct Black Widow
13/07/2018 10:03 EDT
Cate Shortland has been tapped to direct Marvel's upcoming Black Widow film. Scarlett Johansson will be reprising her role.The search for a director has taken over 6 months and included meeting with over 70 candidates. Shortland directed the 2012 film Lore, about a young woman who leads her family through Nazi Germany as the Allies come to liberate them. She also worked on 2017's Berlin Syndrome.T...
More>>
Avengers: Infinity War Breaks Box Office Records
30/04/2018 10:33 EDT
Avengers: Infinity War shattered box office records this past weekend.  The Disney/Marvel film directed by the Russo brothers broke not one but SIX records as follows: Biggest Domestic Opening of All Time, earning between $250-$275 million and surpassing Star Wars: The Force Awakens with their $248 million earned; Biggest Worldwide Opening of All Time, earning $630 million globally; Biggest Saturd...
More>>
Avenger's Winston Duke Discusses The Movie's Sense of Community
28/04/2018 19:50 EDT
It's been ten years in the making. The most highly anticipated superhero film ever.  Twenty four stars, eighteen separate movies, One really evil bad guy all rolled into two hours and thirty minutes.  There are funny moments, bizarre encounters - like when the Guardians of the Galaxy rescue Thor ( Chris Hemsworth; Snow White and the Huntsman) - and lots of action to go around.  But there is heart ...
More>>
Avengers: Infinity War Breaking Presale Records
11/04/2018 13:46 EDT
Proving to already be a hit at the box office, Marvel's "Avengers: Infinity War" is currently selling pre-sale tickets faster than the last seven Marvel films combined. It is selling more than double the number of tickets Fandango as "Black Panther" at the same point in the sales cycle.Fandango reports that  "Avengers: Infinity War" is The company's top preseller among April releases, already surp...
More>>
Chris Evans to Exit Captain America Role After Next Avengers Film
22/03/2018 22:52 EDT
Looks like time is running out for Ol' Cap. It has been known that Chris Evans will be leaving the Marvel Universe but some it was never quite clear exactly when. Now, there are reports that it will occur after 2019's Infinity Wars 2 film.  According to new reports, Chris Evans wants to get out while he's on top. And, since there have other Captain America's, namely Bucky Barnes and Sam Wilson, we...
More>>
Avengers: Age of Ultron Set for Big U.S. Opening Weekend Earnings
24/04/2015 16:49 EDT
The highly anticipated film, Avengers: Age of Ultron, was released this week in the international markets and is already breaking records with its box office earnings.The film opened on Wednesday as #1 in 11 foreign markets, including France and Italy, earning $9.5 million on its first day.  On Thursday, it opened in United Kingdom, Germany and South Korea. So far, it has earned approximately $44....
More>>
Chris Evans and Jeremy Renner Apologize for Offensive Comments
23/04/2015 16:17 EDT
Chris Evans and Jeremy Renner caused some controversy during a recent press interview for Avengers when they referred to the character Black Widow as a whore and a slut.The duo were doing an interview with a UK website when they were asked about Black Widow's multiple romances throughout the Marvel Universe, and Renner answered, sarcastically,  "She's a slut."  Evans chimed in, with laughter, sayi...
More>>
South Floridians Can Win Passes To A Complimentary 3D Advance Sc...
18/04/2015 08:44 EDT
South Floridians can win passes to a complimentary 3D Advance Screening of Marvel's AVENGERS: AGE OF ULTRON, the epic follow-up to the biggest Super Hero movie of all time.Enter by downloading the Movie Hype App and "follow" AVENGERS: AGE OF ULTRON. Be sure to mention in the comments what you think would be the worst superpower and why. The most creative and unique entries will be chosen to win pa...
More>>
Russo Brothers to Direct Upcoming Avengers Film
24/03/2015 13:41 EDT
Director Joss Whedon will be stepping down from his Avengers duty, according to reports. It has now been finalized that the Captain America: The Winter Soldier duo Joe and Anthony Russo will now be taking over. The new directors will be taking over Avengers: Infinity War parts 1 and 2. Part 1 is slated for a May 4, 2018 release and Part 2 is slated for a May 3, 2019 release. Along with Avengers, t...
More>>
Could the Face of the Avengers Team Be Changing?
29/08/2014 16:57 EDT
There are now reports that the upcoming "Avengers" Film, "The Avengers: Age Of Ultron", will be the last time we see the current ensemble of characters. Apparently, after this film, Captain America will be assembling a brand new team.  But, there is much speculation on exactly who. Some say one possibility id Black Panther, who is the source of the Vibranium sought after by Ultron.  Other names be...
More>>
Avengers: Infinity War 4K Ultra HD Review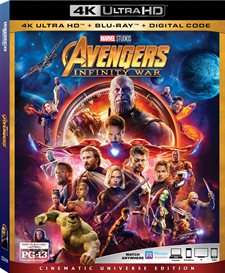 It's been ten years and 18 films in the making. Avengers: Infinity War was one of the most anticipated movies of the Spring 2018 and depending on who you ask, it didn't disappoint. It brought together over 20 Marvel superhero characters and melded all their worlds into the fight to end all fights…the fight for the universe and half of all its inhabitants. For 2 and a half hours it enthralled fans and mesmerized audiences as the Avengers teamed up to fight Thanos (Josh Brolin; Sicario) in order to prevent him from destroying the universe. Unfortunately, that didn't seem to happen leaving fans in mourning and wondering what happens next. While we will have to wait until next year for the answer, we can once again enjoy Avengers Infinity War over again as it makes its way to home video release on 4K, Blu-ray, DVD and Digital download.

Thanos sees himself as a savior. He knows that in order to save the world he needs to obliterate half the Universe's population. In his quest to do so he needs the infinity stones – six stones that control various components and when used in conjunction make the user invincible, even against superheroes and gods. As he wanders the Universe in search of the stones he leaves a wave of destruction in his path. He also encounters the Avengers.

First he battles Loki (Tom Hiddleston; The Night Manager), The Hulk (Marc Ruffalo: Spotlight) and Thor (Chris Hemsworth; Snow White and the Huntsman), then he takes on Iron Man (Robert Downey, Jr.; Sherlock Holmes) and Dr. Strange (Benedict Cumberbatch; The Imitation Game). Eventually, the Guardians of the Galaxy are thrown into the mix and everyone eventually ends up in Wakanda fighting for their lives. However, this giant monster seems to be unstoppable and things don't end as well as we are used to seeing in our superhero movies.

You have to wonder what kind of budget it takes to get almost 30 major movie stars in one film that includes special effects and various location shoots. You also have to wonder the amount of coordination it took to pull off making a movie of this scope. The results, however, are excellent. Bringing together characters from all over the Marvel University and melding them together to try and defeat a common enemy had fans excited and anxiously anticipating the movie's release. The results paid off as Avengers: Infinity War grossed $250 million in its opening weekend.

A film like this is ripe for a 4K release and the movie doesn't disappoint. The 2160p video quality is sharp and clean with true reds, deep blacks, and lush greens. The details are easily seen and appreciated as they could have easily been missed in making such a large scale film. The Dolby Atmos audio is the perfect complement to the video as dialogue is clear if slightly low. The Combo pack comes with some great extras including an Introduction from the Directors, Joe and Anthony Russo, Strange Alchemy which looks at bringing together these unique Characters from the Marvel Universe, The Mad Titan focusing on Thanos, Beyond the Battle: Titan and Beyond the Battle: Wakanda that looks at these locations in very different ways, Deleted scenes, gag reel and audio commentary. While not terribly long these snippets offer some interesting insights from cast and crew interviews.

Avengers: Infinity War is an epic film showcasing an equally epic battle that doesn't end the way most movies do. Perhaps that was some of the criticism when the film first came out as fans were shocked and a little disappointed at the outcome. However, it is obvious this story isn't over so we will wait until the sequel arrives in theaters. In the meantime, you would be crazy not to buy your own copy of this movie to watch over and over again.

Grade: A-
For more reviews please visit our film/television review section.