Batman v Superman: Dawn of Justice (2016)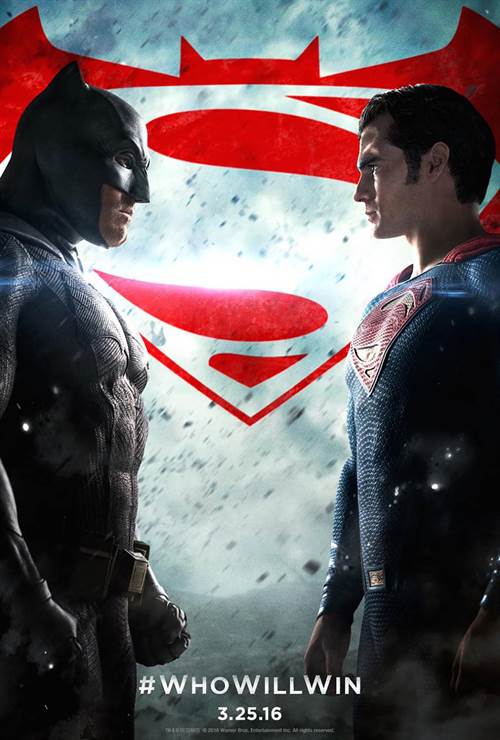 | | |
| --- | --- |
| Director: | |
| Writers: | |
| Cast: | |
| Released: | 25 March 2016 |
| Length: | 151 minutes |
| Studio: | Warner Bros. |
| Genre: | Sci-Fi/Fantasy, Action/Adventure |
| Certificate: | 12A |
Synopsis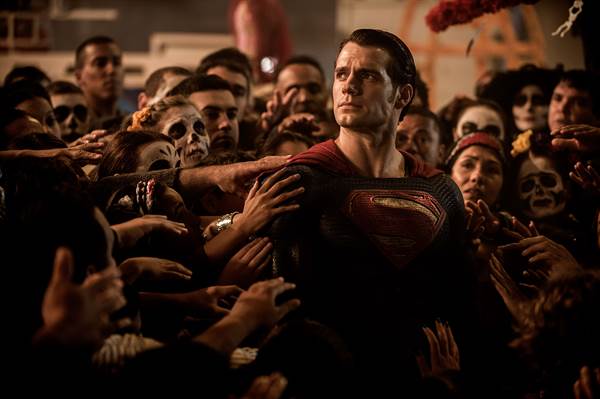 It's been nearly two years since Superman's (Henry Cavill) colossal battle with Zod (Michael Shannon) devastated the city of Metropolis. The loss of life and collateral damage left many feeling angry and helpless, including crime-fighting billionaire Bruce Wayne (Ben Affleck). Convinced that Superman is now a threat to humanity, Batman embarks on a personal vendetta to end his reign on Earth, while the conniving Lex Luthor (Jesse Eisenberg) launches his own crusade against the Man of Steel.

Purchase DVD/Blu-ray/4K UHD physical copy of Batman v Superman: Dawn of Justice today at Amazon.com
Download Batman v Superman: Dawn of Justice in Digital HD/4K from the iTunes store.
Listen to the Batman v Superman: Dawn of Justice soundtrack on Apple Music.
Batman v Superman: Dawn of Justice images are © Warner Bros.. All Rights Reserved.
Suicide Squad Spin Off Peacemaker Premieres January on HBO Max
16/10/2021 20:41 EST
A teaser trailer for the Max Original series PEACEMAKER, has been released by HBO Max at DC FanDome.  The series was written and directed by James Gunn and produced by Peter Safran.  The DC series is scheduled to debut Thursday, January 13.PEACEMAKER will investigate the origins of the character, portrayed by John Cena in James Gunn's 2021 film, "The Suicide Squad."  The character believes in peac...
More>>
Helen Mirren to Star in Shazam! Fury of the Gods
24/03/2021 14:06 EST
Helen Mirren has signed on to join the cast of "Shazam! Fury of the Gods". She will play the villain Hespera, a daughter of Atlas.Zachary Levi will reprise his role of Shazam/Billy Batson for the film, which follows the story of a kid who inherits superpowers of six gods - Solomon, Atlas, Zeus, Achilles, and Mercury. The character was created by  Bill Parker and C.C. Beck. 2019's original earned o...
More>>
LexCorp Industries Releases Statement Regarding Future of Company
01/04/2016 10:59 EST
Warner Bros and DC have brought their universe to our world with the creation of a LexCorp Industries Instagram page, which you can access here.  The company has posted the following:"Due to unfortunate circumstances, LexCorp Industries will be temporarily suspending it's global operations. When interviewed about his actions against a fallen alien, Lex Luthor responded with; "Ding, ding, ding, din...
More>>
Hans Zimmer to Retire from Superhero Film Work
31/03/2016 15:47 EST
Hans Zimmer has announced that he will no longer be writing scores for superhero films.  Zimmer definitely won't be retiring altogether, so not to worry, folks.Zimmer said,  "I have officially retired from the superhero business. I did Batman Begins with [Christopher Nolan] 12 years ago, so The Dark Knight trilogy might be three movies to you - to me it was 11 years of my life."Not only did he com...
More>>
Batman v Superman Stars Come to Film's Defense
24/03/2016 20:45 EST
After some not-so-hot reviews of Batman V Superman: Dawn of Justice, stars Henry Cavill and Amy Adams have come to the film's defense. Cavill said, "The interesting thing is that we get the critics who have their personal opinions, and the thing about personal opinions is that they always come from a place. And there's a preconceived idea which you have to get past a critic before you start writin...
More>>
London Premier of Batman V Superman to Go On as Planned Amid Ter...
22/03/2016 14:21 EST
The world is taking in the most recent terror attacks that occurred in Brussels, and Warner Bros is among those looking for normality in the wake of tragedy.  The Batman V Superman: Dawn Of Justice premier, which will be taking place tonight in London, has had some changes made to the event.The studio announced in a statement, "Our hearts go out to the victims of recent terrorist attacks, their fa...
More>>
Jesse Eisenberg Cast As Lex Luthor in 'Superman/Batman,' Jeremy ...
31/01/2014 13:08 EST
BURBANK, CA, January 31, 2014 - Warner Bros. Pictures announced today that Jesse Eisenberg has been set to star as Lex Luthor and Jeremy Irons will play Alfred in the upcoming Zack Snyder untitled Superman/Batman film. The dual announcement was made today by Greg Silverman, President, Creative Development and Worldwide Production, and Sue Kroll, President, Worldwide Marketing and International Dis...
More>>
Ben Affleck Revealed as Batman
22/08/2013 21:59 EST
BURBANK, CA, August 22, 2013 - Ending weeks of speculation, Ben Affleck has been set to star as Batman, a.k.a. Bruce Wayne.  Affleck and filmmaker Zack Snyder will create an entirely new incarnation of the character in Snyder's as-yet-untitled project-bringing Batman and Superman together for the first time on the big screen and continuing the director's vision of their universe, which he establis...
More>>
Batman v Superman: Dawn of Justice 4K Review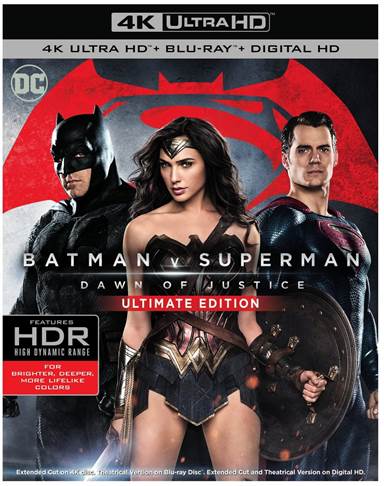 In my opinion, Batman v Superman: Dawn of Justice is one of the most underrated movies of the year so far. It had everything an adult action film should have. It was fast paced, full of explosions, had a real plot and great CGI. I can't understand why it received such bad reviews when it ran in theaters, but I for one plan to own the extended cut 4K Blu-ray, as I think it would be a terrific addition to my collection.
All Superman (Henry Cavill; The Man from U.NC.L.E.) is trying to do is use his powers to help humanity, but, when things go wrong, he is blamed for the loss of innocent civilians and damage to cities all over the world. Leading the charge is Bruce Wayne, A.K.A Batman (Ben Affleck; Argo), whose property was destroyed and whose workers were damaged in the epic battle at the end of Man of Steel. With a personal vendetta against Superman, Batman plots his way to the climactic final battle with the goal to destroy Superman once and for all.
What makes this extended cut 4k Blu-ray different than the theatrical release is 30 additional minutes of footage that explains more of the back-story behind Superman and why he is being persecuted. It ties the loose ends up nicely and helps the movie flow more seamlessly. It is also R rated so there is more violence. And more graphic fight scenes. There is also more insight into Lex Luthor and his psychosis, which we didn't originally understand.
The 4k version is also an incredible way to watch this film. The picture quality is outstanding. The muted pallet that director Zack Snyder (Man of Steel) uses for the film truly shines through. Colors are spot on and crystal clear. Textures are easily seen and the CGI effects that normally very noticeable on 4k transfers are extremely hard to spot. The audio presented in Dolby Atmos is the truly impressive. The soundtrack has crystal clear dialog as well as impressive special effects that make use of all the speakers in your home theater configuration including the Dolby Atmos "height" speakers.
Batman v. Superman: Dawn of Justice includes the following special features:
The extended cut of Batman v. Superman: Dawn of Justice includes 30 more minutes of film than was released. It also includes the Theatrical Version of the film, a Digital HD version, and over two hours of bonus content.
- Uniting the World's Finest
- Gods and Men: A Meeting of Giants
- The Warrior, The Myth, The Wonder
- Accelerating Design: The New Batmobile
- Superman: Complexity & Truth
- Batman: Austerity & Rage
- Wonder Woman: Grace & Power
- Batcave: Legacy of The Lair
- The Might and The Power of A Punch
- The Empire of Luthor
- Save the Bats
Being a huge fan of the film, I was eager to dive into the bonus content; however, I was a little dismayed when I found most of it was just fluff for the upcoming Justice League movie. I personally would have enjoyed seeing more about the making of this masterpiece with more insight into the filming, story boarding, special effects and directing.
While so many critics panned this film, I personally think Batman v Superman: Dawn of Justice is one of the best superhero films ever made. It is more geared towards an adult audience than the Marvel Cinematic Universe offers. I find it refreshing and engaging and just simply entertaining.
Read More Batman v Superman: Dawn of Justice Reviews
For more reviews please visit our film/television review section.
Fearing the actions of a god-like super hero left unchecked, Gotham City's own formidable, forceful...

It's been nearly two years since Superman's (Henry Cavill) colossal battle with Zod (Michael Shannon...

It's been nearly two years since Superman's (Henry Cavill) colossal battle with Zod (Michael Shannon...
SPONSORED LINKS