Horton Hears a Who (2008)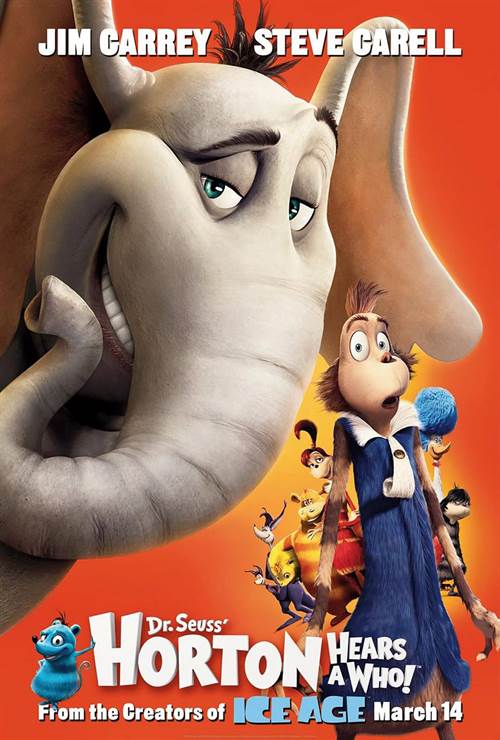 | | |
| --- | --- |
| Director: | |
| Writers: | |
| Cast: | |
| Released: | Friday, March 21, 2008 |
| Length: | 88 minutes |
| Studio: | 20th Century Fox Animation |
| Genre: | Family |
| Certificate: | U |
Horton Hears a Who Synopsis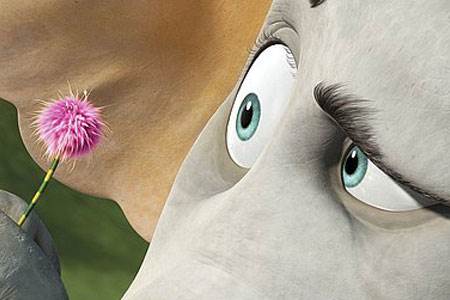 An adaptation of Dr. Seuss's 1954 children's book, "Horton Hears a Who" is about an imaginative elephant (Jim Carrey) who hears a cry for help coming from a tiny speck of dust floating through the air. Suspecting there may be life on that speck and despite a surrounding community that thinks he has lost his mind, Horton is determined to help. Carell voices the mayor of Who-ville, a distinguished figure of a very small size, too small to be seen by the elephant's eyes.

Purchase DVD/Blu-ray/4K UHD physical copy of Horton Hears a Who today at Amazon.com
Stream Horton Hears a Who in Digital HD/4K from the AppleTV store.
Horton Hears a Who images are © 20th Century Fox Animation. All Rights Reserved.
Horton Hears a Who Theatrical Review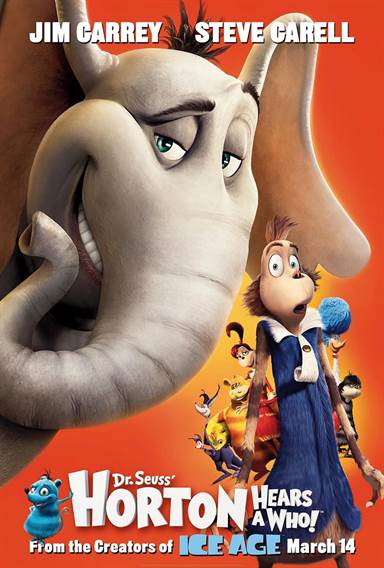 The live-action Dr. Seuss movies have not been kind to his legacy. I think that this isn't for lack of trying, I think it's because of the medium as much as anything. Dr. Seuss's locations aren't meant to be real: they exist in the imaginary landscape of our childhood minds. The fluid, flexible imaginary realms that Seuss's characters inhabit render well on a printed page with fanciful drawings--and moving to hand-drawn animation, it still works. That's because the pictures are, to some extent, a
metaphor
for the story rather than a literal rendition. We don't have to wonder how all those Who-houses stand up because in pen and ink they're weightless.
When we build those houses for live action sets though, they really do have to stand up and maybe our brains tell us that no matter how good they look, they're just not real. I don't know--but the latest attempt both looks better for an estimated 89MM than the
Cat in the Hat
(109MM in 2003 dollars) or
How the Grinch Stole Christmas
(123MM in 2000 dollars) and works better. Those structures and creatures just aren't
meant
to be real.
I guess it's also just true that those other two films weren't very good movies no matter the medium either. The Seuss estate holder (widow Audrey Geisel) had vowed there would be no more live-action adaptations after
Cat
(which contained too many adult themes for her ... and me, for that matter) so maybe that got some studio-exec's attention. Whether it was the medium, the message, or both that improved,
Horton
is a pretty darn good piece of work.
The story, if you don't remember (or, worse, never heard it!) involves a stalwart, good-hearted elephant named Horton (voiced by Jim Carrey) who, with his very-big-ears hears a cry from a tiny floating dust-speck. He assumes there are little people there and rushes to rescue it. He's right--there's a whole civilization of microscopic
Whos
. The happy Whos have never had anything go wrong (perhaps Christmas-stealing is yet to come?) so all the earthquakes and weather shifts caused by their dust-speck floating around are ignored in favor of various activities like the the parade and kite-flying day.
Only the mayor (voiced by Steve Carell) can communicate with Horton (using a large, megaphone like contraption) so the two hatch a plan to move the dust-speck to a safe haven. Horton sets off but he makes the mistake of telling his friends and when the story spreads it reaches the ears of a sour kangaroo (voiced by a wonderfully stern Carol Burnett) who decides that if Horton makes up fanciful stories about imaginary Whos, he'll corrupt the children by making
them
imagine things too. She sets out to put contract-hits against the speck using an evil vulture Vlad (Will Arnett doing a show-stealing job) and the Wickersham monkey tribe (Dan Folger).
The story has, for its moral center, stuff about believing in your friends and never giving up and that "a person's a person--
no matter how small
." This is the interesting bit of controversy that comes up with Horton: this slogan is part of the abortion debate. Although it isn't, of course, literal, I can see why the pro-life movement likes Horton!
Since Seuss (Theodore Geisel) is no longer with us, we have to rely on his surviving family and biographers to tell us what
he
thought of the debate. It's not 100% clear. I did some searching and concluded that he probably didn't like like his work being used for activism and his surviving widow Audrey Geisel supports planned parenthood. Indeed, the movie makes the bad-guys pretty archly conservative (except for Vlad who is just psychotic).
But that didn't stop
pro-life protesters
from infiltrating the premier and staging a slogan-shouting spectacle for Jim Carrey, his wife and kids, and a bunch of other youngsters! The slogan ("A person's a person") has also been used without license on t-shirts and bumper stickers and things for years. Maybe Watterson can commiserate.
Whether politically charged or not, though, Horton is a real, legitimate attempt to get Dr. Seuss
right
. The story is quite true to the book and the larger body of work (Horton, himself, returns from
Horton Hatches the Egg
and reprises his line from there "I meant what I said, and I said what I meant: An elephant's faithful one hundred percent!") The bit-characters have some zing to them (I loved Burnett's kangaroo and the mayor's wife). The visuals are the right mix of utterly fanciful and properly grounded.
It does a way better job of bringing Seuss's world to life than
real life
did--and maybe there's a lesson there.
-- Marco Chacon
For more reviews please visit our film/television review section.
SPONSORED LINKS