Quantum of Solace (2008)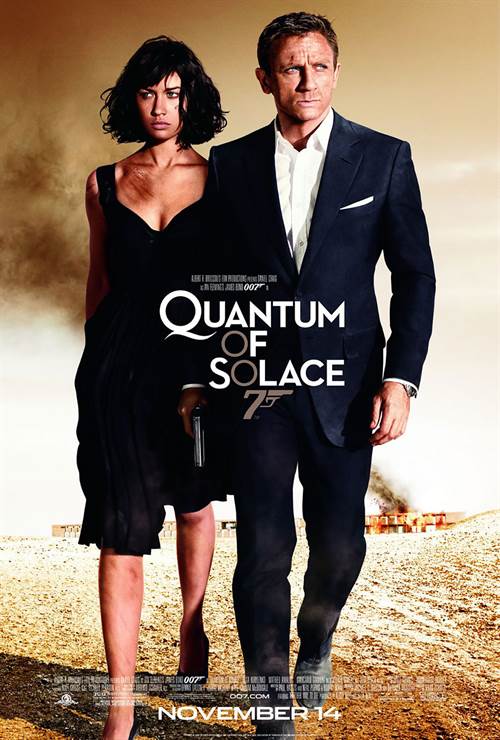 Share this:
| | |
| --- | --- |
| Director: | |
| Writers: | Robert Wade, Neal Purvis |
| Cast: | |
| Released: | 31 October 2008 |
| Length: | 106 minutes |
| Studio: | Columbia Pictures |
| Genre: | Action/Adventure |
| Certificate: | 12A |
Synopsis
The 22nd film in the series will follow 007, played by Daniel Craig, as he seeks revenge and travels to Austria, Italy and South America in order to find it. He encounters Camille. played by Olga Kurylenko, and she leads him to Dominic Greene, played by Mathieu Amalric, who is a member of a mysterious organization as well as being a ruthless businessman looking to control huge natural resources.
Purchase DVD/Blu-ray/4K physical copy of Quantum of Solace today at
Download Quantum of Solace in Digital HD/4K from the iTunes store.
Quantum of Solace images are © Columbia Pictures. All Rights Reserved.


James Bond No Time to Die Release Delayed Until November
05/03/2020 10:35 EDT
MGM, Eon, and Universal have decided to postpone the opening of James Bond: No Time to Die. The film, which was slated for an April 10 release, will now be released on November 25.The trio released a statement saying, "MGM, Universal and Bond producers, Michael G Wilson and Barbara Broccoli, announced today that after careful consideration and thorough evaluation of the global theatrical marketpla...
More>>
James Bond Producer Nixes the Thought of a Female Bond
16/01/2020 14:21 EDT
In a recent interview with Variety, "James Bond" producer Barbara Broccoli dismissed the idea of having a female play the iconic character."He can be of any color, but he is male. I believe we should be creating new characters for women -- strong female characters," said Broccoli. She went on to add, "I think women are far more interesting than that."There hasn't been any word on who will next pla...
More>>
No Time To Die Poster Design Contest
13/12/2019 15:44 EDT
Daniel Craig has announced via social media that EON Productions, Metro Goldwyn Mayer Studios (MGM), Universal Pictures International and United Artists Releasing have launched a global initiative that challenges fan of James Bond to create an original poster for the upcoming release of No Time To Die.The marketing teams of MGM, Universal Pictures International, and United Artists Releasing will b...
More>>
No Time to Die is Official Title for Bond 25
20/08/2019 15:54 EDT
It was announced today by James Bond producers,  Michael G. Wilson, and Barbara Broccoli, that the official title of the 25th film in the franchise is No Time to Die. The Cary Joji Fukunaga directed film hails from Albert R. Broccoli's EON Productions, Metro Goldwyn Mayer Studios (MGM), and Universal Pictures International. Daniel Craig will reprise his role as James Bond for the fifth time.No Tim...
More>>
Bond 25 Filming to Begin in Matera, Italy This Summer
08/03/2019 11:30 EDT
Bond 25 production is moving along, and Matera, Italy has been chosen as the backdrop for the film's prologue action sequence.Filming in the city of 60,000 is said to begin in late July but preparations are already underway to accommodate the production crew of about 500 people. No one associated with the film has confirmed these plans yet.The city of Matera is no stranger to the Hollywood scene. ...
More>>
Cary Joji Fukunaga to Direct Bond 25
20/09/2018 10:12 EDT
Cary Joji Fukunaga has been tapped to direct the upcoming installment of the James Bond franchise, Bond 25.Fukunaga, the first American to direct a Bond film, replaces British director Danny Boyle, who left the project due to "creative differences." "Michael G. Wilson, Barbara Broccoli and Daniel Craig announced today that Bond 25 will begin filming at Pinewood Studios on 4 March 2019 under the he...
More>>
Idris Elba Won't Be Playing Bond in Next Film
23/08/2018 11:56 EDT
Idris Elba has squashed the rumors about the possibility of him playing James Bond. The actor was asked by Good Morning Britain if he were interested in being the next Bond and he simply replied, "No."Elba seemed to be a popular choice by fans to take up the reins as the famous spy. The upcoming Bond 25 will be Daniel Craig's last film for the franchise, which also just lost its director, Danny Bo...
More>>
Danny Boyle Leaves Bond 25 Production Over Creative Differences
21/08/2018 13:41 EDT
Danny Boyle, who was directing Bond 25, has left the project due to creative differences.The announcement was made today via the 007 Twitter account saying, "Michael G. Wilson, Barbara Broccoli and Daniel Craig today announced that due to creative differences Danny Boyle has decided to no longer direct Bond 25".There is no other information available yet as to what these differences could have bee...
More>>
Danny Boyle to Direct Bond 25
16/03/2018 13:44 EDT
Danny Boyle has been set to take over the directing duties for the upcoming James Bond film. This will be the 25th film in the iconic franchise. Boyle will fill the seat that Sam Mendes left.Boyle stated in an interview, "We are working on a script right now. And it all depends on that really".  He went on to say, "I am working on a Richard Curtis script at the moment. We hope to start shooting th...
More>>
Daniel Craig Confirms His Return for Bond 25
16/08/2017 11:42 EDT
Daniel Craig, who once said that he would "rather break this glass and slash my wrists" than reprise his role of James Bond, has officially confirmed that he will indeed be doing just that.  The actor made the announcement on  "The Late Show With Stephen Colbert." He also commented on his infamous statement, saying, "Instead of saying something with style and grace, I said something really stupid,...
More>>
Daniel Craig Reportedly Offered $150 Million to Return to Bond
06/09/2016 11:13 EDT
Rumors are swirling about the future of the James Bond franchise and who will be next to play the legendary character. Idris Elba, Tom Hiddleston, and Aidan Turner have all been thrown into the mix, but there are reports that Sony is desperate to get Daniel Craig back. Reports are that he has been offered $150 million to reprise his role.Craig had previously told reporters that he was done with th...
More>>
Multi-Million Dollar Phone Deals Rejected by Bond Franchise
03/11/2015 14:03 EDT
James Bond is known for having the finest of everything, from his expensive suits to his Aston Martins.  One thing he won't have in the upcoming Spectre film? A smartphone.  Offers from both Sony and Samsung were rejected earlier this year, after the franchise has made a decision to cut back on product placements. Sony offered $5 million for Bond to carry the phone, with an $18 million bid to be t...
More>>
Quantum of Solace Theatrical Review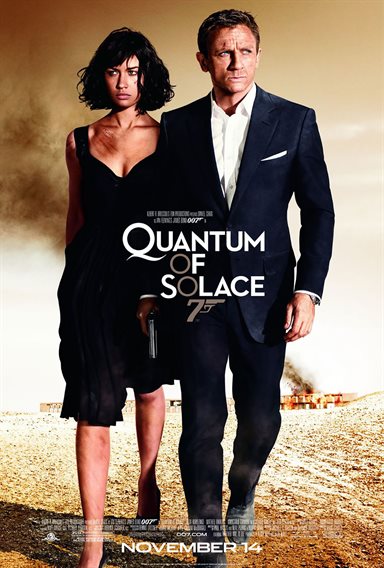 EON Productions is methodically remaking the Bond franchise. Starting with Casino Royale, they moved it more along the Bourne axis into gritty action and away from the suave super-spy that Roger Moore personified -- to the point where Moore, at 80, felt the new Bond franchise was over-violent ... and under-sexed. Like a living organism replacing parts of itself over time, the new series removes the Bond-James-Bond introduction, puts the opening credits traditional gun-barrel opening at the end, and sings the title song with the duet. Even the classic martini gets ditched and James has to ask the bar tender what he's drinking.

Of course a lot of it is still recognizable: the Bond-plot cuts between locations so quickly that it can make you dizzy if you don't keep up. There is still a Bond villain with world-dominating plans (in this case it's a shadowy organization called 'Quantum' -- following in the footsteps of S.P.E.C.T.E.R. and SMERSH). There are still pretty girls who take their clothes off -- but this Bond, while oozing sexual charisma, isn't so much a ladies man as someone who'll use them ruthlessly to complete his mission.

In Quantum, Bond is on the trail of the same guys that he left off fighting in Italy in the last movie -- it picks up directly after Casino left off. He, again, is sort of off-leash (M. is trying to control him while still basically trusting his instincts) and 'rogue' while driving forward with his relentless quest to find the people who need to be found - and then killed. This quest takes him to Haiti and then elsewhere as he tracks his quarry through boat, car, and plane chases, as well as foot chases involving the now ubiquitous free-running stunts through heavily built up urban terrain. What's going on, as per the Bond legend, isn't nearly as important as how it looks -- and Quantum of Solace looks great.

If anything is missing from this, it is the sense of humor. Gone is the absurdity of the Bond gadgets. The girls don't have cutesy double entendre names (although agent Fields with her strawberry red hair barely misses being Strawberry Fields in a well-timed dialog save). There is no ice-castle car chase with a "cloaked" vehicle (thank goodness) -- although a hotel built out of prone-to-explode power-cells gives us an extremely unlikely exotic location.

The movie is short, violent, fast-paced, and slick. Again, the star, Daniel Craig, shows us he can be a cold, damaged assassin who still exudes animal magnetism and is utterly relentless in getting the job done. Bond has always been an aspirational character, adopting whatever women-want-and-men-want-to-be that the zeitgeist required. I suppose that means that today we want an extreme physical specimen who combines incredible competency with a deep core of narcissism. The new James Bond isn't as pleasant as his predecessors, but he's right for the new century: he is interesting to watch.
-- Marco Chacon
For more reviews please visit our film/television review section.
SPONSORED LINKS
Comments
Courtesy of
Movie Hype App
ampayne71
1st time
30/08/2013 01:55 EDT