This Is Where I Leave You (2014)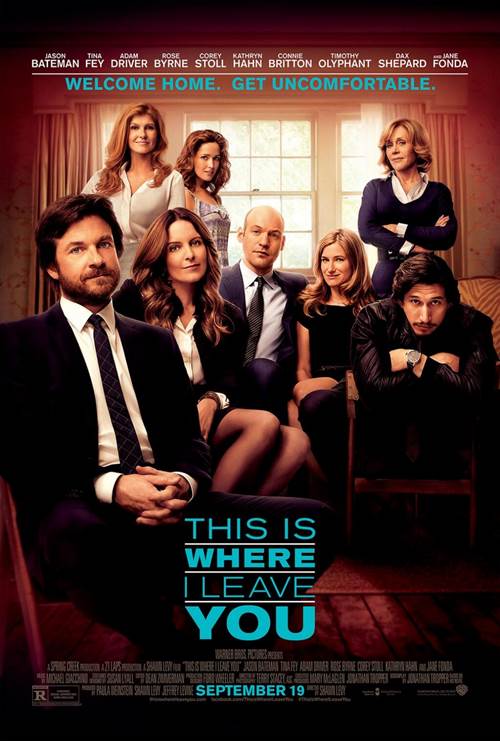 | | |
| --- | --- |
| Director: | |
| Writers: | |
| Cast: | |
| Released: | Friday, October 24, 2014 |
| Length: | 103 minutes |
| Studio: | Warner Bros. |
| Genre: | Comedy |
| Certificate: | 15 |
This Is Where I Leave You Synopsis
When their father passes away, four grown siblings (Jason Bateman, Tina Fey, Adam Driver, Corey Stoll), bruised and banged up by their respective adult lives, are forced to return to their childhood home and live under the same roof together for a week, along with their over-sharing mother (Jane Fonda) and an assortment of spouses, exes and might-have-beens. Confronting their history and the frayed states of their relationships among the people who know and love them best, they ultimately reconnect in hysterical and emotionally affecting ways amid the chaos, humor, heartache and redemption that only families can provide-- driving us insane even as they remind us of our truest, and often best, selves.

Purchase DVD/Blu-ray/4K UHD physical copy of This Is Where I Leave You today at Amazon.com
Stream This Is Where I Leave You in Digital HD/4K from the AppleTV store.
This Is Where I Leave You images are © Warner Bros.. All Rights Reserved.
This Is Where I Leave You Blu-ray Review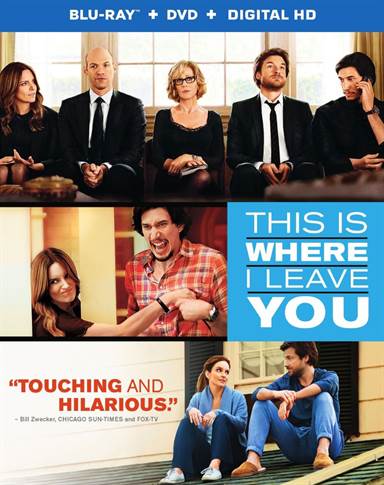 Judd (Jason Bateman, Arrested Development) is having a really bad year. He comes home early from work to surprise his wife on her birthday only to find her in bed with his boss. Then he gets a call his Dad died and he is forced to spend an uncomfortable week at his childhood home with his three siblings and his therapist mom. Finally his soon to be ex-wife shows up, to let him know she's pregnant with his child (the boyfriend - it turns out – is sterile). Based on the novel by Jonathan Tropper, This Is Where I leave you explores family dynamics and the imperfections of life.

Coming to Blu-ray and DVD on December 16, 2014, the movie is one most of us can relate to. Judd is part of an extremely dysfunctional family made up of his older brother, Paul (Corey Stoll; Non-stop, Salt) who is the dutiful son going into the family business with dad, his older sister Wendy (Tina Fey; 30 Rock, Mean Girls) the second mother of the family whose own marriage is less than a fairy tale, and Phillip (Adam Driver; Inside Llewyn Davis) the baby who is constantly coddled and enabled to never grow up. Tying everything together with a neat bow is their mother, Hilary (Jane Fonda; Barbarella, 9 to 5) a therapist and author, who has written a book about her 4 children and their trials through childhood and young adult life. Hilary is also very forward thinking and inappropriately overshares private moments of her children's lives and her sex life with her now deceased husband.

While the story centers around Judd and the trials he is currently experiencing in life, there are numerous sub plots involving the other siblings that makes their mother and the audience realize that they are all broken. Of course at the end of their week nothing is exactly resolved yet you have a feeling each one of them is somehow "on the mend" and the family has a stronger bond than they have felt in years, all thanks to Dad's death.

The problem with This Is Where I leave you is that I've seen it done before, and done better. With slight variations on the story, The Family Stone and Passed Away are two examples of adult children coming home to face their pasts and unique families. The former doing it with more emotion and the latter handling it with more humor than This Is Where I leave you. I'm not sure where this latest version falls apart but it doesn't live up to its predecessors.

With an excellent cast I really thought this movie was going to be good. Bateman and Fey are excellent and their chemistry lends itself to mimic a natural sibling bond. Fonda is great as always and as she delivers her lines you wonder if she really was a therapist in a former life. Driver and Stoll play their parts well and there is a supporting cast that shines as well.

Unfortunately, the writing isn't engaging and the jokes, with a few notable exceptions, fall flat. The family childhood friend, now a Rabbi (Ben Schwartz; Parks and Recreation), is meant to lend itself to comedy but really doesn't work. I don't know if his best adlibs ended up on the cutting room floor but they really don't utilize his talent.

The Blu-ray extras include inside looks at the various members of the cast and their respective roles and an interview with the Director and writer of the film. Interestingly, while I usually find deleted scenes unnecessary, in this case, they add some of the back story to some scenes that were missing which makes me wonder of the breakdown was in the poor direction and editing of this film.

With a talented cast and a sure fire premise, this could have been a really entertaining film. Unfortunately it isn't. My suggestion: go rent Passed Away instead. C-
For more reviews please visit our film/television review section.
SPONSORED LINKS