The Predator (2018)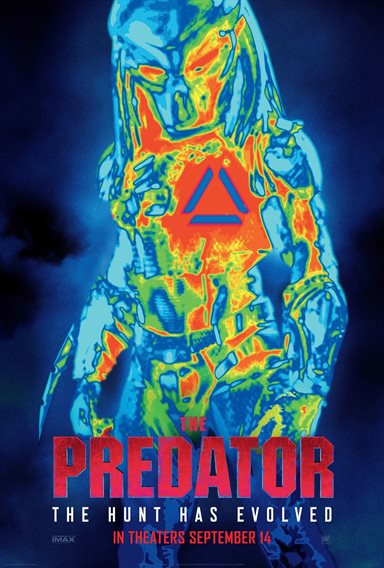 | | |
| --- | --- |
| Director: | |
| Writers: | Shane Black, Fred Dekker |
| Cast: | |
| Released: | 12 September 2018 |
| Length: | 107 minutes |
| Studio: | 20th Century Fox |
| Genre: | Sci-Fi/Fantasy, Action/Adventure |
| Certificate: | 15 |
Synopsis
From the outer reaches of space to the small-town streets of suburbia, the hunt comes home in Shane Black's explosive reinvention of the Predator series. Now, the universe's most lethal hunters are stronger, smarter and deadlier than ever before, having genetically upgraded themselves with DNA from other species. When a young boy accidentally triggers their return to Earth, only a ragtag crew of ex-soldiers and a disgruntled science teacher can prevent the end of the human race.
Purchase your copy of The Predator today at
Download The Predator in Digital HD from the iTunes store.
SPONSORED STORIES
Comments
Courtesy of
Movie Hype App
rachelle561
Night school
02/12/2018 12:03 EST
hilmar84
long awaiting
12/09/2018 03:53 EST
hilmar
yes yes yes
12/09/2018 01:04 EST
hilmar
f***ing awsome
12/09/2018 00:42 EST
jacob8651
Best movie ever!!!!!!!!!!!!!!!!!!!!
21/08/2018 19:19 EST
hitz
Looks better than previous ones
15/06/2018 20:51 EST
darkmoon
Keep them coming! The more predator movies the better!!!
21/04/2018 11:04 EST
cjmonsterrap
I heard that one of the actors from the original is directing it
07/11/2017 14:46 EST
tawfik
Original predator was one of the best horror movies I've ever seen, hope this will be a remake...
02/02/2017 11:42 EST
The Predator images are © 20th Century Fox. All Rights Reserved.


The Predator Panel Takes Stage at Comic-Com
19/07/2018 15:29 EST
Cast and crew from the upcoming Predator reboot appeared at Comic-Con today to discuss the project. The panel included Director Shane Black along with stars Olivia Munn, Sterling K. Brown, Keegan-Michael Key, Trevante Rhodes, Jake Busey, Thomas Jane and Augusto Aguiliera. Guests were treated to clips from the films and commentary from the panel. "They are these misfits that comes together. It's im...
More>>
Benicio del Toro to Star in Predator Reboot
13/09/2016 12:18 EST
Benicio del Toro is currently in talks to star in Fox's upcoming reboot of Predator.  The original franchise began back in 1987 and, of course, starred Arnold Schwarzenegger.The film will be directed by Shane Black and written by Fred Dekker.  The film's original producers, John Davis, Joel Silver, and Lawrence Gordon, will be producing. Along with Schwarzenegger, Predator starred Carl Weathers an...
More>>
Arnold Schwarzenegger Interested in Predator Role
08/03/2016 09:31 EST
Arnold Schwarzenegger said that he plans on meeting with Shane Black, The Predator screenwriter and director, to discuss his possible return as Major Alan "Dutch" Schaefer for the upcoming film."I haven't talked with him (Shane Black) yet but I'm going to meet with him for lunch sometime soon. Just as soon as I'm finished with this and "The Apprentice" and all this stuff. But I will get together w...
More>>
Predator Film Script Turned in to Studio
30/11/2015 14:06 EST
The script for the sequel to 20th Century Fox's Predator has been completed and handed in, according to Fred Dekker, the script writer.  This marks one step closer to the sequel that many fans are curious and excited about.The film project was announced last summer by director Shane Black along with Dekker.  There weren't any details released about the plot, other than it would be an  "inventive s...
More>>
Ridley Scott Confirms Prometheus 2 as Next Film
28/08/2015 15:14 EST
During a recent interview, Ridley Scott has confirmed that Prometheus 2 is, in fact, the next film he has lined up.  While speaking about his film, The Martian, alongside Matt Damon, Damon commented, "Ridley was done with the movie about two weeks after we shot!"  Ridley added, "I was already on to my next movie! I was starting to look for locations for my next movie, which is Prometheus 2."Ridley...
More>>
Predator Reboot To Be Released
25/06/2014 12:06 EST
It was announced this morning that there will be a "Predator" reboot released, and that the film will be directed by Shane Black (Iron Man 3).The original film was released in 1990 and starred Arnold Schwarzenegger, Carl Weathers, Bill Duke, Jesse Ventura, Richard Chaves, and Elpidia Carrillo. Interestingly enough, Shane Black also had a small part in the original.  Fred Dekker will be writing the...
More>>
A Head-Popping Film With Friends (Predator 3D at SDCC)
02/08/2013 14:37 EST
When the water rises in a creek, it rushes. Allowing for the poor analogy of crowds of water molecules and crowds of people, you could not reach the same conclusion on the main exhibit hall floor of San Diego Comic-Con International, though 2013 seems to be flowing more smoothly than did the crowds of 2012. Whether this is due to greater excitement over this year's events, or lesser, I cannot say....
More>>
Predators Trailer "Money Shot" Not In Actual Film
13/07/2010 20:44 EST
Robert Rodriguez sat down with MTV news a few weeks ago to discuss the recently released "Predators" film. While being interviewed, Rodriguez was asked why a specific scene that was shown in the trailer was left out of the actual film. The scene is question was of Adrien Brody's character being covered in laser gun sights by the Predators. In the film, however, he is covered with a single beam of ...
More>>
Robert Rodriquez To Re-make Predator
11/05/2009 15:27 EST
For all you "Predator" and Robert Rodriguez fans out there, listen up. Word has it that the acclaimed director has plans on doing a remake of the classic Arnold Schwarzenegger action/sci-fi film, Predator.Rodriguez announced his decision at a press conference at his Troublemaker Studios saying, "I'm going to be able to shoot my upcoming Machete here, a sci-fi action film called Nervewrackers, a re...
More>>