Venom (2018)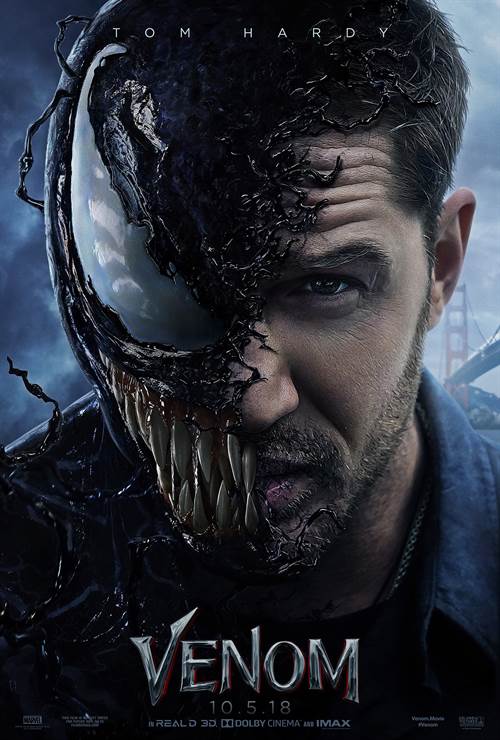 Share this:
| | |
| --- | --- |
| Director: | |
| Writers: | Scott Rosenberg, Jeff Pinkner, Kelly Marcel |
| Cast: | |
| Released: | 03 October 2018 |
| Length: | 112 minutes |
| Studio: | Columbia Pictures |
| Genre: | Sci-Fi/Fantasy, Action/Adventure |
| Certificate: | 15 |
This film contains a scene during or after the credits.
Synopsis
Investigative journalist Eddie Brock attempts a comeback following a scandal, but accidentally becomes the host of an alien symbiote that gives him a violent super alter-ego: Venom. Soon, he must rely on his newfound powers to protect the world from a shadowy organization looking for a symbiote of their own.
Purchase DVD/Blu-ray/4K physical copy of Venom today at
Download Venom in Digital HD/4K from the iTunes store.
Listen to the Venom soundtrack on Apple Music.
Venom images are © Columbia Pictures. All Rights Reserved.


Andy Serkis to Helm Venom 2
06/08/2019 13:50 EDT
Andy Serkis has signed on to direct Venom 2 for Sony.  The sequel for the Tom Hardy led film will see Hardy reprise his role as Eddie Brock / Venom. The original was released in October of last year and grossed over $1 billion worldwide.Serkis is best known for his performances in Lord of the Rings and Planet of the Apes, but his directing credits include Jungle Book, Mowgli, and Breathe.Venom 2 i...
More>>
Venom Sequel in the Works
08/01/2019 13:23 EDT
Sony's Venom will be getting a sequel. The film was a box office success and now it is said that things are set in motion to begin production on the follow-up.Venom starred Tom Hardy, Michelle Williams, and Woody Harrelson, all who are expected to reprise their roles. Also returning is Kelly Marcel, one of the screenwriters from the first film, who will both write and executive produce.The film ea...
More>>
Venom 4K Ultra HD Review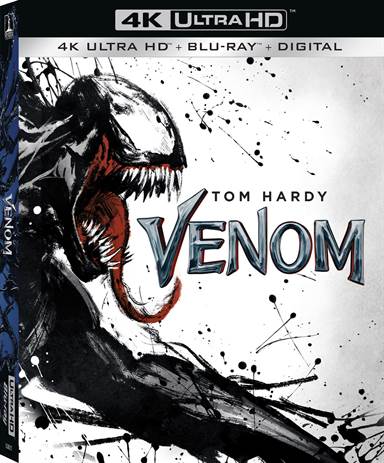 In order to bring us the thriller Venom, Columbia Pictures, Sony, and Marvel worked in conjunction and from the previews, Venom looked like the typical alien type scary movie. I was very unsure of how it would set itself apart from all the other alien movies but Venom brings out the alien in everyone and is actually a carefully scripted cohesive screenplay. Many of these alien type movies are all about the alien, but Venom has a very specific beginning, middle, and ending- or so we think.
Venom begins with a scientific space expedition crashing into Earth. Far from the general knowledge, this ship contained an alien life force that was sought by Carlton Drake (Riz Ahmed: Jason Bourne), owner of Life Foundation. Drake is trying to figure out how to create a symbiotic relationship with the alien and a human being but when introducing the alien to a human life, the humans always seem to die. Drake sets out to try to find the perfect match.
Tom Hardy (Dunkirk) plays Eddie Brock, a down on his luck journalist whose lawyer fiancé has left him because he used her confidential case file in a story, causing him to be fired and blacklisted. Brock is trying to take down Drake in order to revive his career, not knowing all the while what is exactly going down in Life Foundation. With Brock and Drake definite professional enemies, it is very ironic that when Brock becomes infected with the alien, it turns out that Brock is the perfect host. The alien then uses Brock at first to serve his purpose but eventually to serve Brock's fight.
The movie has a wonderful cast, including Michelle Williams (The Greatest Showman) who plays Brock's ex-fiancé but really Hardy is the star performer. I was skeptical not knowing if Hardy, who is a great actor but seems to play off his co-stars, could pull off the title character. It was pleasantly surprising to watch him interact with the alien inhabiting him. Hardy's off-key, almost comedic dialogue and actions offset the seriousness of what his character was going through. His frustration over his career and love life was believable and one could understand his friendship with the alien, having something to finally support him after being rejected in both love life and career. Similarly, Venom seemed to have been rejected by his own species and therefore, Venom becomes Brock's friend. Watching the movie, it is clear that Hardy was the perfect choice for this part.
The upscale 4K resolution of this feature is a treat as details are generally sharp and clean and the black tones are deep and true, which is especially important in this movie. Of course, once you download the digital version with the Dolby Vision HDR you will only want to watch the movie in that format. Accompanying the excellent video is an exceptional Dolby Atmos audio set. The special effects bounce across the speakers like a hacky sack, surrounding the viewer from all sides. This is the only way one should watch a superhero like a film with plenty of action sequences. The disc comes with several decent extras including: Venom Mode, From Symbiote to Screen, The Anti-Hero, The Lethal Protection in Action, Venom Vision, Designing Venom, Symbiote Secrets, Select Scenes Pre-Vis, Music Videos, Deleted Scenes, Trailers plus a sneak peek of Spider-Man: Into the Spider-Verse.
Venom is a unique alien movie, consistent with the Marvel we all have come to love. Instead of wishing defeat of all the aliens, we root for Venom and in return, we are rewarded with a rich relationship between Brock and Venom. This is a definite must-have for your home collection.
Grade: A
For more reviews please visit our film/television review section.
Investigative journalist Eddie Brock attempts a comeback following a scandal, but accidentally becom...

Investigative journalist Eddie Brock attempts a comeback following a scandal, but accidentally becom...

Investigative journalist Eddie Brock attempts a comeback following a scandal, but accidentally becom...
For this edition of This Weekend At The Movies, FlickDirect's Austin Putnam reviews VENOM! Inves...
SPONSORED LINKS
Comments
Courtesy of
Movie Hype App
glittersparkle123
This movie is the my favorite movie of all times!!!!!!!
30/12/2018 04:37 EDT
superwomenishere
Am so excited!!! For this
16/12/2018 19:35 EDT
martinez62
he must rely on his newfound powers to protect the world from a shadowy organization looking for a symbiote of their own.
14/12/2018 01:24 EDT
derek2005
IM SO HAPPY
25/11/2018 00:16 EDT
raymond3023
So excited!!!
05/10/2018 11:55 EDT
anti-venomfan202
Can't wait
01/10/2018 21:28 EDT
dtsahagian
Kinda wish it would be carnage and not riot
14/09/2018 14:01 EDT
gary_king
Looks like it'll be pretty good
09/09/2018 15:20 EDT
aprillove36
Can't wait to see this movie
08/09/2018 13:02 EDT
jacob8651
Looks great
21/08/2018 19:21 EDT
daniel785
This is awesome!
24/07/2018 18:40 EDT
drstrange
Venom trailer with no venom?
14/02/2018 01:13 EDT
yelpboi365
If you told me 8 years ago that Venom would get his own solo movie I️ would not halve believed it. Most anticipated movie of 2018.
13/02/2018 10:26 EDT
shanethegamer95
Hope tom hardy wil do it justice after topher grace' crap
25/07/2017 19:51 EDT
deadpool0102
I'm so excited
28/06/2017 20:06 EDT