Hardcore Henry (2016)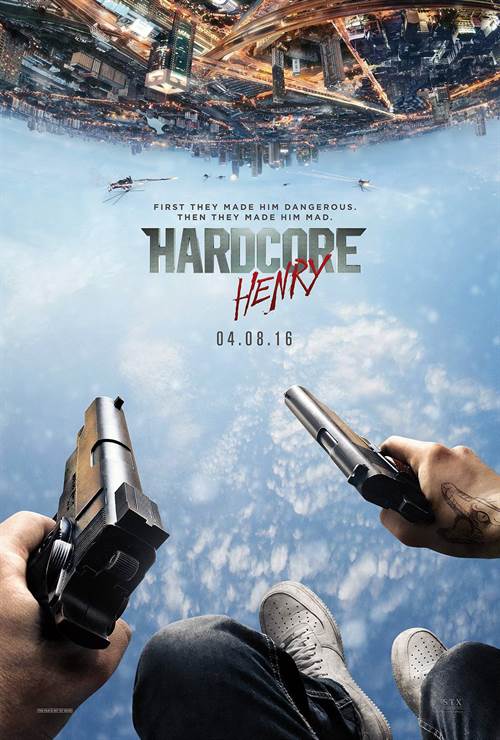 Share this:
| | |
| --- | --- |
| Director: | |
| Writers: | Ilya Naishuller |
| Cast: | |
| Released: | Friday, April 8, 2016 |
| Length: | 96 minutes |
| Studio: | STX Entertainment |
| Genre: | Action/Adventure |
| Certificate: | 18 |
Synopsis
Strap in. HARDCORE HENRY is one of the most unflinchingly original wild-rides to hit the big screen in a long time: You remember nothing. Mainly because you've just been brought back from the dead by your wife (Haley Bennett). She tells you that your name is Henry. Five minutes later, you are being shot at, your wife has been kidnapped, and you should probably go get her back. Who's got her? His name's Akan (Danila Kozlovsky); he's a powerful warlord with an army of mercenaries, and a plan for world domination. You're also in an unfamiliar city of Moscow, and everyone wants you dead. Everyone except for a mysterious British fellow called Jimmy (Sharlto Copley.) He may be on your side, but you aren't sure. If you can survive the insanity, and solve the mystery, you might just discover your purpose and the truth behind your identity. Good luck, Henry. You're likely going to need it…
Purchase DVD/Blu-ray/4K UHD physical copy of Hardcore Henry today at Amazon.com
Download Hardcore Henry in Digital HD/4K from the iTunes store.
Hardcore Henry images are © STX Entertainment. All Rights Reserved.


Hardcore Henry Blu-ray Review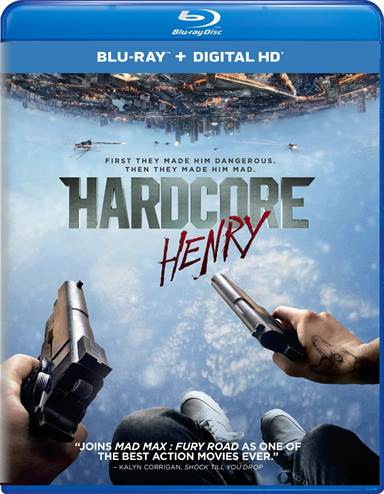 Back in 2013, director Ilya Naishuller made a short first person music video entitled
Biting Elbows: Bad Motherf*cker
. The kinetic energy surrounding the video and story caught the attention of film director and producer Timur Bekmambetov (
Wanted
). With the help of Bekmambetov, as well as an IndieGoGo campaign, the financing was in place to make a very unique type film that the world has never seen before titled,
Hardcore Henry
.
Shot entirely on GoPro cameras, Hardcore Henry tells the tale of Henry, who has just woken up in a water tank at an undisclosed laboratory only to be told that he has been brought back from the brink of death by his estranged wife, Estelle (Haley Bennett; The Equalizer). He also has no memory at all. Estelle proceeds to give Henry a bionic limb, but before her and her team are able to give him a voice modulator so he can speak again, a group of mercenaries, led by Akan (Danila Kozlovsky; Vampire Academy), burst through the door and start to kill everyone that they see. Using his quick wit, Henry manages to escape death and must now put try to pieces together of his life, while trying to stay alive at the same time.
Talking about just the plot of Hardcore Henry truly does the film a disservice. While the plot takes it's cues from other science fiction films and sounds generic, it is only part of the Hardcore Henry viewing experience. Unlike most films, Hardcore Henry puts you, the viewer, right in front of all the action. Taking it's stylistic cues from first person shooter video games, the GoPro filming makes it appear as if the viewer is Henry and is living out this vivid and violet nightmare himself, instead of being a voyeur along for the ride. You, not Henry, are running around Moscow dodging bullets, getting help from a strange man named Jimmy (Sharlto Copley, Maleficent) who never seems to die, shooting up bad guys,and doing some amazing parkour.
The 1080p transfer of Hardcore Henry is pretty amazing considering it's source is GoPro cameras. While textures, colors, and levels are not up to par with most other action films out there, they are stepped up a bit from the raw footage you would see from GoPro setup. Unfortunately, one blemish they could not clean up was the "fish eye" lens that is used by the GoPro camera system to give a wider viewing angle giving the picture a rounded appearance. Thankfully, your eyes do get used to it and about 20-30 minutes into the film, you should not notice it at all. The audio, presented in lossless DTS-HD Master Audio 5.1, is a real treat to hear. All the audio and action surrounds you on all sides and really helps to fully immerse you in the film as the main character, Henry. While a 7.1 soundtrack would have been nice, the 5.1 still does the job.
After finishing the film I couldn't wait to dive into the Blu-ray extra to see how they accomplished such a unique and rare film. However, I was a bit disappointed to find very little extras. Aside from the standard digital HD copy of the film, Hardcore Henry includes deleted scenes, A Q&A chat that answers fan's questions, and two audio commentary tracks. Hopefully this release will generate enough revenue that they can go back and create a true "making of" for this film.
In an industry full of reboots and sequels, Hardcore Henry stands a out as a unique endeavor. I would absolutely recommend giving this film a look. It was highly entertaining and, again, something different with the first person video game-like perspective. Definitely a fun way to pass some spare time.
**This review is dedicated to Jeff Marko who passed away suddenly in July 2016. He was an avid lover of action movies and science fiction, volleyball, and animals. He was a great friend and will truly be missed in this world.
For more reviews please visit our film/television review section.
SPONSORED LINKS