Trolls World Tour (2020)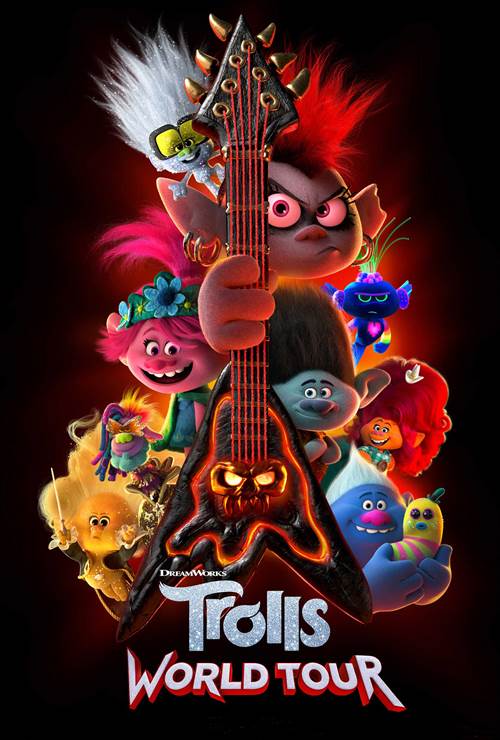 Share this:
| | |
| --- | --- |
| Director: | |
| Writers: | |
| Cast: | |
| Released: | 06 April 2020 |
| Length: | 94 minutes |
| Studio: | DreamWorks Animation |
| Genre: | Family, Animation |
| Certificate: | U |
Synopsis
Anna Kendrick and Justin Timberlake return in an all-star sequel to DreamWorks Animation's 2016 musical hit: Trolls World Tour. In an adventure that will take them well beyond what they've known before, Poppy (Kendrick) and Branch (Timberlake) discover that they are but one of six different Troll tribes scattered over six different lands and devoted to six different kinds of music: Funk, Country, Techno, Classical, Pop, and Rock. Their world is about to get a lot bigger and a whole lot louder.
A member of hard-rock royalty, Queen Barb (Rachel Bloom), aided by her father King Thrash (Ozzy Osbourne), wants to destroy all other kinds of music to let rock reign supreme. With the fate of the world at stake, Poppy and Branch, along with their friends — Biggie (James Corden), Chenille (Caroline Hjelt), Satin (Aino Jawo), Cooper (Ron Funches) and Guy Diamond (Kunal Nayyar) — set out to visit all the other lands to unify the Trolls in harmony against Barb, who's looking to upstage them all.
Cast as members of the different musical tribes is one the largest, and most acclaimed, groups of musical talent ever assembled for an animated film. From the land of Funk are Mary J. Blige, George Clinton, and Anderson Paak. Representing Country is Kelly Clarkson as Delta Dawn, with Sam Rockwell as Hickory and Flula Borg as Dickory. J Balvin brings Reggaeton, while Ester Dean adds to the Pop tribe. Anthony Ramos brings the beat in Techno and Jamie Dornan covers smooth jazz. World-renowned conductor and violinist Gustavo Dudamel appears as Trollzart and Charlyne Yi as Pennywhistle from the land of Classical. And Kenan Thompson raps as a hip-hop newborn Troll named Tiny Diamond.
Trolls World Tour is directed by Walt Dohrn, who served as co-director on Trolls and is produced by returning producer Gina Shay. The film is co-directed by David P. Smith and co-produced by Kelly Cooney Cilella, both of whom worked on the first Trolls. Trolls World Tour will also feature original music by Justin Timberlake, who earned an Oscar® nomination for his song for 2016's Trolls, "Can't Stop the Feeling!," and a score by Theodore Shapiro (2016's Ghostbusters, The Devil Wears Prada).

Purchase DVD/Blu-ray/4K UHD physical copy of Trolls World Tour today at Amazon.com
Download Trolls World Tour in Digital HD/4K from the iTunes store.
Listen to the Trolls World Tour soundtrack on Apple Music.
Trolls World Tour images are © DreamWorks Animation. All Rights Reserved.
Universal Announces Trolls World Tour as Biggest Digital Debut
13/04/2020 15:38 EST
Universal's "Trolls World Tour" has had a huge debut, making it #1 across digital platforms.  The studio announced that the film is the biggest digital release and also had the biggest digital opening day and weekend. And, according to FandangoNow, the statement is true. "Following weeks of anticipation for its home premiere, 'Trolls World Tour' is now FandangoNow's streaming debut champ, with the...
More>>
Trolls World Tour Twitter Watch Party Announced for April 10
09/04/2020 16:19 EST
DreamWorks' film Trolls World Tour will be released tomorrow, April 10, and to celebrate the event, fans are being invited to participate in the Trolls World Tour Twitter Watch party.  The event will take place at 10 AM PT / 1 ET and will be hosted by Director Walt Dohrn & The McElroy Brothers and will feature commentary from the cast. Anna Kendrick and Justin Timberlake return in Trolls World Tou...
More>>
Trolls World Tour Theatrical Review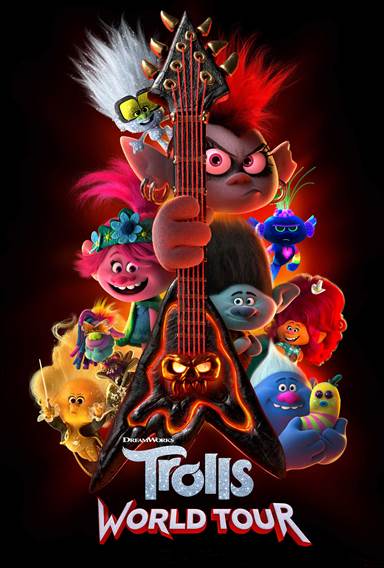 They're colorful, they're bright, they're furry, they love to sing and dance and…they fart glitter. Yes, that's right, Universal Studios/DreamWorks Animation is once again bringing their beloved Trolls back for a second round. Poppy (Anna Kendrick; Pitch Perfect), Branch (Justin Timberlake; In Time) and the rest of the group are back and once again they are heading out on an adventure in order to save their beloved village. This time though, they have a new, unexpected enemy and Poppy's good intentions only serve to make matters worse. Once again Universal Studios/DreamWorks has a hit on their hands and the timing couldn't be any better as it debuts on Digital HD in time for the Easter Holiday Weekend.
All is right and everyone is happy in the Troll Village. Poppy is queen now and Branch is her loyal sidekick and best friend…who also happens to be in love with Poppy but doesn't know how to tell her. One bright and sunny day a bat flies into their village with a message for the Queen. It is from Queen Barb (Rachel Bloom; Crazy Ex-Girlfriend) announcing the Rock Tolls' world tour and inviting Poppy to attend with her "string". Just then her father reveals that there are other trolls out in the world who live in their own musical lands and each one has a magical guitar string.
Poppy, who at first thinks Barb wants to unite all the trolls so they can live in peace and harmony (pun intended), soon finds out Barb has more sinister plans. By the time Poppy, Branch and Biggie (James Cordon; Into the Woods) make it to classical music land, they find the place has been destroyed and all the trolls taken by Barb. Determined to prevent Barb from taking over all the trolls, Poppy continues on her quest not listening to anyone, not even Branch. In the end, Troll land is saved and everyone learns a thing or two about getting along and embracing each other's differences.
Kendrick is perfect to voice the character of Poppy. Not only can she sing well but she seems to have a bright and bubbly personality that shines through vocally throughout the film. Timberlake is equal as her counterpart and their voices blend together beautifully. The returning cast is joined by Bloom, Mary J. Blige (Rock of Ages), Kelly Clarkson (UglyDolls), Sam Rockwell (Three Billboards Outside Ebbing, Missouri) and a terrific cameo by Ozzy Osbourne.
Trolls World Tour, if not as good as the first film plot-wise, certainly lives up to the technical standards we have come to expect from Dolby (Vision and Atmos). The animation is wonderful with sharp details including every single strand of hair on each trolls head standing out individually. The video runs through the entire color palette and the results are fantastic (even on a small screen). The audio is equally as strong which showcases the eclectic soundtrack beautifully. From Osbourne's "Crazy Train" to "Who Let The Dogs Out" and a sad, country ditty sung by Kelly Clarkson, the various genres offer something for everyone. The only thing missing is an original pop tune like "Can't Stop The Feeling" from the first film.
While most of us are starting to go stir crazy being stuck at home, especially those that have children under the age of 8, Trolls World Tour offers a cute, family-friendly, film with a message of embracing our differences and working together instead of fighting in a quest for world dominance.

Though the plot is cookie cutter for the most part, kids will love the music and colorful images displayed onscreen. If you have kids, get this movie and watch them dance their little butts off to the timing of the music. You won't regret it.
Grade: B
For more reviews please visit our film/television review section.
For today's home video review, FlickDirect's Austin Putnam reviews TROLLS WORLD TOUR in 4K U...

Anna Kendrick and Justin Timberlake return in an all-star sequel to DreamWorks Animation's 2016 musi...

Anna Kendrick and Justin Timberlake return in an all-star sequel to DreamWorks Animation's 2016 musi...
Anna Kendrick and Justin Timberlake return in an all-star sequel to DreamWorks Animation's 2016 musi...
SPONSORED LINKS