Red Heat (1989)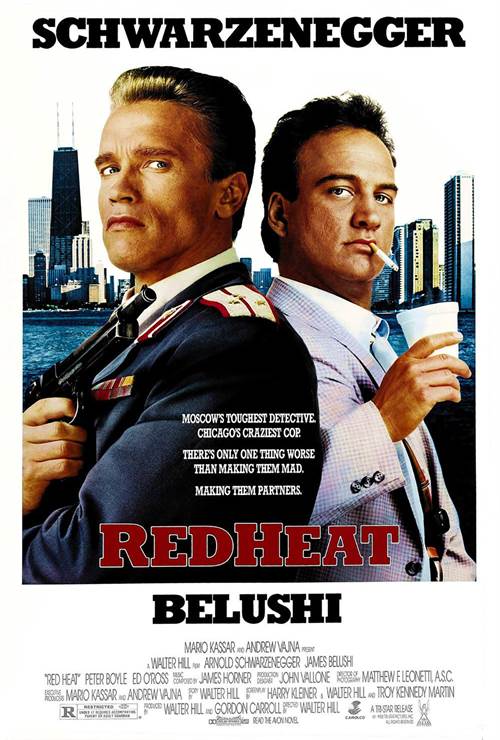 Share this:
| | |
| --- | --- |
| Director: | |
| Writers: | Walter Hill, Harry Kleiner, Troy Kennedy Martin |
| Cast: | |
| Released: | 13 January 1989 |
| Length: | 103 minutes |
| Studio: | TriStar Pictures |
| Genre: | Action/Adventure, Comedy |
| Certificate: | 18 |
Synopsis
Arnold Schwarzenegger (TERMINATOR 2: JUDGMENT DAY) is Captain Ivan Danko, a by-the-book Russian detective who partners with a fearless but undisciplined American cop (James Belushi) to track down Russia's deadliest drug smuggler through the mean streets of Chicago in this adrenaline-fueled action thriller.
Purchase DVD/Blu-ray/4K physical copy of Red Heat today at
Download Red Heat in Digital HD/4K from the iTunes store.
Red Heat images are © TriStar Pictures. All Rights Reserved.


Red Heat 4K Ultra HD Review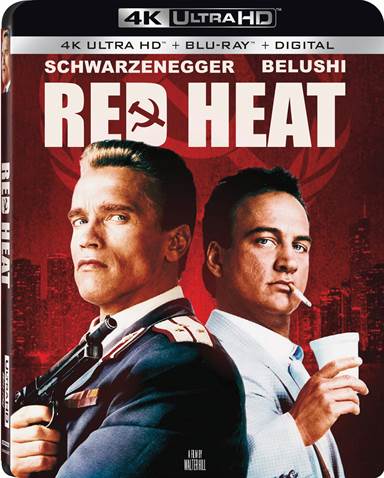 In the 1980s the United States was engrossed in a couple of wars – The Cold War and the War on Drugs. Arnold Schwarzenegger (Terminator) was also one of the biggest action stars in movies. It was only natural to combine those two ideas to make a film starring "Arnie" and that is exactly what TriStar Pictures did in 1988. The film also starred Jim Belushi (Saturday Night Live) and the two gentlemen made an unlikely cop duo chasing the bad drug dealer. Now Lionsgate has decided to bring back this new classic and release it on 4K Blu-ray for your home viewing enjoyment.

Ivan Danko (Schwarzenegger) is a Russian police officer trying to bring down a drug dealer named Viktor Rostavili (Ed O'Ross; Lethal Weapon). He and his fellow officer Yuri Ogarkov (Oleg Vidov; Thirteen Days) chase down Rostavili and his associates but Viktor manages to getaway. However, before he does, he manages to fatally shoot Yuri. Vowing to avenge Yuri, Danko keeps on trying to get a lead on Rostavili but to no avail. Then one day he finds out Rostavili has fled to the United States – Chicago to be exact. Danko gets on the next plane to Illinois to bring Rostavili back to Russia to stand trial.

Once he arrives, Danko meets up with Chicago Police and is assigned to work with detectives Art Ridzik (Belushi) and Max Gallagher (Richard Bright; Once Upon a Time in America) for what is supposed to be a simple extradition. However, Rostavili escapes police custody send Dank and Ridzik on a game of cat and mouse to see who can get the key to the bus depot locker and, hence, to the money and drugs first. When Rostavili gets the suitcase, Danko and Ridzik chase him with both the cops and the criminal driving buses. Eventually, Rostavili is stopped when the bus he is driving is hit by a train and he is finally brought to justice. Danko then flies home to Russia with a new understanding of America while Ridzik contemplates a country he once presumed was the enemy.

It is fairly obvious why Schwarzenegger was chosen to play the role of Danko. A big, European bodybuilder who was riding high from the biggest action movie of his career was perfect to play a muscular, stoic Russian Officer. Belushi was, of course, the polar opposite. He was crass, rash, messy, sarcastic, etc. and the two characters got along like oil and water until they eventually learned to appreciate each other.

The new 4k video quality with 2160p resolution and 1.85:1 aspect ratio make this film the best it has ever looked. While there is still a little graininess, they did their best to remove as much as possible. The DTS-HD Master audio 5.1 fairs about the same as the video quality. There are some nice surround sounds and the cheesy, '80's synthesizer music is clean but it was still filmed in the '80's so there is definitely room for improvement in the case of the audio. The extras are made up of previously released material for the most part and includes: Arnold Schwarzenegger – The Man Who Raised Hollywood, Political Context of Red Heat, East Meets West, A Stunt Man for All Seasons, I'm Not Russian, But I Play One on TV, Making Of, and Original Trailer.

If you are like my husband – a fan of action movies and even a bigger fan of Schwarzenegger – then Red Heat is right up your alley. For me, however, it wasn't something I feel I haven't seen before, so while it was mildly entertaining, it isn't a movie I would necessarily watch over and over again.

Grade: C+

For more reviews please visit our film/television review section.
Arnold Schwarzenegger (TERMINATOR 2: JUDGMENT DAY) is Captain Ivan Danko, a by-the-book Russian dete...
SPONSORED LINKS
Comments
Courtesy of
Movie Hype App
movieguynathan
An overlooked action/comedy!
15/05/2017 22:35 EST