Taken (2008)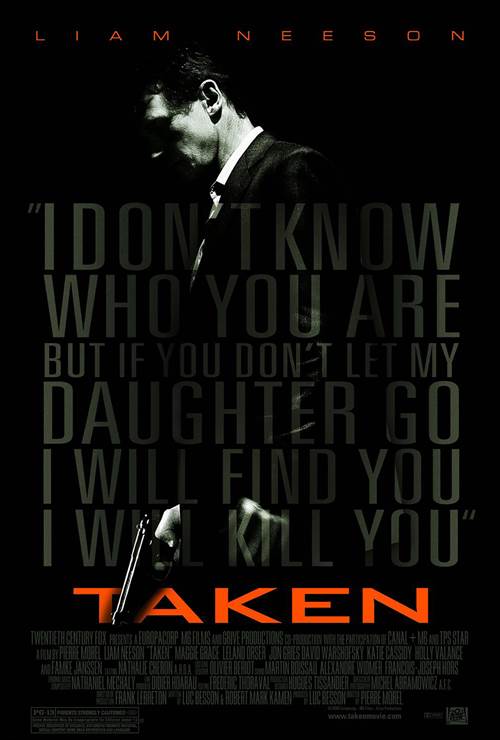 | | |
| --- | --- |
| Director: | |
| Writers: | |
| Cast: | |
| Released: | Friday, September 26, 2008 |
| Length: | 133 minutes |
| Studio: | 20th Century Fox |
| Genre: | Action/Adventure |
| Certificate: | 15 |
Taken Synopsis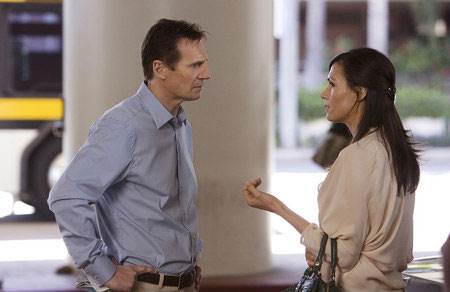 While vacationing with a friend in Paris, an American girl (Maggie Grace) is kidnapped by a gang of human traffickers intent on selling her into forced prostitution. Working against the clock, her ex-spy father (Liam Neeson) must pull out all the stops to save her. But with his best years possibly behind him, the job may be more than he can handle. Famke Janssen also stars in this relentless action-thriller from director Pierre Morel.

Purchase DVD/Blu-ray/4K UHD physical copy of Taken today at Amazon.com
Stream Taken in Digital HD/4K from the AppleTV store.
Taken images are © 20th Century Fox. All Rights Reserved.
Taken Being Adapted for Small Screen
18/09/2015 00:23 EST
Taken, the Liam Neeson driven franchise, will be turned into a TV series for NBC.The show will be a prequel to the films, and will be a drama about Bryan Mills, the CIA operative. The show will feature a young Mills, before he gets married. It will follow Mills as he learns the ropes and becomes a man who has acquired "a very particular set of skills".  It will also be set in modern day, not in th...
More>>
Liam Neeson Signs on for Taken 3
25/06/2013 10:38 EST
It's been no secret that a third "Taken" film has been in the cards for a while, but now Deadline has confirmed that Liam Neeson will once again return as the over-protective father, Bryan Mills, for a whopping $20 million.Also reported to be in negotiations for the movie are Maggie Grace, who plays Mills's daughter Kim, and Famke Janssen, Kim's mother. It has already been reported that "Taken 2" ...
More>>
Enter for a Chance to win a Blu-ray copy of Taken 2
10/01/2013 15:16 EST
Liam Neeson Returns in the Action-Packed Sequel from Producer Luc Besson Arriving on Blu-ray Combo Pack and DVD January 15!In order to win your very own copy of Taken 2 on Blu-ray, simply answer the following question below and follow FlickDirect on Twitter,  Google+, or Pinterest, and email your answer contest@flickdirect.com with your mailing address, and qualifying a profile (for verification)....
More>>
Taken 3 Could Happen Despite Neeson's Reservations
10/10/2012 14:50 EST
With the second Taken movie occupying top spot on both sides of the Atlantic, it was not going to be long before news of a possible third movie in the franchise was going to be talked about.Screen writer Robert Mark Kamen has confirmed work has already started on the third installment speaking to Hollywood.com "We didn't start talking about it until we saw the numbers, but then we said, okay. I th...
More>>
Taken Sequel to Begin Shooting in October
25/08/2011 14:11 EST
The sequel to "Taken", the hit action film starring Liam Neeson, will begin filming earlier than they thought; they will begin in October.The film will be directed by Olivier Megaton along with Luc Besson producing. The original cast will be returning, which includes Neeson, along with Maggie Grace and Famke Janssen.While most of the film will be shot outside of the United States, locations are be...
More>>
Neeson Talk About "Taken" Sequel
09/02/2011 13:24 EST
MTV recently spoke with Liam Neeson about his latest thriller, "Unknown", and also about a sequel for the film, "Taken".According to Neeson, he was surprised at how successful the film was. "I thought it was a good little B-movie when I first read it. I thought, 'This is cool, very simple, maybe straight to video, but it's a good little film, it's a chance to do all that physical stuff.' And then ...
More>>
Taken's Robert Mark Kamen Sells Vengence Pitch To CBS Films
10/12/2009 21:27 EST
According to Variety, Robert mark Kamen, co-writer of "Taken", has sold his pitch to CBS films for an upcoming film called "Vengeance". Erwin Stoff will be producing the project. The action film will be what Kamen calls a "contemporary revenge love story". The film is about 20 something Italians and their families, and the loyalty they have to them. Also in Kamen's future is a sequel to "Taken"...
More>>
Taken Theatrical Review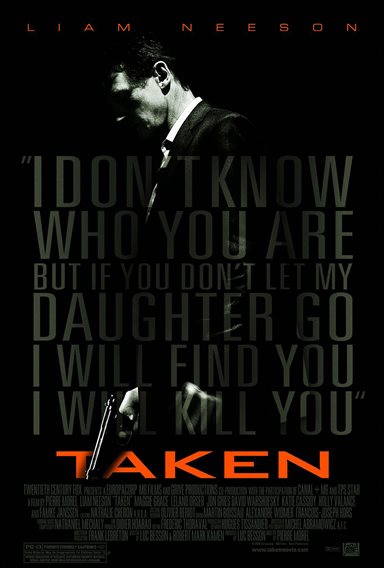 The trailer for Taken has Liam Neeson on the phone with his daughter who is in a hotel. She has just witnessed some thugs grab her friend, and as her father tells her to hide under the bed, we get the impression he is pretty cool-headed for someone who is going to lose his little girl to kidnappers. When she hides under the bed, he tells her that the next step is that ... she is going to be taken. After they grab her as she is screaming, we hear his voice on the phone with the kidnappers; he tells them he has a lifetime of skills in the art of finding people like them, and he is going to. And when he does, he is to kill them.

This sums up the plot of the movie. Liam Neeson, an ex-CIA spook, hunts for his daughter in a relentless chase movie. He follows the trail of clues, while relentlessly killing the bad guys he encounters. It is a French movie, produced by Luc Besson, who apparently churns out French thrillers like a cookie factory makes cookies – they are quickly rolled out ... and they are all kind of the same.

It is true that there is a sense of the "mass-produced" in Taken. It has pre-requisite car chases, spy plot points, and exotic locations, e.g. Paris – that is still exotic, isn't it? It makes its points carefully -- almost "by the numbers". We learn that Neeson's character is a control freak and he has attention to detail when we see him wrapping a present -- carefully touching each of the edges of the paper to get them straight. Then, of course, the movie reinforces that by having a character tell us that he is Mr. Attention-To-Detail. This kind of filmmaking isn't so much uninspired as it is the lowest common denominator.

Taken also isn't one of these movies that benefits from a lot of inside knowledge of its subject. It is technically competent, but rather than giving us gritty realism, it appears to me that it goes for an over-the-top sensibility that seems a little behind the Bourne movies in believability. There are enough lucky breaks and questionable coincidences where you can see every now and then the narrative being dragged along and then stitched back together by the writers. This isn't a movie that will teach you anything about international crime and corruption or human trafficking and/or spycraft. It is more heavily influenced by a movie version of what all those things are like.

That said, given the premise that a young girl has a killing machine for a father; and when she is kidnapped, he slaughters his way across Paris to get her back, it doesn't disappoint. Neeson has enough star power to carry the piece. The bit characters are okay if not startling. The movie doesn't give us too much of a lecture on the previous administration, and the fight scenes are reasonable, and if not short, at least give a decently violent rush.

Where Taken falls short is that it doesn't really show us anything we haven't already seen before, even around the edges. I am glad it didn't make someone that was very unlikely to be behind the kidnapping (although all of these movies need some element of betrayal to have that movie-spy edge of there being no trust in the world of espionage). The beginning has some divorced-dad stuff that left me a little cool, but it does perform the bare minimum necessary to set up the character and the conflict (a little more on that below). And the bad guys? All pure stereotypes.

I think what is left to talk about is the "message" of Taken. This is in quotes because I suspect that the filmmakers aggressively strive not to have a message in their movie -- other than maybe "human trafficking and corruption are bad". The story unfolds as it does because young women (and this is reinforced no less than three times in the film) are unsuited to being out on their own -- they are victims. Neeson's character knows this -- his daughter's mother, from whom he is divorced, does not. When the daughter leaves the protected enclave of her home (bristling with, yes, male security), she immediately becomes a target and engages in foolish behavior.

As I said, this pattern is repeated both in the opening where Neeson does a security gig for a young, female, singer and later on in the show where we see another young traveler about to make some predictable mistakes. It is true that people do get scammed, and that travelers in other countries are especially vulnerable. However, there is no precedent for the wholesale kidnapping of young wealthy travelers in Western Europe; that is entirely made up, and, in fact, would not stand for an instant.

On the other hand, for Taken, I think I have to conclude that rather than having a basis for its setup, it instead, is pandering to our darkest fantasies of what "other countries" are like -- and taking for granted a rather dim view of gender (e.g. at face value, Taken tacitly assumes that all young women need powerful bodyguards and need to be more or less kept at home). While I am sure it does not hurt the movie with its target demographic, even a cursory analysis of it left a bit of a sour taste in my mouth.
-- Marco Chacon
For more reviews please visit our film/television review section.
SPONSORED LINKS