Jonah Hex (2010)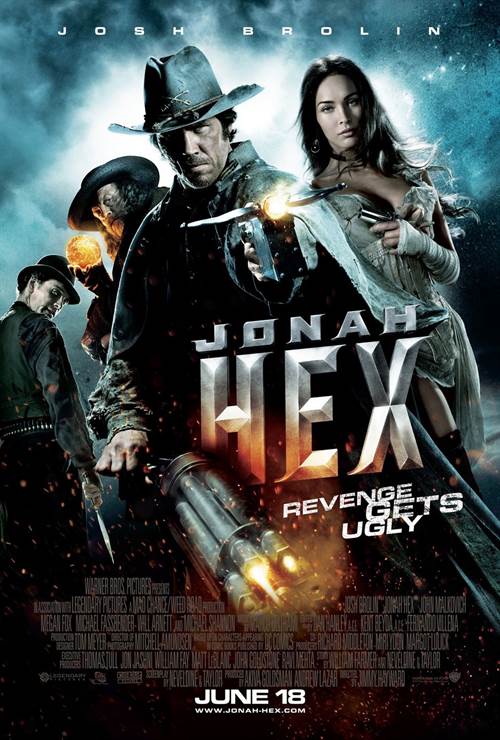 | | |
| --- | --- |
| Director: | |
| Writers: | |
| Cast: | |
| Released: | Friday, September 3, 2010 |
| Length: | 81 minutes |
| Studio: | Warner Bros. |
| Genre: | Sci-Fi/Fantasy, Action/Adventure |
| Certificate: | 15 |
Jonah Hex Synopsis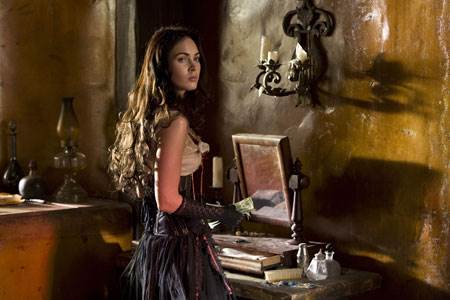 Enlisted by a Union soldier (Will Arnett), scarred bounty hunter Jonah Hex (Josh Brolin) scours the Wild West in pursuit of Turnbull (John Malkovich), a crazed voodoo master with a scheme to assemble a zombie army that will fight for the Confederacy. Based on the cult DC Comics hero, the action Western also stars Michael Shannon as strange circus impresario Doc Cross Williams and Megan Fox as the beautiful gunslinger Leila.

Purchase DVD/Blu-ray/4K UHD physical copy of Jonah Hex today at Amazon.com
Stream Jonah Hex in Digital HD/4K from the AppleTV store.
Jonah Hex images are © Warner Bros.. All Rights Reserved.
Jonah Hex DVD Review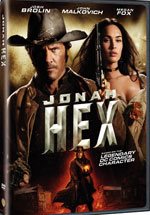 Jonah Hex is a classic tale of revenge told through the landscape of the Old West. At least that's the tale that was printed in comics. To put it simply, Jonah Hex was born in the early 1800's to a father who sold him into slavery at a very young age. He ended up working for a tribe of Indians and slowly earning their respect. After taking part in an ancient ceremony he is marked on the side of his face for not obeying the code of conduct. As he got older he went on to fight in the American Civil War and eventually raising a family. An old enemy uproots his simple life by murdering his family and Jonah vows revenge.

Given that any and pretty much all comic properties are hot items right now it was only a matter of time before Jonah Hex made it to the big screen. Now this could have been an excellent tale of revenge translated onto the big screen. Instead what we get is an over stylized, dull and poorly executed version of the book. Josh Brolin stars as the Jonah Hex and while he normally does very well with the parts he is given this particular role is just not the one for him. John Malkovich is Quentin Turnbull who is the one who gives Jonah his signature scar and Megan Fox is Lillah Black, a prostitute with a soft spot for Hex.

The main story should have been Jonah's quest for revenge upon the man who killed his family, and while that is part of the story, we are fed this ridiculous plot device of stopping Turnbull from destroying Washington D.C. with black balls that only explode when this glowing orange ball hits them. Now while we are dealing with that, we also are told that after Hex was scarred he was left barely alive and when he returned he was able to communicate with the dead, which he uses to gather information on his bounties. His only other friend is a man named "Smith" who he goes to for weapons, i.e. a crossbow that has arrows that can explode on impact.

This movie is just very poorly done on many levels. It is as though the producers felt that his story was too simple for people to even take interest, so they gave him powers and a really cool arsenal so no one would get bored watching him ride his horse everywhere. The unfortunate thing is that this movie could have been fairly decent. Nothing needed to be changed with the character; his motivation is one that everyone can understand. His family was killed in front of him and he wants revenge on the man who did it, so he uses the skills he learned when he was young to track him down. Along the way he brings in wanted men with bounties so he can keep himself fed, fairly straightforward.

What we end up with is just another example of how Hollywood is willing to grab any available property, gobble it up and regurgitate something passable for the masses to go see. It's somewhat sad to see this happen with the Jonah Hex character because he had some potential, no crazy mythology, and no enemies that needed a ten-minute introduction. Either way your best bet is to avoid seeing this movie, it's just not worthy of any attention.

Read More Jonah Hex Reviews
For more reviews please visit our film/television review section.
SPONSORED LINKS