Predators (2010)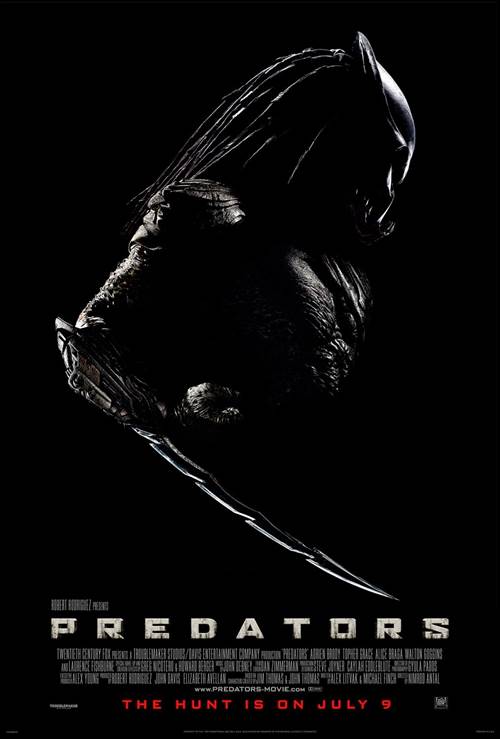 | | |
| --- | --- |
| Director: | |
| Writers: | |
| Cast: | |
| Released: | Thursday, July 8, 2010 |
| Length: | 106 minutes |
| Studio: | 20th Century Studios |
| Genre: | Sci-Fi/Fantasy, Action/Adventure |
| Certificate: | 15 |
Predators Synopsis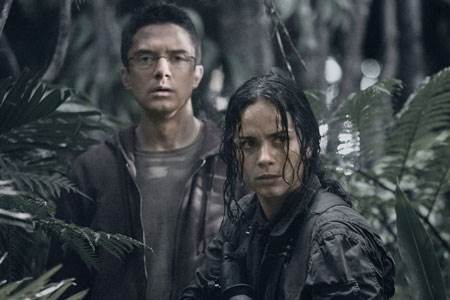 Maverick filmmaker Robert Rodriguez tackles producing duties for a revamp of the Predator film series with this 20th Century Fox/Troublemaker Studios production focusing on a human survival adventure set on the Predator's home planet.Rugged mercenary Royce (Adrien Brody) inherits command of an elite team of human fighters -- including dorky-but-dangerous Edwin (Topher Grace) and tough-but-beautiful Isabelle (Alice Braga) -- as they are hunted by a race of ruthless alien trackers known as Predators. Director Nimród Antal's sci-fi action explosion, which also stars Laurence Fishburne and an uzi-toting Danny Trejo, is a direct sequel to the 1987 blockbuster Predator.

Purchase DVD/Blu-ray/4K UHD physical copy of Predators today at Amazon.com
Stream Predators in Digital HD/4K from the AppleTV store.
Predators images are © 20th Century Fox. All Rights Reserved.
Predator Sequel to Drop on Hulu in Summer 2022
12/11/2021 14:11 EST
Disney announced today, on Disney+ Day, that the "Predator" sequel, titled "Prey", will drop in Summer 2022. The film will debut on Hulu, the sister streaming service to Disney+.The film will take place 300 years ago in the world of the Comanche Nation. It will follow the story of a female warrior named Naru who must defend her village against one of the alien predators."Prey" DP Jeff Cutter annou...
More>>
Predator Scribes and Disney's 20th Century Division Battling Ove...
16/04/2021 10:59 EST
"Predator" scribes Jim and John Thomas have filed a lawsuit against Disney. The duo is looking to regain the rights for the 1987 film. In response to this, Disney's 20th Century has also filed a suit in order to keep the rights to the film.The brothers are trying to regain the rights through copyright law's termination provision. This allows for the rights to possibly be transferred back to the au...
More>>
Benicio del Toro to Star in Predator Reboot
13/09/2016 12:18 EST
Benicio del Toro is currently in talks to star in Fox's upcoming reboot of Predator.  The original franchise began back in 1987 and, of course, starred Arnold Schwarzenegger.The film will be directed by Shane Black and written by Fred Dekker.  The film's original producers, John Davis, Joel Silver, and Lawrence Gordon, will be producing. Along with Schwarzenegger, Predator starred Carl Weathers an...
More>>
Arnold Schwarzenegger Interested in Predator Role
08/03/2016 09:31 EST
Arnold Schwarzenegger said that he plans on meeting with Shane Black, The Predator screenwriter and director, to discuss his possible return as Major Alan "Dutch" Schaefer for the upcoming film."I haven't talked with him (Shane Black) yet but I'm going to meet with him for lunch sometime soon. Just as soon as I'm finished with this and "The Apprentice" and all this stuff. But I will get together w...
More>>
Predator Film Script Turned in to Studio
30/11/2015 14:06 EST
The script for the sequel to 20th Century Fox's Predator has been completed and handed in, according to Fred Dekker, the script writer.  This marks one step closer to the sequel that many fans are curious and excited about.The film project was announced last summer by director Shane Black along with Dekker.  There weren't any details released about the plot, other than it would be an  "inventive s...
More>>
Ridley Scott Confirms Prometheus 2 as Next Film
28/08/2015 15:14 EST
During a recent interview, Ridley Scott has confirmed that Prometheus 2 is, in fact, the next film he has lined up.  While speaking about his film, The Martian, alongside Matt Damon, Damon commented, "Ridley was done with the movie about two weeks after we shot!"  Ridley added, "I was already on to my next movie! I was starting to look for locations for my next movie, which is Prometheus 2."Ridley...
More>>
Predator Reboot To Be Released
25/06/2014 12:06 EST
It was announced this morning that there will be a "Predator" reboot released, and that the film will be directed by Shane Black (Iron Man 3).The original film was released in 1990 and starred Arnold Schwarzenegger, Carl Weathers, Bill Duke, Jesse Ventura, Richard Chaves, and Elpidia Carrillo. Interestingly enough, Shane Black also had a small part in the original.  Fred Dekker will be writing the...
More>>
A Head-Popping Film With Friends (Predator 3D at SDCC)
02/08/2013 14:37 EST
When the water rises in a creek, it rushes. Allowing for the poor analogy of crowds of water molecules and crowds of people, you could not reach the same conclusion on the main exhibit hall floor of San Diego Comic-Con International, though 2013 seems to be flowing more smoothly than did the crowds of 2012. Whether this is due to greater excitement over this year's events, or lesser, I cannot say....
More>>
Predators Trailer "Money Shot" Not In Actual Film
13/07/2010 20:44 EST
Robert Rodriguez sat down with MTV news a few weeks ago to discuss the recently released "Predators" film. While being interviewed, Rodriguez was asked why a specific scene that was shown in the trailer was left out of the actual film. The scene is question was of Adrien Brody's character being covered in laser gun sights by the Predators. In the film, however, he is covered with a single beam of ...
More>>
Robert Rodriquez To Re-make Predator
11/05/2009 15:27 EST
For all you "Predator" and Robert Rodriguez fans out there, listen up. Word has it that the acclaimed director has plans on doing a remake of the classic Arnold Schwarzenegger action/sci-fi film, Predator.Rodriguez announced his decision at a press conference at his Troublemaker Studios saying, "I'm going to be able to shoot my upcoming Machete here, a sci-fi action film called Nervewrackers, a re...
More>>
Predators Blu-ray Review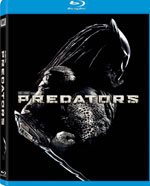 In 1987, a new science fiction/action franchise was born by John McTiernan(Die Hard), starring Arnold Schwarzenegger (Terminator, True Lies), Carl Weathers (Rocky), Jesse Ventura (The Running Man), and Bill Duke (Commando). The film went on to spawn a direct sequel and two spin-off films.
Now, 23 years later, writer/producer, Robert Rodriguez (Desperado, From Dusk Till Dawn) and director, Nimród Antal (Vacancy, Armored) bring the series closer to the original with the film Predators. Predators has an ensemble cast of Adrien Brody(King Kong, Splice), Laurence Fishburne (The Matrix), Topher Grace (Spider-man 3), Alice Braga (Repo Man, The Rite), Walton Goggins (Cowboys & Aliens), Danny Trejo(Machete, Heat), Mahershalalhashbaz Ali (The 4400), and Oleg Taktarov (Miami Vice).
Even though Predators is the fifth film to involve the Predator character, this film discards all sequels and makes the premise quite simple -- instead of the Predator hunting human beings on earth, they bring the best human "predators" to an alien planet to be their prey.
Development of Predators stems back to 1994 when Robert Rodriguez was approached to write a Predator sequel treatment; however Fox did not green light the project until 2009 when the technology needed was finally at a point where it would provide a relatively inexpensive way to bring the film to the screen.
If ever asked to provide a review of Predators in two words, it would be that it is "simply amazing". Predators brings the series back on track by providing parallels to the original, but also venturing in new directions (such as the 4 different types of Predators seen in the film). Even though the muscle-bound heroes of the original Predator film are now gone, you can still believe that the characters kidnapped to this alien world are all formidable opponents for the predators.
The Blu-ray edition of Predators is one of 20th Century Foxes best productions to date. The shadows and highlights of the jungle are color matched to perfection, while the soundtrack packs a great punch for all the special effects mixed with the great soundtrack by
John Debney
.
It sometimes feels that Blu-ray's get the raw deal when it comes to special features, however, this is not the case with Predators. The Blu-ray boats Predator motion comics, and behind-the-scenes-features (some exclusive to Blu-ray only), deleted scenes, and a digital copy of the film.
If you are a fan of the original film and have been disappointed in the sequels, then Predators is a must see for you. If you have already seen the film, then chances are you know what I am talking about; and Predators Blu-ray would be a great addition to your home entertainment library.
Read More Predators Reviews
For more reviews please visit our film/television review section.
SPONSORED LINKS