Wonder Woman 1984 (2020)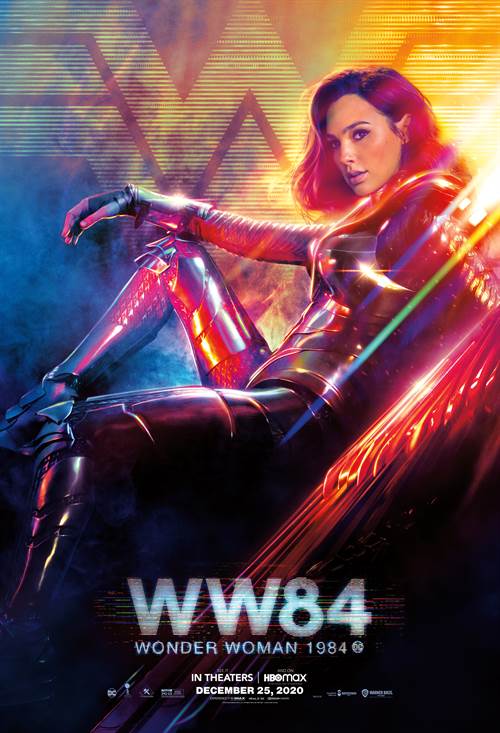 Share this:
| | |
| --- | --- |
| Director: | |
| Writers: | Geoff Johns, Patty Jenkins, Dave Callaham |
| Cast: | |
| Released: | 16 December 2020 |
| Length: | 151 minutes |
| Studio: | Warner Bros. |
| Genre: | Sci-Fi/Fantasy, Action/Adventure |
| Certificate: | 12A |
Synopsis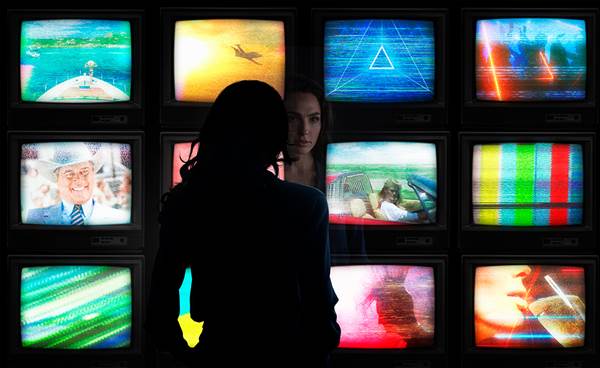 From director Patty Jenkins and starring Gal Gadot in the title role, "Wonder Woman 1984" fast forwards to the 1980s as Wonder Woman's next big-screen adventure finds her riding lightning across the sky, donning wings of gold, and chasing a dream while in pursuit of two new formidable foes: Max Lord and the Cheetah.

In "Wonder Woman 1984," the fate of the world is once more on the line, and only Wonder Woman can save it. This new chapter in the Wonder Woman story finds Diana Prince living quietly among mortals in the vibrant, sleek 1980s—an era of excess driven by the pursuit of having it all. Though she's come into her full powers, she maintains a low profile, curating ancient artifacts and only performing her superheroic acts incognito. But now, Diana will have to step directly into the spotlight and muster all her wisdom, strength and courage in order to save mankind from a world of its own making.

Purchase DVD/Blu-ray/4K physical copy of Wonder Woman 1984 today at
Download Wonder Woman 1984 in Digital HD/4K from the iTunes store.
Listen to the Wonder Woman 1984 soundtrack on Apple Music.
Wonder Woman 1984 images are © Warner Bros.. All Rights Reserved.


Wonder Woman 1984 to be Released Theatrically and on HBO Max on ...
18/11/2020 21:05 EST
Warner Bros. has announced that "Wonder Woman 1984" will be released in both theatres and on HBO max on December 25, Christmas Day. They have also announced that there will be no additional cost for HBO Max subscribers to view the film for one month.Ann Sarnoff, Chair and CEO, WarnerMedia Studios and Networks Group, said, "As we navigate these unprecedented times, we've had to be innovative in kee...
More>>
Wonder Woman 1984 Stays on Summer Theatrical Release Schedule
24/03/2020 16:03 EST
During this time of uncertainty due to COVID-19, theatres, among other things, have closed, leaving some studios feeling like they have no choice to release some films through streaming services.  "Wonder Woman 1984", which was slated for a summer theatrical release, won't be going that route. The film is still on the schedule for the summer but will be pushed back from June 5 to August 14.Warner ...
More>>
Wonder Woman 1984 Release Pushed Back to 2020
22/10/2018 15:12 EST
"Wonder Woman 1984" has had its release date pushed back to June 5, 2020. Originally, the film was slated for a Nov. 1, 2019 release.Jeff Goldstein, Warner Bros. President of Domestic Distribution, said, "We had tremendous success releasing the first Wonder Woman film during the summer so when we saw an opportunity to take advantage of the changing competitive landscape, we did. This move lands th...
More>>
Wonder Woman 1984 Makes Appearance at Comic-Con
24/07/2018 16:28 EST
Cast and crew from Wonder Woman 1984 took the stage at Comic-Con this past weekend to speak about their upcoming film. Director Patty Jenkins, Chris Pine and Gal Gadot were on hand to promote and give a bit of a preview with some footage. Some fans may be wondering how Pine could be in this film given his death and the time lapse between two film timelines, but Jenkins had a vague answer. "It's so...
More>>
Wonder Woman 1984 Theatrical Review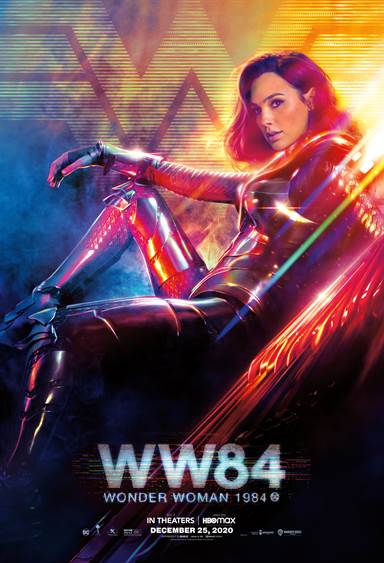 If you were born in the '70's you certainly remember Lynda Carter (Sky High) as Wonder Woman on television. You will also (hopefully) remember the mid-1980's. If so, Wonder Woman 1984 will be a stroll down memory lane for you with shoulder pads, tracksuits, and large, curly hairstyles. The highly anticipated sequel once again stars Gal Gadot (Ralph Breaks The Internet) as Diana Prince/Wonder Woman – a superhero with godlike powers who helps thwart evil and saves the world. Originally expected to be in theaters in time for the holiday season, thanks to COVID-19, there will be a limited theatrical release coinciding with the streaming platform release.
As a young girl being raised on Themyscira, Diana not only learns combat skills and history but also the attribute of truth. Being honest is one of the most important things a person can be. Fast forward to the year 1984 and an adult Diana lives in the Washington DC area and works for the Smithsonian Institute as an anthropologist. A new coworker, Barbara Ann (Kristen Wiig; Bridesmaids), is mostly ignored by everyone besides Diana and a new investor named Maxwell Lord (Pedro Pascal; The Mandolorian).
Diana and Barbara Ann work on a project of black-market antiquities for the FBI including a mysterious "dreamstone" that grants a wish to the holder. Barbara wishes to be more like Diana and suddenly she is more popular and stylish. Diana wishes for her one true love, Steve (Chris Pine; Star Trek: Beyond) to be alive and suddenly he is. Maxwell, who was using Barbara to obtain the "dreamstone", wishes to BECOME the "dreamstone" and manipulates people to make his wishes for him so he becomes rich. Unfortunately, of course, the "dreamstone" wishes have consequences that will have catastrophic results all over the globe so Diana and Steve must figure out how to stop Maxwell before it is too late.
As I previously stated in regard to the Wonder Woman movie that was released in 2017, Gadot was perfectly cast as the title character. She has the strength, agility, and an air of the exotic and mysterious that blend beautifully to form the Amazonian Goddess. In this second installment, she once again combines intelligence, humor, and athleticism which draws the viewer into her world. It was great that the plot brought Pine back, but it is that plot that is also a little cheesy and cringeworthy. Pascal blended an underdog persona with power-driven madness that makes you almost pity him. Wiig was an interesting choice to play the geeky nerd turned popular, dangerous antagonist in this story.
Director Patty Jenkins (Monster) offers some interesting camera angles, especially in the action sequences. However, the film is too long, especially the opening sequence on Thermyscira, so the pacing seems slow at points. There are also some inconsistencies such as when Diana shows Steve the escalator and he struggles to get on it. The escalator was invented in 1892 and was an attraction in Coney Island in 1896 and Paris in 1900 so surely Steve had seen one before. There also doesn't seem to be much '80's music in a movie with 1984 in the title and the credits list a Duran Duran song but, as a fan of the group for 30 plus years, I didn't hear it.
Wonder Woman 1984 is a mixed bag of great action sequences showcasing female characters, sentimentality for lost love, some supernatural moments, and a bunch of cheesy scenes with equally as cheesy dialogue. While it isn't as good as the first one from 2017, it is better than many other movies I have seen, some also coming out of the DC Universe.
Grade: B-

For more reviews please visit our film/television review section.
From director Patty Jenkins and starring Gal Gadot in the title role, "Wonder Woman 1984" fast forw...

Explore the far corners of the DC Multiverse. Take your love of DC to the next level for 24 hours b...

The path to greatness is not what you think. See young Diana in action in this exclusive first look...
From director Patty Jenkins and starring Gal Gadot in the title role, "Wonder Woman 1984" fast forw...
SPONSORED LINKS