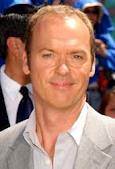 Michael Keaton has joined the cast of the upcoming film, "RoboCop". he is set to play the role of Raymond Sellars, the CEO of the company that builds RoboCop.

Originally, the role was to be played by Hugh Laurie, but he dropped out for making the deal final.

Jose Padilha, director of the film, said, "Michael is the final addition to the amazing cast we have assembled for this film and it is so great to have the last puzzle piece in place. It is thrilling that everything has come together to bring this innovative new vision of RoboCop to life. We've got a great script, a great cast, some killer ED-209's and I can't wait to get Alex Murphy back on the streets."

Keaton joins cast members Joel Kinnaman, Gary Oldman, Samuel L. Jackson and Abbie Cornish.