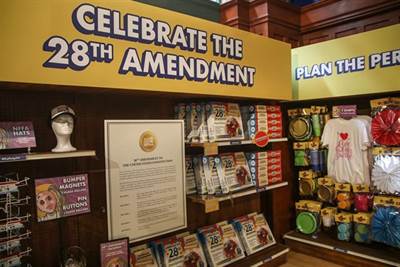 USA Network always has something unique to offer viewers like the award-winning Mr. Robot or the grueling American Ninja Warrior competition show. This fall they add another intriguing option to their line up with The Purge. Based on the successful movie franchise, the ten-part series follows characters for several years as they try to survive "Purge Night". The television show offered fans a little teaser trailer at 2018 San Diego Comic Con.

Of course, no Comic-Con experience would be complete without experiencing a few activations and USA pulled out all the stops once again to offer one of the best ones in town - Purge City. Guests stood on line to enter Purge City, a one-stop shopping store for "all your purge night needs". Based on the popular Party City franchise, guests received a circular of sale items and 20 Purge dollars to spend. The store also did hourly demonstrations - either a game or a taste of their purge night cake - with lucky winners earning prizes.

Some of the items up for sale included T-shirts, hats, greeting cards, bumper stickers, 12-hour burning candles, stain remover, balloons and copies of the 28th amendment. Fans were able to pool their money to walk away with all kinds of great items and they were able to peruse the store to enjoy displays such as the mockup of the total home security system to ensure the safest of yourself and your loved ones on that dangerous night.

USA outdid themselves once again and everyone who entered the store left with some swag and a fun memory. They spared no expense and saw to every little detail and I'm sure it paid off in the end.

I can't wait to see what they come up with for next year ( or for NYCC for those who will be in attendance).

The Purge television series will premiere on USA Network on September 4th.