Deadpool 2 (2018)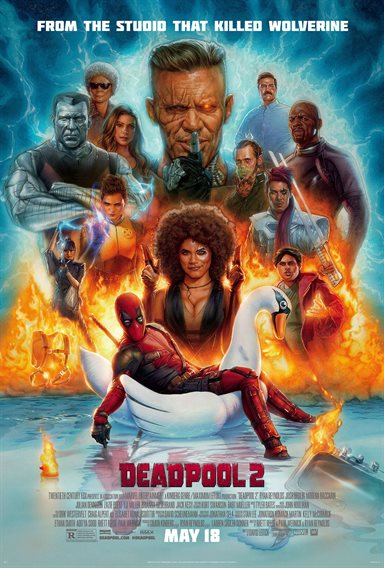 | | |
| --- | --- |
| Director: | |
| Writers: | Rhett Reese, Paul Wernick |
| Cast: | |
| Released: | 01 June 2018 |
| Length: | 119 minutes |
| Studio: | 20th Century Fox |
| Genre: | Sci-Fi/Fantasy, Action/Adventure |
| Certificate: | 15 |
This film contains a scene during or after the credits.
Synopsis
After surviving a near fatal bovine attack, a disfigured cafeteria chef (Wade Wilson) struggles to fulfill his dream of becoming Mayberry's hottest bartender while also learning to cope with his lost sense of taste. Searching to regain his spice for life, as well as a flux capacitor, Wade must battle ninjas, the yakuza, and a pack of sexually aggressive canines, as he journeys around the world to discover the importance of family, friendship, and flavor - finding a new taste for adventure and earning the coveted coffee mug title of World's Best Lover.
Purchase your copy of Deadpool 2 today at
Download Deadpool 2 from iTunes.
SPONSORED STORIES
Comments
Courtesy of
Movie Hype App
john33
Haven't seen it yet!!
09/08/2018 00:36 EDT
ali121
missed the advanced screening. Ready to love it!!
17/05/2018 19:56 EDT
movieguynathan
Round two. This time with the family.
17/05/2018 19:50 EDT
savientus
🔝🔝🔝🔝🔝
17/03/2018 21:23 EDT
ilbarsgumus
Chimichangas!!
12/03/2018 05:35 EDT
lolloorio
So excited!!
09/03/2018 17:11 EDT
lostpumpkin420
I want to Watch this Now
12/02/2018 18:20 EDT
zmouse253
Well da. Of course I'll see this.
17/10/2017 00:28 EDT
cjmonsterrap
Deadpool is boss
11/10/2017 17:50 EDT
pink_carrot2
Best movie ever!!!
30/07/2017 11:51 EDT
jakester95
Will cable up here
10/07/2017 11:49 EDT
shanethegamer95
Yes and hope they add cable
01/07/2017 09:56 EDT
twilightvorkin
So cool.
31/03/2017 11:42 EDT
robbie
Can't wait
29/01/2017 18:04 EDT
corin
Did I leave the stove on
04/01/2017 12:28 EDT
Deadpool 2 images are © 20th Century Fox. All Rights Reserved.
Deadpool and Friends' Believe in Your Selfie Museum Coming to NYC
01/08/2018 10:02 EDT
20th Century Fox Home Entertainment has just announced that they will be opening the Deadpool and Friends' Believe in Your Selfie Museum.The "selfie museum" will be a limited run photo opp pop-up that will take place in New York City's West Village to commemorate the release of Deadpool 2 Super Duper $@%!#& Cut, on Digital August 7 and Blu-ray August 21.  Nine distinct photo opps give fans the cha...
More>>
The Merc With The Mouth's Swanky New Address
27/07/2018 09:04 EDT
Are you a fan of the Merc with a mouth? Do you wonder what it would be like to hang out with him? Or crash at his (not so) luxurious pad? Well, one lucky individual got that opportunity at San Diego Comic-Con 2018 when Twentieth Century Fox Home Entertainment chose one winner for an overnight stay in the Deadpool suite.Located in the Hard Rock hotel in the Gaslamp District of Downtown San Diego, t...
More>>
Deadpool 2 Post-credits Hitler Scene Cut
18/05/2018 15:30 EDT
Deadpool 2, which has busted out of the box office gates, apparently had a post-credits scene that was deemed to be in poor taste.One wonders what exactly Deadpool could do that would be deemed "too far" but apparently, killing a baby was where the line was drawn.In the scene, we see Deadpool, who has traveled back in time, appears in a hospital in the newborn area, looking over a crib with a baby...
More>>
Josh Brolin Cast as Cable for Deadpool 2
12/04/2017 15:49 EDT
It has been announced that Josh Brolin has been cast in the upcoming "Deadpool 2" film. He will be playing the role of Cable. Brolin has been involved with the Marvel Universe before, as Thanos. Brolin's character, also known as Nathan Summers, has been pared up with "Deadpool" in many of the comics, including their own series. As a child, he was sent to the future where he became a warrior, and e...
More>>
Michael Shannon Top Pick for Deadpool's Cable Role
22/03/2017 14:51 EDT
Michael Shannon ("Man of Steel") is said to be the top choice for the role of Cable in the upcoming "Deadpool 2" film, according to sources.Cable, whose real name is Nathan Summers, worked alongside Deadpool in many of the comics. We even got to see a bit of a tease for the character's appearance in the "Deadpool" scene that aired before "Logan" in the theaters. There was a message on a phone boot...
More>>
Deadpool Sequel Already in the Works
10/02/2016 09:42 EDT
It has been confirmed that Fox is already working on a Deadpool sequel. The script will be written, once again, by Rhett Reese and Paul Wernick.Deadpool, which opens this Friday, is on track to earn at least $65 - $70 million over the holiday weekend, making it a prime subject for a sequel.Tim Miller will return to the project in a creative capacity, but won't be directing, as he did for the first...
More>>