Solo: A Star Wars Story (2018)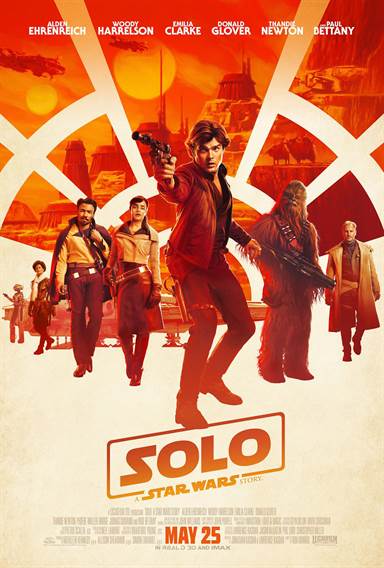 | | |
| --- | --- |
| Director: | |
| Writers: | Lawrence Kasdan, Jon Kasdan |
| Cast: | |
| Released: | 25 May 2018 |
| Length: | 135 minutes |
| Studio: | Walt Disney Pictures |
| Genre: | Sci-Fi/Fantasy |
| Certificate: | 12A |
Synopsis
Board the Millennium Falcon and journey to a galaxy far, far away in Solo: A Star Wars Story, an all-new adventure with the most beloved scoundrel in the galaxy. Through a series of daring escapades deep within a dark and dangerous criminal underworld, Han Solo meets his mighty future copilot Chewbacca and encounters the notorious gambler Lando Calrissian, in a journey that will set the course of one of the Star Wars saga's most unlikely heroes.
Download Solo: A Star Wars Story from iTunes.
SPONSORED STORIES
Comments
Courtesy of
Movie Hype App
movieguynathan
Giving this one another shot. This time in IMAX
28/05/2018 12:16 EDT
movieguynathan
Screening time Finally getting to see this. Yeah yeah I am late to the party.
21/05/2018 18:04 EDT
ali121
i really hope I like this. wasn't crazy about about Rogue one
14/05/2018 18:26 EDT
roman-1295
So excited
07/01/2018 17:21 EDT
zmouse253
I think it will be good. I even think the casting will work out pretty well.
17/10/2017 00:27 EDT
clampfan101
I don't care how good the actor is. Han Solo is not Han Solo unless played by Harrison Ford.
26/11/2016 20:18 EDT
lacrossej08
Awesome!!!!!!!!!!!!
09/04/2016 19:48 EDT
joeydlegend
Ohhhhh baby!!!
17/02/2016 00:32 EDT
theodinson
Man I hope they nail the casting of this one.
15/01/2016 07:12 EDT
Solo: A Star Wars Story images are © Walt Disney Pictures. All Rights Reserved.
Enter For Your Chance To Win a Digital HD Copy of SOLO: A STAR W...
05/09/2018 15:19 EDT
Are you the biggest Star Wars fan alive?  Can you recite lines from every film?  Do you debate the qualities of Boba Fett or Jar Jar Binks with your friends?  Did you love Rogue One: A Star Wars Story? Then we have got the perfect contest for you!FlickDirect, in conjunction with Walt Disney Studios, is excited to offer some lucky winners the opportunity to win a Digital HD copy of SOLO: A STAR WAR...
More>>
The Crown Star Matt Smith Joins Cast of Star Wars: Episode IX
28/08/2018 15:19 EDT
Rumor has it that Matt Smith has signed on to join the cast of Star Wars: Episode IX. Smith is best known for his roles in Doctor Who and The Crown where he played Prince Philip, Duke of Edinburgh and earned a Primetime Emmy nomination for the portrayal.Smith joins a cast that includes Daisy Ridley, John Boyega, Billy Dee Williams, Mark Hamill, Anthony Daniels, Oscar Isaac, Adam Driver, Keri Russe...
More>>
Kelly Marie Tran Writes About Dealing with Online Harassment
21/08/2018 16:30 EDT
Kelly Marie Tran, who starred in "Star Wars: The Last Jedi" has taken to the New York Times to write an op-ed about her struggle with harassment she's received through social media. She wrote in the piece that it wasn't easy to deal with, and the fact that she deleted her Instagram account in June after racist and misogynistic comments confirms the difficulties."It wasn't their words, it's that I ...
More>>
Star Wars: Episode IX Begins Production Next Week
27/07/2018 16:45 EDT
Star Wars: Episode IX will begin filming next week in London's  Pinewood Studios. On August 1, J.J. Abrams will be returning to work on the final installment of the saga.Returning cast members include Daisy Ridley, Adam Driver, John Boyega, Oscar Isaac, Lupita Nyong'o, Domhnall Gleeson, Kelly Marie Tran, Joonas Suotamo, and Billie Lourd. Joining the cast of Episode IX are Naomi Ackie and Richard E...
More>>
Keri Russell to Join Star Wars Cast
09/07/2018 14:11 EDT
Keri Russell is said to be in talks to star in the upcoming "Star Wars: Episode IX". The film will be written and directed by J.J. Abrams, who worked on "Star Wars: The Force Awakens".Russell and Abrams also worked together for the 2006 film "Mission: Impossible III". Through her work with this "MI" and her FX series, "The Americans", Russell has shown that she's up for more of a hands-on film rol...
More>>
Han Solo Film to Debut at Cannes Film Festival
06/04/2018 11:13 EDT
It was announced that the Solo: A Star Wars Story film will be premiering at the Cannes Film Festival, which runs from May 8 to May 19.The film, which will debut at the festival on May 15, stars Alden Ehrenreich as Han Solo, Donald Glover as Lando Calrissian, and Emilia Clarke and Woody Harrelson. This isn't the first time a Star Wars film will be debuted at the festival - 2002's Attack of the Clo...
More>>
Jon Favreau to Pen New Star Wars Live-Action Series
08/03/2018 10:34 EDT
Lucasfilm has announced that they will be working alongside Jon Favreau for a new live-action Star Wars series. The series, for which Favreau will be a writer, will be part of Disney's new direct-to-consumer platform. "If you told me at 11 years old that I would be getting to tell stories in the Star Wars universe, I wouldn't have believed you. I can't wait to embark upon this exciting adventure",...
More>>
David Benioff and D.B. Weiss to Pen New Star Wars Series of Films
06/02/2018 19:38 EDT
David Benioff and D.B. Weiss, the creators of Game of Thrones, will be writing and producing a new series of Star Wars films. The announcement was made today by Disney.Kathleen Kennedy, president of Lucasfilm, said, "David and Dan are some of the best storytellers working today. Their command of complex characters, depth of story and richness of mythology will break new ground and boldly push Star...
More>>
New Star Wars Trilogy Announced with Rian Johnson to Direct
09/11/2017 22:20 EDT
Disney CEO Bob Iger has announced that Rian Johnson will be developing a new trio of Star Wars films. An official statement claimed that the new trilogy will  "introduce new characters from a corner of the galaxy that Star Wars lore has never before explored."Lucasfilm president Kathleen Kennedy, said, "We all loved working with Rian on The Last Jedi. He's a creative force, and watching him craft ...
More>>
Colin Trevorrow Leaves Star Wars: Episode IX
05/09/2017 23:52 EDT
Lucasfilm has announced that they will be changing directors for left Star Wars: Episode IX. The announcement went as follows:Lucasfilm and Colin Trevorrow have mutually chosen to part ways on Star Wars: Episode IX. Colin has been a wonderful collaborator throughout the development process but we have all come to the conclusion that our visions for the project differ. We wish Colin the best and wi...
More>>
Star Wars Fans Invited to "Find the Force" As Unprecedented Augm...
31/08/2017 12:18 EDT
Disney and Lucasfilm announced today that they are releasing "Find the Force", a global augmented reality (AR) event rolling out on Force Friday II (September 1) to commemorate the worldwide launch of new products inspired by "Star Wars: The Last Jedi".Kathleen Kennedy, President of Lucasfilm, commented about the event saying, "Force Friday II is a major milestone in the countdown to Star Wars: Th...
More>>
Disney Developing Obi-Wan Kenobi Film
17/08/2017 15:45 EDT
It has been reported that Disney is currently developing an Obi-Wan Kenobi stand alone film with the hope that "Billy Elliot's" Stephen Daldry will direct. There isn't any word on who the writer will be or plot details.Disney is also currently working on a Han Solo film due out May 2018....
More>>
Solo: A Star Wars Story Theatrical Review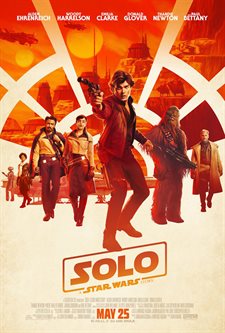 The Star Wars Saga was meant to be a series of nine films chronicling the rebel alliance as they try to defeat the Empire. Since 1977, we have been watching as Luke, Leia and Han have been fighting evil and saving the day (or at least trying to). In 2016, we got even more than we expected when Rogue One: A Star Wars Story filled in some the gaps before A New Hope begins. This month, we are once again treated to something special as Solo: A Star Wars Story comes to theaters nationwide. This latest movie introduces us to the backstory of one of our favorite characters - Han Solo (Alden Ehrenreich; Beautiful Creatures).

Han is a scavenger who lives in Corellia and works for an overlord who keeps him as a slave. His love is Qi'ra (Emilia Clarke; Game of Thrones) and together they have a plan to escape. Unfortunately, things go south and Han gets out but Qi'ra is captured. Three years later, after Han joins the imperial forces, he hooks up with a gang of thieves in order to try and steal enough to get money to buy a ship and go back to find Qi'ra. However, the plan doesn't work and he finds himself begging for his life from Dryden Vos (Paul Bettany; Avengers: Infinity War).

Suddenly, Han is reunited with Qi'ra (since she now works for Vos) as they, along with Tobias Beckett (Woody Harrelson; Three Billboards Outside Ebbing, Missouri) and their new friend, Lando Calrissian (Donald Glover; Spider-Man: Homecoming) attempt to steal contraband and bring it back to Vos. They also pick up a Wookie along the way and the legendary team of Han and Chewie (Joonas Suotamo; Star Wars: The Last Jedi) is born. Of course, their journey is one of epic proportions with double-crossing, lots of action and a surprise cameo at the end of the film.

I'm not sure if it's Ehrenreich himself or the script that leaves him teetering on the edge of greatness but while he embodies some of Solo, he never quite makes the commitment all the way through. I think if the writers Jonathan (The First Time) and Lawrence Kasdan (Wyatt Earp) and George Lucas (Raiders if the Lost Ark), had taken more risks, the character would be more interesting and resemble Harrison Ford's Han Solo more. The rest of the cast is very strong though. Clarke once again proves why she is such a good character actor and Bettany is deliciously evil. Harrelson does a great job and Glover is a standout amongst a truly talented group.

Of course, the effects are something we have come to expect from the Star Wars saga and Solo has much to offer in that regard. The explosion/implosion of the radioactive contraband is fantastic and really makes an impact. The creatures are intricate and detailed but one would expect no less from this franchise (especially after the CGI gaffs that were made in the 1990's). The action sequences are the standard Star Wars fair, which is certainly not a bad thing. There is a lot of fancy flying and gun fighting but not really a lightsaber to be found.

As a standalone film, Solo: A Star Wars Story has a good plot, interesting characters, and well-done action scenes. As part of the classic franchise, it comes across a little disjointed and disconnected as if it was the bastard step-child of the iconic film series, which may actually be apropos considering the Han Solo character always seems to be the "black sheep" of the rebel alliance.

Good but not great, if you are a Star Wars fan you should probably go and see it regardless of what critics say. It will also be interesting to see what idea they come up with next to continue the beloved franchise once Star Wars: Episode IX comes to theaters late next year.

Grade: B
Read More Solo: A Star Wars Story Reviews
For more reviews please visit our film/television review section.

Home Video Review
FlickDirect's Austin Putnam reviews the home video release of SOLO: A STAR WARS STORY on Blu-ray....
3:49

Teaser
Board the Millennium Falcon and journey to a galaxy far, far away in Solo: A Star Wars Story, an all-new adventure with the most beloved scoundrel in the galaxy. Through a series of daring escapades d...
1:43

Trailer
Board the Millennium Falcon and journey to a galaxy far, far away in Solo: A Star Wars Story, an all-new adventure with the most beloved scoundrel in the galaxy. Through a series of daring escapades d...
2:25