Midway Theatrical Review
MIDWAY is simply a great film experience. See it on the big screen or you'll miss the sweep of its effects and 1940's period grandeur.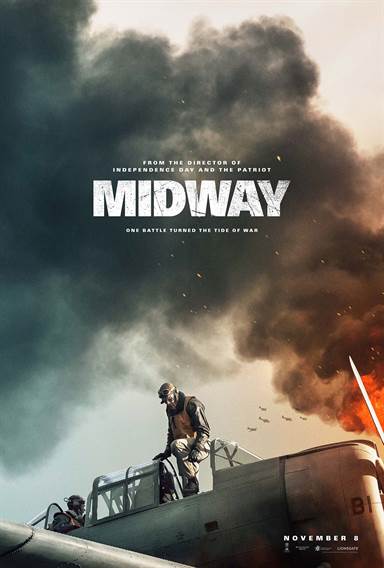 After a dearth of good films to watch, here comes "MIDWAY", a big screen WWII action adventure based upon real life events that had me wanting more when it was over.
Most interestingly this is not a big budget studio film, the fact is no studio wanted to back it, saving their money I guess, for more Super Hero reboots. So this film itself is an anomaly, a 100 million dollar independent film, meaning the director and producers themselves, had to corral the money to make it. Not an easy feat, but judging from the final result, one well worth struggling with to accomplish.
Although, the 1976 film of the same name, staring a cadre of fading 50's and 60's stars lead by Charlton Heston, was a blockbuster hit at the time, this is not a remake. The only resemblance to that film is the name of the Battle. Director Roland Emmerich and writer, navy veteran Wes Tooke, were meticulous in their facts, biographical characterizations, and entertaining storytelling. Additionally, it's made all the more compelling by using young talented actors who would have actually been that age during the battles.
Here's The Storyline…
"MIDWAY" relates the events leading up to the Battle of Midway, where the American fleet and the Imperial Japanese Navy engaged each other for four days. It proved to be the pivotal turning point in the Pacific during WWII.
The narrative relates the story of two naval aviators (Skrein/Wilson), dive-bomber pilots, who fought through the attack on Pearl Harbor, witnessed the daring of Doolittle's Raid, flew sorties during the Battle of The Coral Sea, and finally, participated in the June 1942 Battle of Midway itself.
Tasked with overseeing the operations were the critical commanding officers, Adm. Chester Nimitz (Harrelson), Gen. James Doolittle (Eckhart) and Adm. William Halsey (Quaid), who along with their brave sailors and pilots used their instincts, fortitude and bravery to overcome the almost insurmountable odds of the Japanese Naval supremacy and changed the course of the war.
As is his style, Emmerich fills the film with breathtaking effects and spectacular images of aerial action and naval warfare. He also does a masterful job of putting you right into the seat of a rickety American aircraft as it attacks. He makes you feel how dangerous any mission to dive-bomb a vessel is, and manages to scare you in the process. Aside from a few wooden acting moments, which get lost in the action, this is another Great War Film.
My take… "MIDWAY" is simply a great film experience. See it on the big screen or you'll miss the sweep of its effects and 1940's period grandeur.
Grade: A