Rocketman (2019)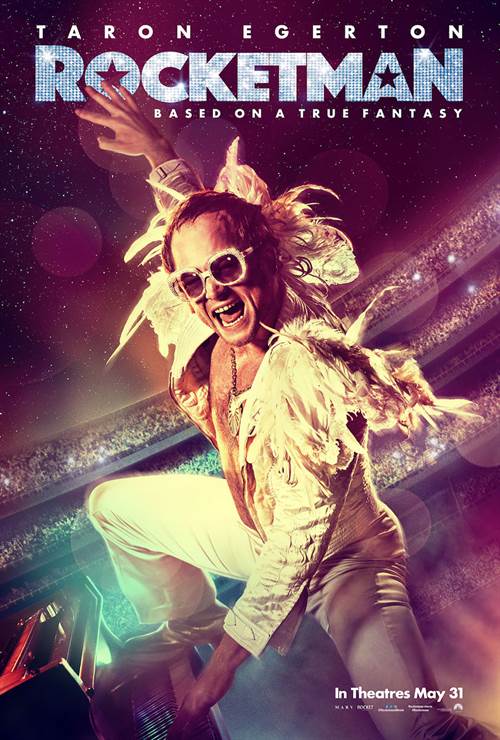 Share this:
| | |
| --- | --- |
| Director: | |
| Writers: | |
| Cast: | |
| Released: | 24 May 2019 |
| Length: | 121 minutes |
| Studio: | Paramount Pictures |
| Genre: | Drama |
| Certificate: | 15 |
Synopsis
ROCKETMAN is an epic musical fantasy about the incredible human story of Elton John's breakthrough years. The film follows the fantastical journey of transformation from shy piano prodigy Reginald Dwight into international superstar Elton John. This inspirational story – set to Elton John's most beloved songs and performed by star Taron Egerton – tells the universally relatable story of how a small-town boy became one of the most iconic figures in pop culture. ROCKETMAN also stars Jamie Bell as Elton's longtime lyricist and writing partner Bernie Taupin, Richard Madden as Elton's first manager, John Reid, and Bryce Dallas Howard as Elton's mother Sheila Farebrother.
Purchase DVD/Blu-ray/4K UHD physical copy of Rocketman today at Amazon.com
Download Rocketman in Digital HD/4K from the iTunes store.
Listen to the Rocketman soundtrack on Apple Music.
Rocketman images are © Paramount Pictures. All Rights Reserved.
Elton John Refused To Have His Life "Toned-Down" in Rocketman
28/05/2019 13:23 EST
"Rocketman", the Elton John biopic, will be released this week in the U.S., and the film will take us on the wild ride that is the singer's wild life and he wanted to be sure that we saw it all.John recently wrote a piece for The Guardian about the film saying, "Some studios wanted to tone down the sex and drugs so the film would get a PG-13 rating. But I just haven't led a PG-13 rated life. I did...
More>>
Rocketman 4K Ultra HD Review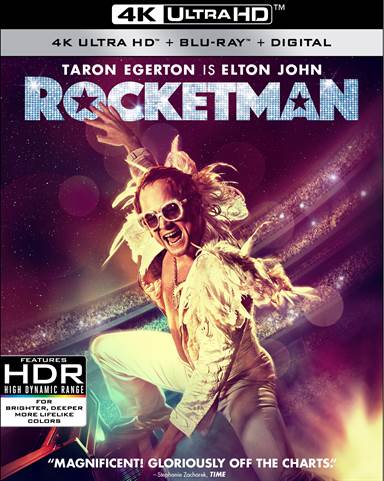 Sir Elton Hercules John began his professional music career in 1962 at the tender age of fifteen and after more than five decades he has become one of the most beloved and influential musicians of our time, giving the world hit song after hit song and over fifty top 40 singles. His life has been a rollercoaster ride of ups and downs with drugs and alcohol abuse, marriages, suicide attempts, chart-topping albums, Grammys, a Tony, Brits, etc. and, let's face it, has all the makings for a good biopic. In May of this year that became a reality when Rocketman got its theatrical release and, like almost everything else John touches, it became a hit at the box office. This week it is set for home release on 4K UHD, Blu-ray, and DVD.
Reginald Kenneth Dwight (Taron Edgerton; Kingman: The Secret Service) had a lonely, seemingly loveless childhood. His parents didn't like each other and in turn, didn't treat him very well. However, he was a child prodigy who studied at the Royal Academy of Music but who longed to play rock and roll. In 1967, after he answered an ad in a music paper, fate intervened, and he was paired with lyricist Bernie Taupin (Jamie Bell; Billy Elliot). The two immediately formed a lifelong friendship and partnership that resulted in the creation of many of Elton's best songs.
Soon after Elton's star began to rise and along with with it his drug abuse. His outlandish and outrageous costumes were only surpassed by his equally outlandish and outrageous antics both on and off stage. His exploits became almost as legendary as the man himself and ultimately, after two decades of abuse, he landed in rehab. It was there he explored his deepest hurts stemming all the way back to his parents and his childhood. Coming out the other side of sobriety he has remained a powerful force in music to this day.
Writer Lee Hall (Billy Elliot) and Director Dexter Fletcher (Eddie the Eagle) have created a musical fantasy that is as somber and shocking as John is himself. His songs lend themselves to the idea of storytelling and fit seamlessly throughout the film. The larger than life moments are absurd and yet somehow fitting as we watch John spiral out of control. At moments he commands the stage and his audience and yet in his most vulnerable times he is once again that young boy from London yearning for love and affection.
Edgerton is masterful as John and is perfectly cast as the showman trying to drown his inner demons. He embodies John's persona and mannerisms to a tee and the audience can easily feel as if they are watching John himself. Bell is equally as strong as Taupin and the chemistry between the two actors makes the real-life friendship come alive on screen. Richard Madden (Game of Thrones) is the devilish John Reid, John's former manager, and lover and Bryce Dallas Howard (Jurassic World) portrays Elton's mother, Sheila, who is equally parts whimsical and heartless.
The 4k is presented in 2160p HDR Dolby Vision video with a 2.39:1 aspect ratio. The details are so sharp you can see the threads on the costumes and the colors pop off the screen. The Dolby Atmos audio, however, is the real treat here. The depth of the orchestration is massive and the surround sounds and soundtrack are all-enveloping making for an immersive viewing experience. The 4K combo pack offers the following extras on the Blu-ray disc: Extended Musical Numbers, Deleted and Extended Scenes, It's Going to Be a Wild Ride: Creative Vision, Becoming Elton: Taron's Transformation, Larger Than Life: Production Design and Costuming, Full Tilt: Staging the Musical Numbers, Music Reimagined: The Studio Sessions, Rocketman Lyric Companion: Sing-Along with Select Songs and Rocketman Juke Box. The digital download offers additional extras including The Rocket hour with Elton John and Taron Edgerton, Rocketman Roundtable, Be True to Yourself: Elton John's Lasting Impact, The Bitch is Back Rehearsal, The Right Chemistry: The Ensemble Cast, Rocket Man: Anatomy of a Scene, and Rocket Man Music Video.
This is certainly not your typical biopic but rather an entertaining mix of real-life and fantasy – much like Elton John is himself. I can't think of a better tribute to a living legend and if you are even the mildest of Elton John's fans, this is a movie you surely don't want to miss.
Grade: A
Read More Rocketman Reviews
For more reviews please visit our film/television review section.
During the auction, Elton welcomed to the stage actor Taron Egerton, star of the upcoming motion pic...

ROCKETMAN is an epic musical fantasy about the incredible human story of Elton John's breakthrough y...

Watch brand new interviews with the team that brought ROCKETMAN to the screen. Hear personal s...
ROCKETMAN is an epic musical fantasy about the incredible human story of Elton John's breakthrough y...

ROCKETMAN is an epic musical fantasy about the incredible human story of Elton John's breakthrough y...
SPONSORED LINKS