Zack Snyder's Justice League (2021)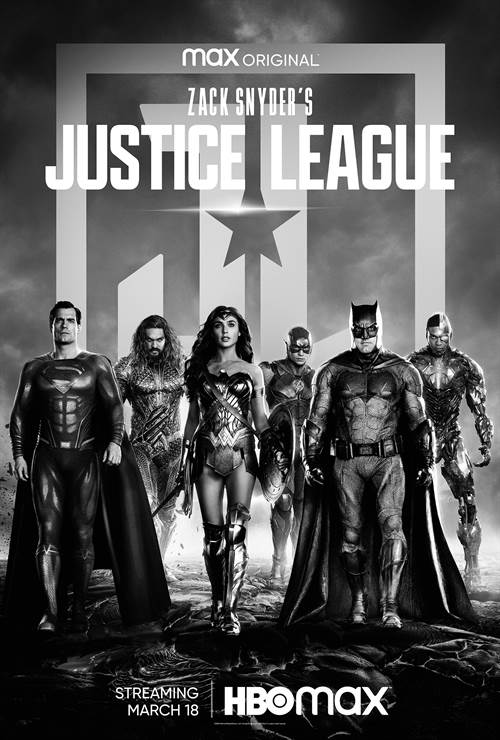 | | |
| --- | --- |
| Director: | |
| Writers: | |
| Cast: | |
| Released: | 18 March 2021 |
| Length: | 242 minutes |
| Studio: | Warner Bros. |
| Genre: | Action/Adventure, Sci-Fi/Fantasy |
| Certificate: | 15 |
Synopsis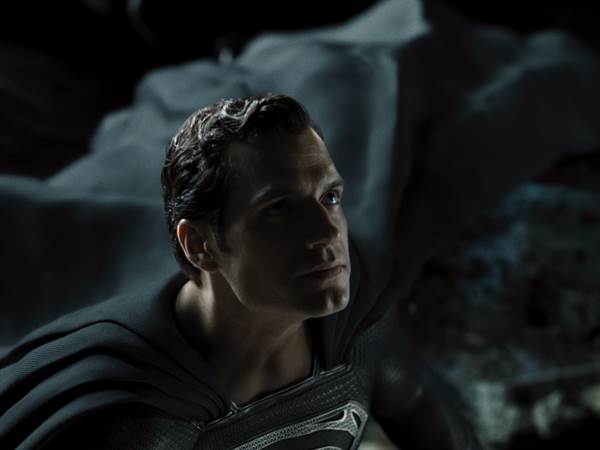 Fueled by his restored faith in humanity and inspired by Superman's selfless act, Bruce Wayne enlists newfound ally Diana Prince to face an even greater threat. Together, Batman and Wonder Woman work quickly to recruit a team to stand against this newly awakened enemy. Despite the formation of an unprecedented league of heroes -- Batman, Wonder Woman, Aquaman, Cyborg and the Flash -- it may be too late to save the planet from an assault of catastrophic proportions.

Purchase DVD/Blu-ray/4K UHD physical copy of Zack Snyder's Justice League today at Amazon.com
Listen to the Zack Snyder's Justice League soundtrack on Apple Music.
Zack Snyder's Justice League images are © Warner Bros.. All Rights Reserved.
Henry Cavill Up for More Superman Films
10/11/2021 16:27 EST
Old habits die hard. So do acting roles, apparently. Henry Cavill is still itching to don the cape and play Superman again.In a recent interview, Cavill spoke about the role and how he feels there's still more to cover with his version of the character. "The killing of Zod gave a reason for the character never to kill again. Superman falling to the ground and screaming afterward - I don't think th...
More>>
Suicide Squad Spin Off Peacemaker Premieres January on HBO Max
16/10/2021 20:41 EST
A teaser trailer for the Max Original series PEACEMAKER, has been released by HBO Max at DC FanDome.  The series was written and directed by James Gunn and produced by Peter Safran.  The DC series is scheduled to debut Thursday, January 13.PEACEMAKER will investigate the origins of the character, portrayed by John Cena in James Gunn's 2021 film, "The Suicide Squad."  The character believes in peac...
More>>
Helen Mirren to Star in Shazam! Fury of the Gods
24/03/2021 14:06 EST
Helen Mirren has signed on to join the cast of "Shazam! Fury of the Gods". She will play the villain Hespera, a daughter of Atlas.Zachary Levi will reprise his role of Shazam/Billy Batson for the film, which follows the story of a kid who inherits superpowers of six gods - Solomon, Atlas, Zeus, Achilles, and Mercury. The character was created by  Bill Parker and C.C. Beck. 2019's original earned o...
More>>
Zack Snyder's Justice League's New Key Art and Sweepstakes Annou...
02/03/2021 15:25 EST
New key art and consumer programs for the HBO Max original film Zack Snyder's Justice League have been released. On Thursday, March 18, the film will be made available worldwide in all markets day and date with the US HBO Max exclusive debut (*with the exception of China, France, and Japan, where the release dates are TBD).HBO Max has also announced a partnership with Footaction as well as The Her...
More>>
Zack Snyder's Justice League 4K Review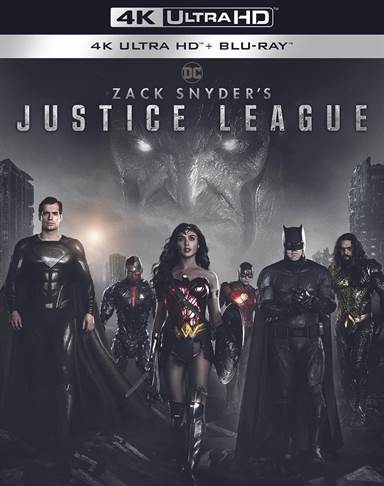 Christopher Nolan's Dark Knight Trilogy was hailed as a success by critics and fans alike. It was during this time Warner Bros. and DC Comics realized they had created comic book films in such a way that audiences connected with them Warner Bros., DC Comics, Christopher Nolan, and Zack and Deborah Snyder planned a brand new Superman film, Man of Steel, to be a more realistic take for modern audiences. It was a box office success and the DC Universe was born.
Fast-forward to 2017. After Batman v Superman was rushed to be released and failed to connect with some audiences (anyone who hasn't seen the ultimate edition should watch that before jumping to conclusions), Warner Bros. went into panic mode and worried about the future of their once very successful franchise. It was during this time Snyder was having family issues and it was the perfect time for Warner Bros. executives to swoop in and give his franchise to someone who had big success in the past for Disney/Marvel, Joss Whedon. Many reshoots occurred and we got a jumbled mess of a film. Again critics and audiences weren't fans.
Now enter 2020 and the age of COVID-19. Movie theaters are closed. Everyone is in lockdown and streaming services are looking for all the content they can get. With pressure from fans, Warner Bros. and Snyder held discussions of releasing his original cut of the film, with updated CGI, and a few reshoots.
What was then presented on HBO Max and now in 4K UHD is the four-hour marathon Snyder fans craved (as well as fans of a dark, grimy, serious universe). The story is basically the same as the original theatrical release (however over 90% of footage has changed entirely). With Superman dead from Doomsday, the earth is now ripe to be taken over by Darkseid and his minions, Steppenwolf, and his parademons. However, everything else has changed or has been updated to the glory that Zack Snyder envisioned.
If you compare the original theatrical release with the newly restored Zack Snyder version, very little is the same. Lois Lane is pregnant, the Russian family is now gone, Diana Prince does her best Indiana Jones impression, the Martian Manhunter is introduced, just to name a few of the differences. Characters originally cut from the theatrical release return, more time is spent with Amazon's and Atlanteans, the tone is much darker and somber, and we finally also get to see how the nightmare scenes from Batman V. Superman actually play out.
The special effects are updated on this version to be some of the best seen in any superhero movie in a long time. Steppenwolf was entirely redone and no longer looks like a big blob on the screen, but instead comes across as a fierce warrior. Darkseid is shown (missing from the original release) as well, looking menacing which is the way he was described in the comics. Some new scenes on the Themyscira are much bolder and detailed.
With Zack Snyder's Justice League being so popular on HBO MAX and again having a rabid fan base, Warner Bros decided to release the 4-hour film on 4K UHD/Blu-ray/ DVD, and fans responded in kind making it the top purchase for Action/Adventure releases on Amazon this week.
This release is presented in 1.33:1 open-matte framing that is normally used for IMAX, which makes Zack Snyder's Justice League never look better! Upgrading from the quality of the HBO Max streaming service to this release is a must for any fan. While relatively a dark-looking film, the colors are more defined and textures missing from the HBO Max version are visible in this release with the HDR10 upgrade. The Dolby Atmos track that was on the original streaming release is also used for this version of the film as well. Dialog is clear and the sounds of Snyder's world envelope the listener in the film.
While the visuals and audio of this release are outstanding, the special features unfortunately are not the same case. With no Digital HD code included (probably because HBO Max is still streaming it), and a 25 min piece that is entitled, The Road to Justice League, which is basically a fluff piece with no real meat to it, the extras are severely lacking. Hopefully, we will get a release in the future that has extensive behind-the-scenes footage and a more collectible set for fans.
Unfortunately, Warner Bros. has closed the door on their top-grossing streaming film of 2021, and that universe is now gone. As a fan of the dark and serious tone that started with Batman Begins, I'm saddened to see it is now gone from the DC Universe. While the DC Cinematic Universe is now trying to be a carbon copy of the MCU, I personally feel like it will fail. At least we were able to get this amazing love letter to a universe that has been left in the dust.
Grade: A
Read More Zack Snyder's Justice League Reviews
For more reviews please visit our film/television review section.
Only on HBO Max 2021. Fueled by his restored faith in humanity and inspired by Superman's selfless a...

Zack Snyder's Original Vision.... Justice League. Fueled by his restored faith in humanity and i...

In ZACK SNYDER'S JUSTICE LEAGUE, determined to ensure Superman's (Henry Cavill) ultimate sac...
Fueled by his restored faith in humanity and inspired by Superman's selfless act, Bruce Wayne enlist...

FlickDirect's Austin Putnam reviews ZACK SNYDER'S JUSTICE LEAGUE coming out later on this we...
SPONSORED LINKS