House of Gucci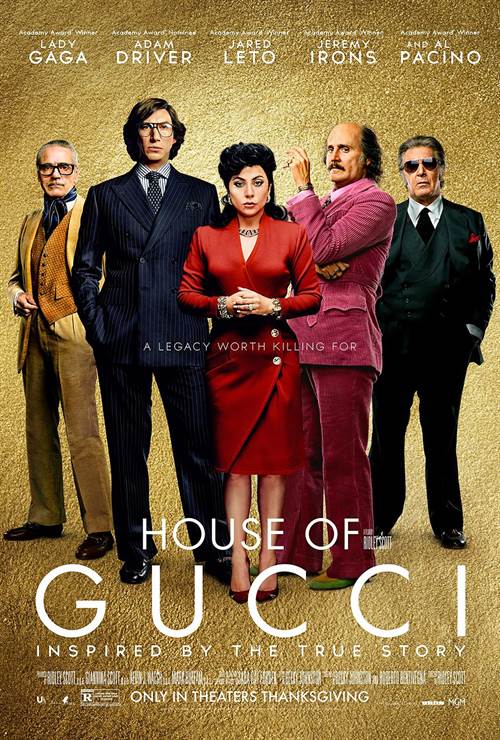 Share this:
| | |
| --- | --- |
| Director: | |
| Writers: | |
| Cast: | |
| Released: | Coming Soon |
| Length: | 157 minutes |
| Studio: | MGM Studios |
| Genre: | Drama |
| Certificate: | 15 |
Synopsis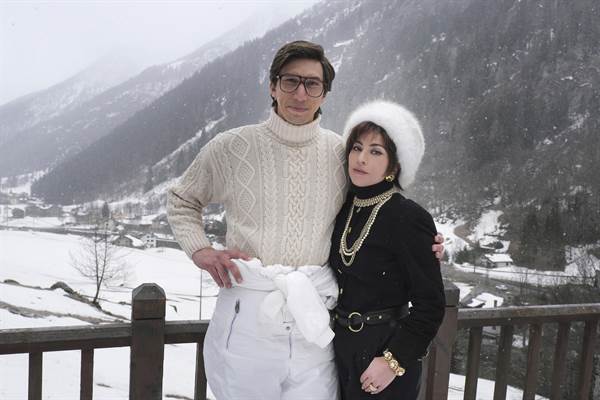 House of Gucci is inspired by the shocking true story of the family empire behind the Italian fashion house of Gucci. Spanning three decades of love, betrayal, decadence, revenge, and ultimately murder, we see what a name means, what it's worth, and how far a family will go for control.
House of Gucci images are © MGM Studios. All Rights Reserved.
See an Advanced Screening of House of Gucci in Florida
18/11/2021 16:39 EST
One of the most anticipated movies this Thanksgiving holiday is the star-studded, Ridley Scott directed drama,  HOUSE OF GUCCI.   United Artists Releasing, in conjunction with FlickDirect, would like to offer some lucky winners one admit-two pass to see the film before it is released exclusively in theaters on November 24, 2021.  Follow the instructions below to win a pass for two for an advance s...
More>>
House of Gucci Theatrical Review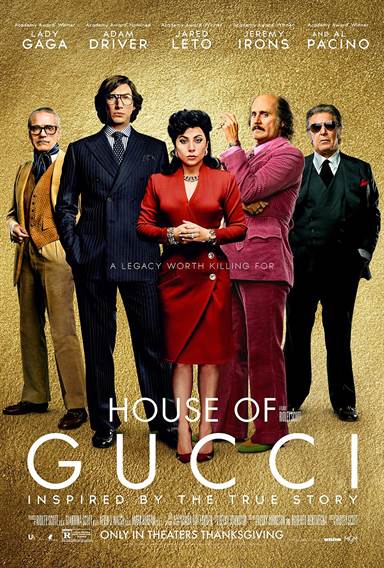 "Father, Son and House of Gucci". Fashion, for some, is like a religion and amongst the commoners, the Gucci family were Gods. Over the last one hundred years the company, started in 1921 by Guccio Gucci in Florence, Italy began by selling leather luggage and eventually expanded to handbags, belts, gloves, etc. The name Gucci ultimately has become synonymous with high fashion grossing billions of dollars in a cutthroat industry. The name has also become synonymous with family feuding and scandal, especially when, in 1995, Guccio Gucci's grandson, Mauricio (Adam Driver; Star Wars IX: The Rise of Skywalker), was murdered outside the company's office by a gunman hired by his ex-wife Patrizia (Lady Gaga; A Star is Born)
In the late 1970s, The Gucci Fashion Company was controlled by two of the three Guccio's sons, Rudolfo (Jeremy Irons; Reversal of Fortune) and Aldo (Al Pacino; The Godfather). Sadly, Rudolfo's health was failing, and he decided to leave his portion of the company to his only child, Mauricio. Rodolfo and Maurizio had a falling out several years prior when Mauricio fell in love with and married Patrizia Reggiani. Rodolfo wasn't wrong about Patrizia as she ended up manipulating Mauricio and eventually creating a wedge between him and the rest of the family. That was the beginning of the end…
Like Knives Out, House of Gucci boasts a fantastic cast of award-winning actors that collectively don't add up to the ensemble's potential. Driver's Mauricio is good but not especially noteworthy and, according to reports, the real-life person Driver plays was much more aggressive and obnoxious than Driver portrays him. Gaga is also decent but doesn't light up the screen the way she did in A Star is Born.
Adding to the disjointedness of it all is the fact that Driver and Gaga don't have the chemistry she did with Bradley Cooper. Throughout the film the standout is Pacino. His Aldo is the most interesting of the family and, as is typical with him, you listen when he speaks. Jared Leto (Dallas Buyers Club) deserves honorable mention as Aldo's son, but his makeup team should be more careful as I could clearly see the edges of his balding wig. Irons, Jack Houston (Ben-Hur), and Salma Hayek (Frida) round out the all-star lineup.
There are a few directors that need to learn the art of editing, and Ridley Scott (Blade Runner) is one of them. While there was a lot of ground to cover, Scott dragged out some scenes entirely too long. Even sweeping scenic overhead shots don't make up for the uneven pacing. The script also has some minor problems, but they are nothing compared to the wavering accents. Irons vacillates between an Italian accent and his own English one. Gaga also struggles with the accent as does Driver, which becomes distracting.
Inspired by the true story, it is clear that the film slants in Mauricio's favor painting him as almost saint-like until the third act when he does despicable things to alienate his relatives. Meanwhile, Patrizia is depicted as the money-grubbing, manipulating, backstabbing devil who leads Mauricio down the dark path to take a bite of the forbidden apple. In reality, they were both probably ambitious and untrustworthy.
At a two-and-a-half-hour run time, House of Gucci can't sustain enough interest to keep the audience's attention. It isn't the worst film of the year, but it certainly isn't the best either squandering the potential afforded it by the talented director and cast.
There was quite a bit of buzz surrounding House of Gucci, but it just didn't live up to the hype. Perhaps had expectations been more realistic from the beginning, the reviews might have been a little more favorable
Grade: B-
-- Allison Rose
For more reviews please visit our film/television review section.
House of Gucci is inspired by the shocking true story of the family empire behind the Italian fashio...
SPONSORED LINKS