House at the End of the Street (2012)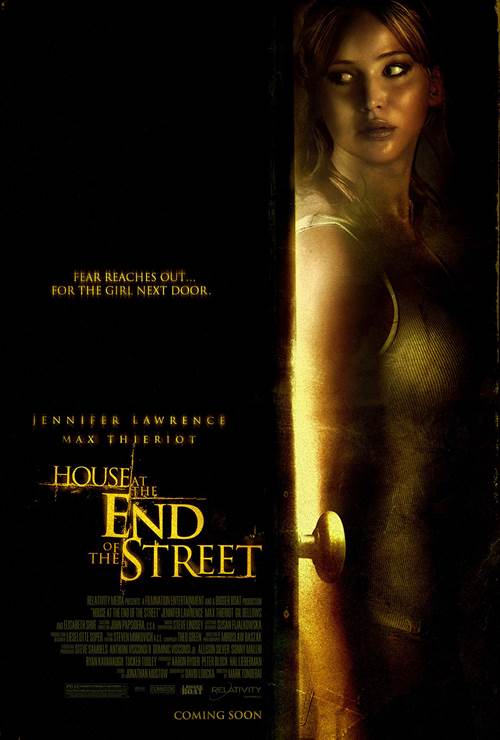 | | |
| --- | --- |
| Director: | |
| Writers: | |
| Cast: | |
| Released: | Friday, September 21, 2012 |
| Length: | 101 minutes |
| Studio: | FilmNation |
| Genre: | Horror |
| Certificate: | 15 |
House at the End of the Street Synopsis
Directed by Mark Tonderai, House at the End of the Street centers on a teen girl (Lawrence) who moves with her mom to a new town and learns that their home is across the street from a house where a double murder took place. Complications ensue when the teen befriends the massacre's sole surviving son (Thieriot).

Purchase DVD/Blu-ray/4K UHD physical copy of House at the End of the Street today at Amazon.com
Stream House at the End of the Street in Digital HD/4K from the AppleTV store.
House at the End of the Street images are © FilmNation. All Rights Reserved.
Enter for a Chance to win a Blu-ray copy of House at the End of ...
21/12/2012 11:32 EST
Terror hits home in the chilling Unrated Cut of House at the End of the Street - with a shocking added twist you didn't see in theaters! Academy Award® Nominees Jennifer Lawrence* (The Hunger Games) and Elisabeth Shue** star in this edge-of-your-seat horror hit packed with heart-pounding thrills and gripping suspense. Newly divorced Sarah (Shue) and her teenage daughter Elissa (Lawrence) have just...
More>>
House at the End of the Street Blu-ray Review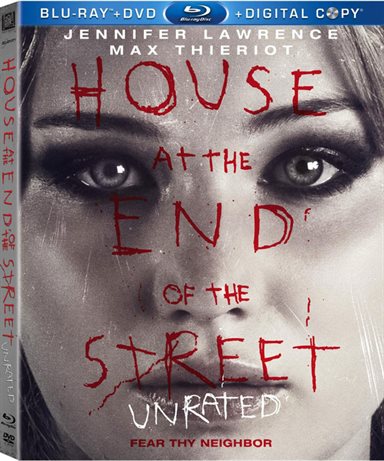 As Hollywood anoints Jennifer Lawrence as the Next Big Thing, there's some unfinished business to tend to before she bathes in her "Hunger Games" franchise success or tastes Oscar glory with the praise for "Silver Linings Playbook," and its name is "House at the End of the Street." Shot before her stint as Katniss in "The Hunger Games," this B-list thriller reminds the world of more humble time for the actress, when she had to take any job that slipped into view, establishing her name with traditional genre career steps. It's a terrible picture, but it's hard to fault the star for its failure, as she delivers a performance best described as "embarrassed," while the rest of the effort dissolves into an insipid bore with nearly a third of its running time devoted to an easily escapable situation. Let's hope Lawrence takes some time today to hug her "Catching Fire" producers for her good fortune.

Moving from Chicago to rural Pennsylvania, Sarah (Elisabeth Shue) and her teen daughter Elissa (Jennifer Lawrence) are looking to settle into a peaceful neighborhood, fully aware they live next door to the site of a grisly double homicide committed by a disturbed girl named Carrie Anne, who killed her parents while brother Ryan (Max Thieriot) was away from home. Curious about the case, Elissa investigates further, discovering that Ryan still lives inside the dilapidated residence, keeping to himself with community college studies. Reaching out to the lonely soul, Elissa finds herself charmed by Ryan's emotional vulnerability, while Sarah remains suspicious, asking local cop Weaver (Gil Bellows) to check in on the situation. As the two become romantically involved, Ryan has difficulty maintaining a secret he's keeping locked up in the basement, leaving Elissa to regret ignoring her mother's advice to leave the boy alone.

"House at the End of the Street" is directed by Mark Tonderai, a newcomer to Hollywood trying to make a name for himself with the universal language of fear, working from a script credited to David Loucka. It bears mentioning that the film isn't a horror movie, despite marketing that displays jolts and hints at a terrifying central mystery. In fact, it's really no puzzle at all, as the writing reveals the inhabitant of Ryan's basement early on, releasing a great amount of tension before the end of the first act. It's not a smart move by the production, aiming for cleverness with a misdirection that leaves the picture gasping for energy as it lumbers to a conclusion. Because once Ryan's secret is out, it leaves "End of the Street" in dramatic mode, and the last thing anyone wants is to spend extended exposition time with these dismal characters.

Dialogue exchanges are often moronic, with Loucka trying to capture teenage spunk through clichéd interactions involving possible date rape and the invention of new put-downs, while laboring through mother-daughter irritation via cell phone tag and pained parental lessons about bad boys. There's also the sleepy saga of Ryan, who drags through his family history any chance he gets, with Theiroit's performance absolutely void of meaning and life, glumly reading lines that appear to make no sense to the abysmal actor. The script doesn't help matters by including giant plot holes and a general air of irrationality, especially from Elissa, whose awareness of obvious danger comes and goes as the writing sees fit. Of course, this is the same girl who can't seem to escape her loose cloth restraints in the climax, so maybe she's not the whip-smart character early scenes suggest.

Although she's subjected to classic PG-13 tank top ogling and asked to sing a few songs, Lawrence looks bored out of her mind in the movie, sluggishly going through the motions. And there are a lot of motions for her to zombie through, with the entire third act devoted to a chase/stalk scenario that's filled with unanswered questions and, of course, a big twist reveal. "House at the End of the Street" spends so much time getting to the good stuff it actually forgets to include the good stuff, creating a tedious routine of panting and stabbing that makes one long for the stilted conversations about absolutely nothing and sketchy tree-with-a-face symbolism that litter the early sections of the feature.

On 2-disc Blu-ray now, not much can be said for the video/audio transfer. The quality of each can be said to be adequate, but neither offers anything unique or worth remembering. As for special features, two can be found. The first being the theatrical and un-rated versions of the film, the second a behind-the-scenes feature on the film. Disc 2 contains only the theatrical cut along with a digital copy for portable media players.

If you're someone who gets a kick out of seeing big name actors before they were "big," then you'd probably enjoy this film, though finding anything else to enjoy might be tough.

For more reviews please visit our film/television review section.
SPONSORED LINKS