Revenge (2011)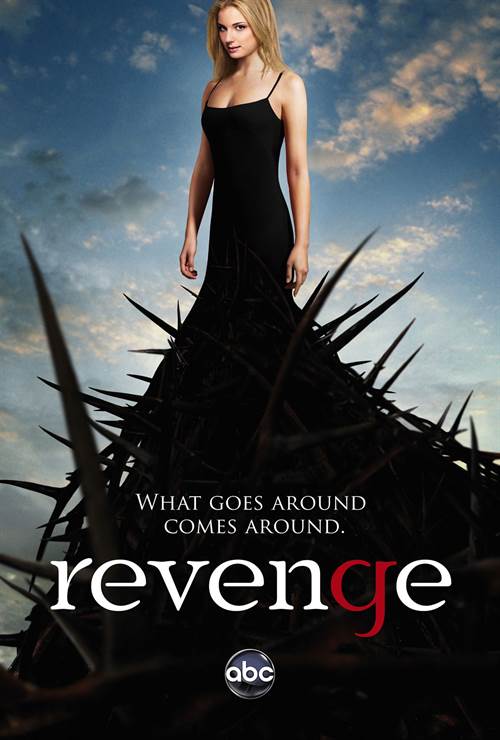 Share this:
| | |
| --- | --- |
| Director: | |
| Created By: | |
| Cast: | |
| Air Date: | Wednesday, September 21, 2011 |
| Studio: | ABC Studios |
| Genre: | Television |
| Certificate: | 15 |
Synopsis
Wealth, beauty and status define the people in this town, but one woman is willing to destroy everyone for the sake of revenge.

Emily Thorne (Emily Van Camp) is new to the Hamptons. She's met some of her wealthy neighbors, has made a few new friends and seemingly blends into the town. But something is a little odd about a young girl living in a wealthy town all on her own, and the truth is that Emily isn't exactly new to the neighborhood. In fact, this was once her old neighborhood, until something bad happened that ruined her family and their reputation. Now Emily is back, and she's returned to right some of those wrongs in the best way she knows how – with a vengeance
Purchase DVD/Blu-ray/4K physical copy of Revenge today at
Download Revenge in Digital HD/4K from the iTunes store.
Revenge images are © ABC Studios. All Rights Reserved.


Revenge: The Complete First Season DVD Review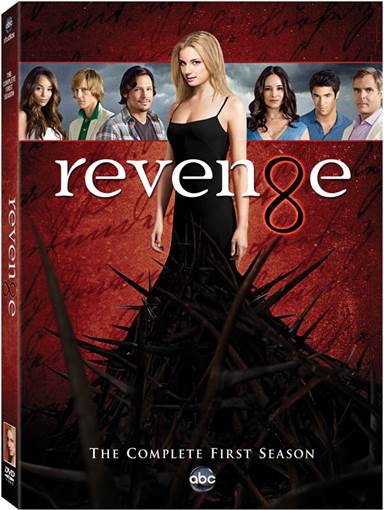 If you would like to know what retribution feels like then watch the television series Revenge, the first season's now on DVD. So nicely crafted you would think that author Mike Kelly must have had a close encounter with a vengeance-craving woman. Seriously though, I thought a female audience would best see the series, but after getting through the first two episodes, I got hooked.

At the center of the plot we find Emily Thorne (Emily VanCamp) an extremely rich and beautiful woman who has just rented a house in the Hamptons, New York. When we find out the back-story, she's not Thorne, but has taken an alias so she can infiltrate the affluent families that lied to send her father to jail some 20 years earlier. Since she was just a child at the time dad was convicted of treason for lending money to terrorists, she has become unrecognizable to those who committed perjury to save their own skin.

Other players in the this game of revenge are the two people who helped destroy Emily's family, Victoria Grayson (Madeleine Stowe) and Conrad Grayson (Henry Czerny). Those that are innocent bystanders include the Grayson's son Daniel (Josh Bowman) with whom Emily has chosen as her way to get close to the family, her daughter Charlotte (Christa B. Allen) a strong willed person who has a quest of her own and Tyler Barrol (Ashton Homes) close friend of Daniel and a con man wanting to slide his fingers into the Grayson fortunes.

Helping to keep the plot flowing and bringing some assistance to Emily are the internet savvy multimillionaire Nolan Ross (Gabriel Mann) who works his magic to find out all the dirt on Emily's next victim and Ashley Davenport (Ashley Madekwe) Victoria Grayson's personal assistant who has taken a liking to Emily. Other characters join the cast in several episodes to make the series more interesting.

The story gets really edgy and sinister at times with the actors doing a superb job of making their characters fit the plot. Although the full cast is terrific, some individuals deserve mention for their contributions to the very menacing scenarios. Those that come to the forefront include Emily Van Camp as Emily who can change her facial expressions going from adorable to wicked with a turn of the head, Gabriel Mann as Nolan Ross who shows strength with his riches yet cowers when victimized by Victoria's henchman and Madeleine Stowe as Victoria the queen of the Hamptons who can make things and people disappear at the snap of her fingers.

Keen direction by Phillip Noyce makes the show move along with no lag time inserting interesting characters into the plot in order to keep it rolling. I like the way he hides just enough information so you are not sure who will be either Emily or Victoria's next victim. His intriguing scenes are almost movie quality, especially the attack on Nolan Ross, his use of spy cams and other technology to take you into the sanctums of the victims and the man with the white hair.

The story and acting are why you acquire Revenge the complete first season, but if you just can't get enough of the show there are plenty of bonus features including:

Nolan Ross Exposed (in-world feature) – What the audience thinks they know about Nolan Ross (Gabriel Mann) is only part of the story. In the recently unearthed sit-down interview footage, reporter Sarah Juarez (Stephanie Maura Sanchez) questions Nolan on his past… and gets some answers fans might not expect!
Roadmap To Revenge – Revenge is sweet, and set within the rich, beautiful, and elite world of The Hamptons, it's even sweeter. Emily VanCamp narrates some of the checkpoints on the road to revenge, walking fans through the genesis, pilot, themes, and characters of the show. Woven throughout, are interviews from writers, producers and cast members who share how they undertook creating a world where money and desire can make anything possible.
At Home In "The Hamptons" – Swank parties and lavish houses are as much a part of
"Revenge" as the characters that attend and inhabit them. Viewers can watch as Ashley Madekwe plays tour guide to the not-so-humble abodes - including the plush extravagance of the Grayson's estate as well as the contrasting rustic ambiance of the Stowaway bar, illustrating everything that goes into making things larger-than-life.
Haute Hamptons: Femme Fatale Fashion – They say 'clothes make the woman', … and this exciting bonus feature gives a glimpse into the secrets of styling the show's two leading ladies, Emily VanCamp and Madeleine Stowe. Costume Designer Jill Ohanneson shares key pieces from both of the series' femme fatale's closets as she and the cast discuss what it takes to dress a show for success.
Deleted Scenes – Fans can turn up the heat with six revealing deleted scenes
Bloopers/Outtakes – Hilarious moments from the production fans won't want to miss
Pilot Commentary – Creator Mike Kelley and Actress Emily VanCamp take viewers through all the details of the pilot episode.
Music Videos – Key music from the show is featured, including Christina Perri's
"Distance" and Angus & Julia Stone's "For You."

It's probably the most complete television series DVD that I've come across.

And as for:

VIDEO
The picture quality with the widescreen 1.7:1 aspect ratio enhanced for 16X9 televisions is awesome. No bars top and bottom and plenty of brightness to exceed my pet peeve.

AUDIO
The Dolby Digital sound quality allows you to hear all the dialogue without a muffle. The clear and clean audio from my television speakers brings all the excitement and intrigue that the DVD has to offer. If you have a Blu-ray player, use that for extra enhancement so you won't miss a word.

FINAL ANALYSIS: An extremely well acted intriguing TV series. (B)

-- John Delia
Read More Revenge Reviews
Chris Rebholz (B) (Revenge: The Complete Second Season DVD Review)
For more reviews please visit our film/television review section.
SPONSORED LINKS