Parents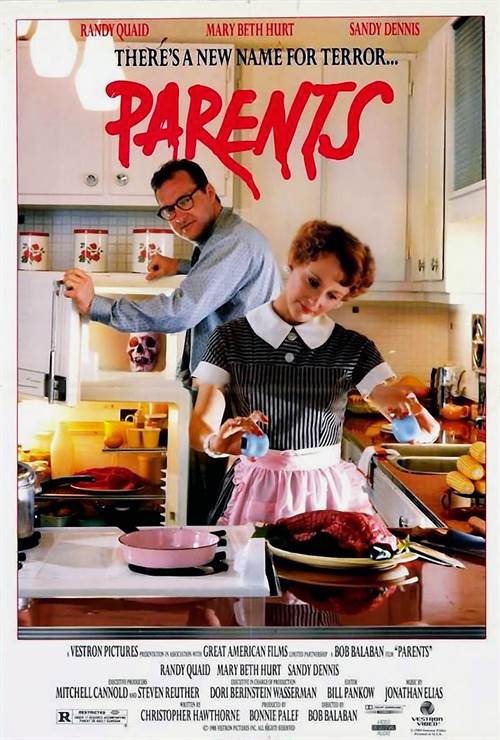 | | |
| --- | --- |
| Director: | |
| Writers: | |
| Cast: | |
| Released: | Coming Soon |
| Length: | 81 minutes |
| Studio: | Vestron Pictures |
| Genre: | Comedy, Horror |
| Certificate: | 18 |
Parents Synopsis
Meet the Laemles, Dad's (Randy Quaid) got a great job, Mom (Mary Beth Hurt) has all the modern conveniences a happy homemaker could ask for, and ten-year-old Michael (Brian Madorsky) has neat new friends and two parents that kill him with kindness. They're the all-American family of 1954...with one small exception....the parents are cannibals.

Purchase DVD/Blu-ray/4K UHD physical copy of Parents today at Amazon.com
Stream Parents in Digital HD/4K from the AppleTV store.
Parents images are © Vestron Pictures. All Rights Reserved.
Parents Blu-ray Review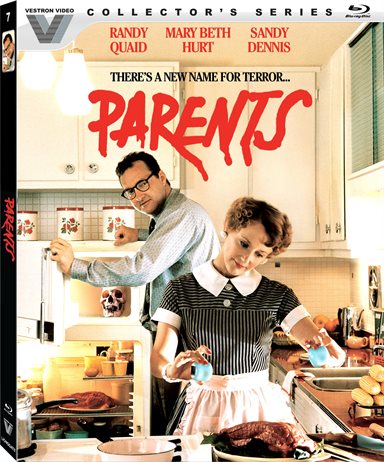 Parents, an underrated black comedy, directed by Bob Balaban (
My Boyfriend's Back
) and written by Christopher Hawthorne and starring Randy Quaid (
National Lampoon's Vacation
), Mary Beth Hurt (
Untraceable
), and Sandy Dennis (
976-EVIL)
.
Meet the Laemles. Dad's got a great job, mom has all the modern conveniences a happy homemaker could ask for, and ten-year-old Michael has great new friends and two parents who kill him with kindness. They're the all-American family . . . or are they?
I definitely love this movie more now than when it first came out on video. Randy Quaid couldn't be more convincing and menacing as Nick Laemle, and his wife, Lily, played by Mary Beth Hurt portrays a perfectly twisted, tongue-in-cheek, June Cleaver type.
I love how the film is presented through the eyes of their son, Michael (Bryon Madorsky). His vision of them is Oedipal at times, like when he is staring out the window watching his dad practice his golf swing and he makes a gun out of his hand and proceeds to "shoot" his father through the blinds or when he is lovingly watching his mother through the louvered pantry door, make family dinner. As the camera lingers on her legs and high heels, there is certainly no doubt about the conflict going on inside this growing boy.
We are, at times, unsure if his uncertainty regarding his parents' nightly activities is real or just the heightened fears of a prepubescent trying to come to grips with things beyond his understanding. And it is this ambiguity that makes this movie work so well, by the time it arrives at the inevitable conclusion, we feel that it couldn't have ended up any other way.
The restoration looks excellent and the mid-century, 1950's suburbia appears in all of its garish glory, the lurid splatter of the dinner preparations are lovingly rendered in 1080p from its original aspect ratio: 1.85:1. And the soundtrack is fantastic, from the opening trumpet notes of
Cherry Pink and Apple Blossom White
, to the ending credits roll over
Purple People Eater
, we are treated to a gore-soaked trip down the dark roads of Americana, all the more dangerous since a child is at the wheel.
I hope Vestron continues this trend of releasing its back catalog, I definitely enjoy taking a stroll down memory lane, especially when they are filled with Human flesh-eating Serial Killers!
Grade: A-
Special Features Included:
Audio Commentary with Director Bob Balaban and Producer Bonnie Palef
Isolated Score Selections/Audio Interview with Composer Jonathan Elias
"Leftovers to Be" with Screenwriter Christopher Hawthorne
"Mother's Day" with Actress Mary Beth Hurt
"Inside Out" with Director of Photography Robin Vidgeon
"Vintage Tastes" with Decorative Consultant Yolando Cuomo
Theatrical Trailer
Radio Spots
Still Gallery
For more reviews please visit our film/television review section.
SPONSORED LINKS