The Lego Ninjago Movie (2017)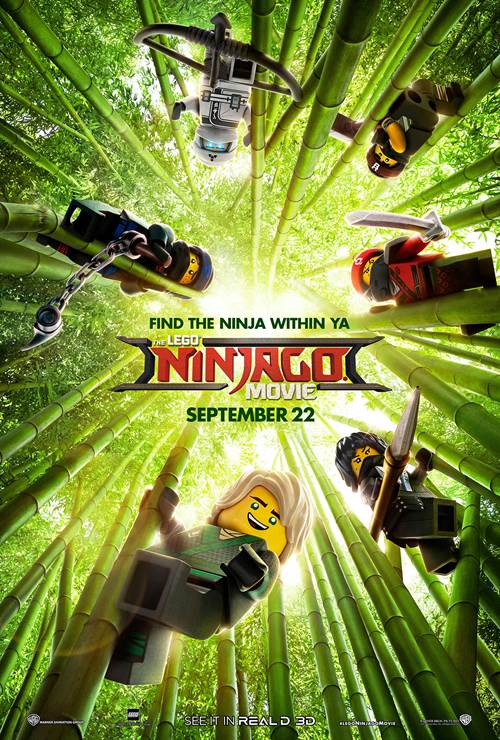 Share this:
| | |
| --- | --- |
| Director: | |
| Writers: | |
| Cast: | |
| Released: | 13 October 2017 |
| Length: | 101 minutes |
| Studio: | Warner Bros. |
| Genre: | Family |
| Certificate: | U |
Synopsis
n this big-screen NINJAGO adventure, the battle for NINJAGO City calls to action young Master Builder Lloyd, aka the Green Ninja, along with his friends, who are all secret ninja warriors. Led by Master Wu, as wise-cracking as he is wise, they must defeat evil warlord Garmadon, The Worst Guy Ever, who also happens to be Lloyd's dad. Pitting mech against mech and father against son, the epic showdown will test this fierce but undisciplined team of modern-day ninjas, who must learn to check their egos and pull together to unleash their inner power.
Purchase DVD/Blu-ray/4K UHD physical copy of The Lego Ninjago Movie today at Amazon.com
Download The Lego Ninjago Movie in Digital HD/4K from the iTunes store.
The Lego Ninjago Movie images are © Warner Bros.. All Rights Reserved.
The Lego Ninjago Movie 4K Ultra HD Review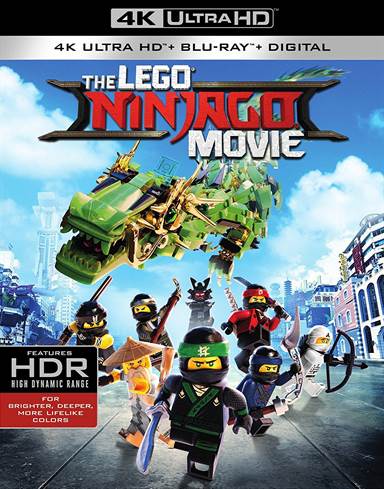 With the success of 2014's The Lego Movie and 2017's The Lego Batman Movie, Warner Bros. decided to continue the franchise and created a film based on the popular Lego Ninjago toy line called, appropriately, The Lego Ninjago Movie. I must admit that after having enjoyed the first two films very much and finding them surprisingly funny and delightful I had high hopes for this third installment. Unfortunately, I was a little disappointed in the end result but I suppose true Lego ninja fans will enjoy it and they will be happy to know they can pick it up on 4K, Blu-ray, DVD, and Digital HD now.

As a young boy (Kaan Guldur; Red Ink) hides out in an Asian artifact shop, he discovers the owner (Jackie Chan; Rush Hour) who notices the boy's little ninja figure that is missing its arm. The owner then concocts a story using another small figure of a ninja master (Wu – also voiced by Chan) and paints a picture for the boy. This is where the movie goes from live action to animation and we meet Lloyd (Dave Franco; Nerve) and the world of Ninjago.

Lloyd is your average teenage boy waking up on his 16th birthday. He is ridiculed at school because he is unpopular and because his dad is the Evil villain Garmadon (Justin Theroux; The Girl on the Train) who terrorizes the city of Ninjago and often threatens to conquer it but so far who has not been successful. It's a lot for a teenager to carry around. However, Lloyd and his friends aren't really all that average and carry a secret. They are the secret Ninjas that constantly foil Garmadon's evil plans and who keep Ninjago safe.

As Lloyd fights his father incognito he lets his emotions get the better of him and unleashes the ultimate weapon, Meowthra, a giant cat that sets out to destroy Ninjago. As Master Wu and his disciples, the secret Ninjas, go on a quest to find the ultimate, ultimate weapon they must face several harrowing tests. Aggravating these is the fact that they are followed by Garmadon who hurts Master Wu and then himself must lead the Ninjas to find this weapon. During this time, Garmadon and Lloyd seem to bond and repair their fractured relationship until Garmadon asks Lloyd to join him in conquering Ninjago and other lands. This, once again, hurts their tenuous bond but, of course, it all works out in the end – Ninjago is saved and everyone is happy including Lloyd and his father.

I was a little surprised at the level of talent the film has including Chan, Franco, and Theroux. All three are terrific at emoting vocally, which helps the viewer feel compassion for their characters. They are joined by Michael Pena (CHiPs), Fred Armisen (Saturday Night Live), and Olivia Munn, (The Newsroom) among others. The cast is great and does what they can with a mediocre script.

The 2160p video quality really lends its technology to this type of film as the animation is superb and beautifully showcased. The colors are strong and vibrant and the detail in the animation is excellent. The Dolby Atmos Audio is also exceptional which is one of the selling features of this title in 4K. The dialogue sits nicely in the center channel with explosions and gunfire going off all around in the surrounding channels. The standard Blu-ray houses the numerous extras including: Team Supreme: Building Ninjago, Rumble in the Bricks, Rebrick Contest Winners, Mini-Movies, LEGO Ninjago TV Series Sneak Peak, Music Videos, Deleted Scenes, Gimmie Some Outtakes! Promotional Material and Audio Commentary. Sadly, like the movie itself, these are lackluster at best, with the best being one of the shorts involving a Shark/crab romance.

I was hoping for the fun and frivolity of The Lego Batman movie but this title didn't seem to live up to its predecessors, which was disappointing. However, I'm sure little kids will still love it even if their parents get bored and annoyed after the 86th consecutive viewing.

Grade: C
For more reviews please visit our film/television review section.
n this big-screen NINJAGO adventure, the battle for NINJAGO City calls to action young Master Builde...
SPONSORED LINKS